Press Release: February 22, 2019
Native Voices at the Autry Presents the World Premiere of Pure Native, A New Play by Vickie Ramirez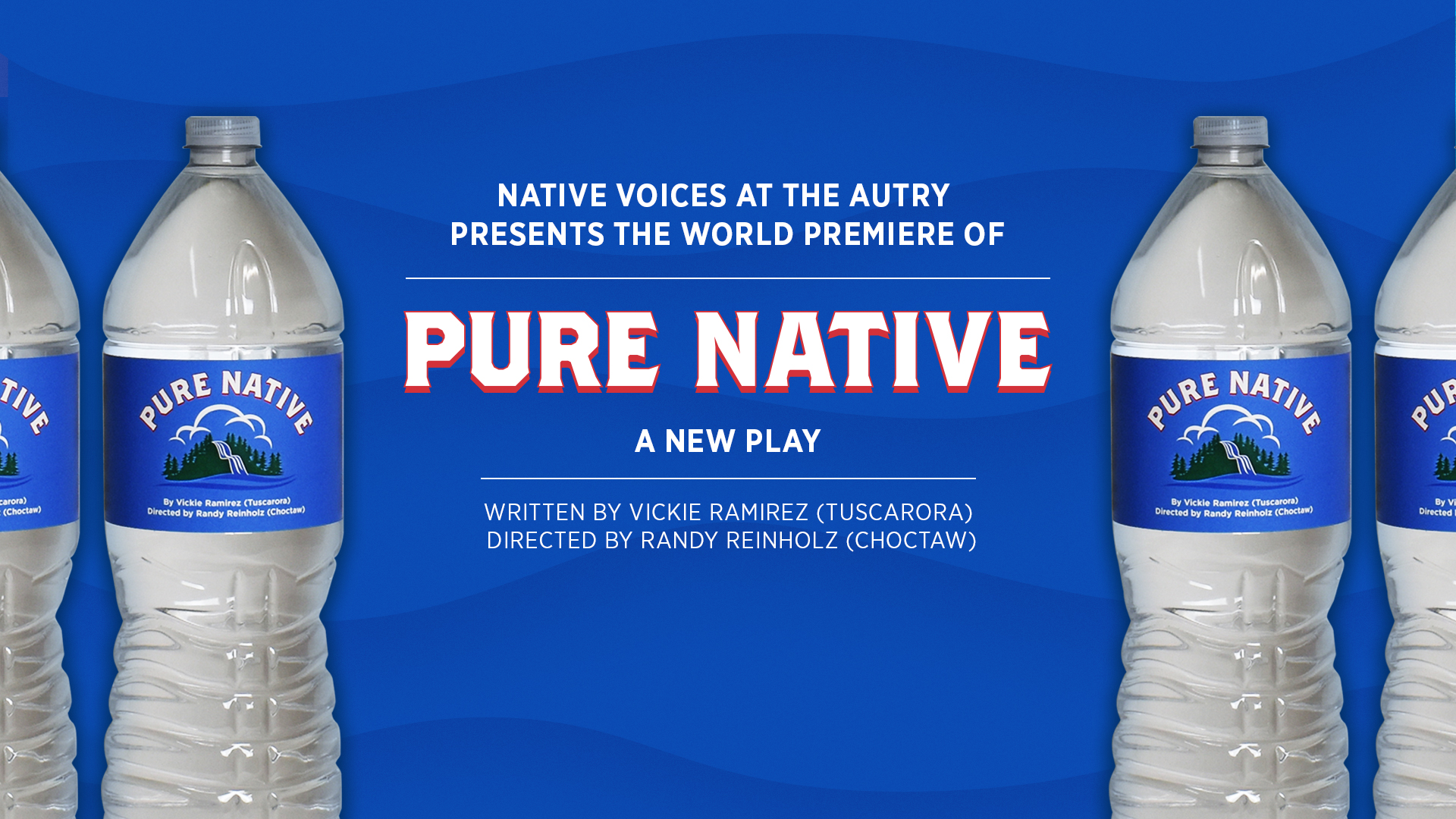 Performances: March 8–24, 2019
Previews: March 6–7, 2019
At the Autry Museum of the American West in Griffith Park
Download Download Pure Native Press Release (312.4 KB)
Los Angeles, CA (February 20, 2019)—The only Equity theatre company dedicated exclusively to developing and producing new work by Native American artists, Native Voices presents the world premiere of Pure Native (workshopped as Corn Soup) by Vickie Ramirez (Tuscarora).

Brewster White returns to the reservation, with a plan to convince the tribal council and clan mothers to lease "Rez" water rights to a large food conglomerate that wants to sell Pure Native bottled water. The only problem is his close friends and family aren't on board, and his old love Connie is fiercely opposed. Will the community vote to change their recipe for traditional life with a proposal to bring hundreds of jobs to the Rez if it risks dramatically changing their daily lives? Or will they hang on to tradition?

"This story takes place against the backdrop of a romantic comedy, filled with situational humor," said Randy Reinholz (Choctaw), Native Voices Producing Artistic Director. "It also raises questions facing Native communities today. Can traditional cultures evolve, become modern yet remain traditional? How can traditional values support economic development? When big business harnesses natural resources, are there always adverse detriments to the environment? How do Native governments interact with big businesses as equal partners?"

Jean Bruce Scott, Founder and Producing Executive Director of Native Voices at the Autry, said, "I am so excited Native Voices is producing Pure Native. Playwright Vickie Ramirez has a unique point of view and voice that's always refreshing and she writes great comedy with a wicked satirical bent! This play has everything I want for a fun and entertaining evening in the theater––community politics intertwined with social issues, romance, and food! Everyone thinks they are fine until Brewster comes in and stirs the pot."

2019 marks the 25th anniversary of Native Voices. This year the theatre company will also receive the Gordon Davidson Award for Distinguished Contribution to the Los Angeles Theatrical Community from the LA Drama Critics Circle.
SPECIAL EVENTS 
Opening Night
Friday, March 8, 8:00 p.m. 

A reception with the cast and crew follows the Opening Night performance.

Talk-Back With the Playwright
Saturday, March 9, 2:00 p.m. 

Following the matinee performance, Artistic Director Randy Reinholz (Choctaw) and playwright Vickie Ramirez (Tuscarora) will discuss the genesis of Pure Native and their processes for writing and producing new plays.

Student Matinees
Friday, March 15, and Friday, March 22, 11:00 a.m
TICKETS
Tickets for Pure Native are $10 for Autry members; $25 for nonmembers; and $15 for students, seniors (60+), and military. Preview tickets are free for Autry Members; $15 for nonmembers; and $10 for students, seniors (60+), and military. Student matinee prices are $2 per student. Performances take place at the Wells Fargo Theater, located at the Autry Museum of the American West, 4700 Western Heritage Way, Los Angeles, CA 90027. For reservations and additional information, please visit TheAutry.org/NativeVoices.
LEAD CAST AND CREATIVE TEAM
Randy Reinholz (Choctaw*) (Founder and Producing Artistic Director of Native Voices at the Autry and Play Director) is an accomplished producer, director, actor, and playwright. Off The Rails, his bawdy and irreverent adaptation of Shakespeare's Measure for Measure, had its world premiere at Oregon Shakespeare Festival with Bill Rauch directing in 2017. He has produced more than 30 scripts and directed over 60 plays in the United States, Australia, England, and Canada. Reinholz is a Professor at San Diego State University, where he served as Head of Acting from 1997-2007, Director of the School of Theatre, Television, and Film from 2007-2012, and Director of Community Engagement and Innovation for the College of Professional Studies and Fine Arts at SDSU from 2012-2015.

Jean Bruce Scott (Founder and Producing Executive Director of Native Voices at the Autry) has spent over 25 years developing new plays, including more than 200 by Native American playwrights. For Native Voices she has produced 26 plays (including 22 world premieres) in 39 productions, 24 New Play Festivals, 8 Short Play Festivals, 15 Playwrights Retreats, numerous national and international tours, more than 230 workshops and over 275 play readings. In 2014 Scott was instrumental in formalizing the Native Voices Artists Ensemble to mentor and support outstanding and promising Native American actors, directors, writers, and producers.  She has received a McKnight Fellowship, a MAP Grant, Playwrights Arena's Lee Melville Award, and serves on the Leadership Board of the Theatrical Producers League of Los Angeles, Large Theatres, and is a member of the National Theatre Conference, New York.

Vickie Ramirez (Tuscarora) is the co-founder of Chukalokoli Native Theater Ensemble and member of Public Theater's 2009 Emerging Writer's Group. Ramirez's work has also been seen at Labyrinth Theater Company, New Native Theatre, Amerinda, the Flea, Missoula Writer's Colony, and the Roundabout Theatre. Recent productions include: Glenburn 12 WP Summer Shorts at 59E59 Theaters and Standoff at Hwy #37 at Thunderbird Theatre. Published: Monologues for Actors of Color: Women 2016 (Routledge) and Monologues for Actors of Color: Men 2016 (Routledge).

Kalani Queypo (Blackfeet, Hawaiian*) (Brewster White) is a founding member of the National American Indian Committee at SAG-AFTRA. He is also an active collaborator with Native Voices, where he proudly serves on the advisory council. His film and television credits include The New World, Slow West, Saints & Strangers, Into the West, Mad Men, Nurse Jackie, Bones, and Hawaii Five-0. Watch for the release of Jamestown, a new series from Carnival Films, the producers who brought you Downton Abbey.

Kyla Garcia (Taíno*) (Connie Smoke) graduated with a BFA from Rutgers University. Her stage credits include The Zip Code Plays (Antaeus), Vera (understudy) in Se Llama Cristina (The Theatre at Boston Court), Siu in Stile and Drewe's Three Little Pigs (Lewis Family Playhouse), Juliet in Romeo and Julieta(CoLab Arts), and Demaris in In Arabia We'd All Be Kings. Her film/TV credits include Shotgun Wedding (Pamela White) and Marvel Agents of S.H.I.E.L.D. (Mrs. Zeller). Happy career moments include winning Twinkie Byrd's 2013 Monologue Slam and creating the Hollywood Fringe award-winning solo show The Mermaid Who Learned How to Fly.

Darrell Dennis (Secwepemc*) (Gary Smoke) is an actor, writer, and comedian. His one-man show, Tales of an Urban Indian, has toured Canada and the U.S. and was accepted into the prestigious Sundance Screenwriters Lab. Dennis was a performer with the Second City and co-founded the Mayflower Welcoming Committee, an all—Native American comedy troupe. He has performed stand-up at the Just for Laughs Festival. Currently, he is a regular on the Nickelodeon TV series Open Heart.
Tonantzín Carmelo (Tongva, Kumeyaay*) (Karen Farmer) was previously seen in Native Voices's world premiere production of Carbon Black, as well as in Teaching Disco Square Dancing to Our Elders, Please Do Not Touch the Indians, and Jump Kiss. Her film/TV credits include Into the West, Imprint, Shadow Heart, Shouting Secrets, Imprint, Unearthed, The Girl in the Lake, Medicine Men, CSI: Miami, Dark Blue, and American Dad. She is also the voice and image of Kendra Daniels in the Electronic Arts game, "Dead Space."

Joseph Valdez (Navajo*) (Art Farmer) was awarded a Presidential Scholarship to study theatre at the University of Southern California. His favorite theatre credits include Ramona (Ramona Bowl), Se Llama Cristina (Boston Court), School for Scandal (Theatricum Botanicum), and Looking Towards Lourdes (USC). His playwriting credits include Timestop, Little Big Joe the Bug Squasher, and Totem Boy. Valdez was recently featured in American Theater magazine as a theatre artist to watch.

*Refers to tribal affiliation.
Native Voices Is Sponsored by 
The Actors' Equity Foundation, Department of Cultural Affairs (City of Los Angeles), Edison International, Los Angeles County Arts Commission, National Endowment for the Arts, The Nissan Foundation, San Manuel Band of Mission Indians, Seven Post Private Investment Office, Shubert Foundation, SoCal Gas, Sony Pictures Entertainment, and The Walt Disney Studios.
About Native Voices at the Autry
Founded in 1994 by Producing Artistic Director Randy Reinholz (Choctaw) and Producing Executive Director Jean Bruce Scott, Native Voices at the Autry became the resident theatre company at the Autry Museum of the American West in 1999. It is the only Equity theatre company devoted exclusively to developing and producing new works for the stage by Native American, Alaska Native, and First Nations playwrights. The company provides a supportive, collaborative setting for Native theatre artists from across North America and is committed to putting Native narratives at the center of the American story in order to facilitate a more inclusive dialogue on what it means to be American. In 2014 the company established the Native Voices Artists Ensemble to more fully support the extraordinary talents of its Native actors, writers, musicians, directors, designers, and producers. The Ensemble is devoted to developing new work in a collaborative process as well as supporting Native Voices' ongoing focus on the work of individual playwrights. Native Voices was the resident theatre company at the Tony Award–winning La Jolla Playhouse 2016-2018; is a member of Actors' Equity Association, LA Stage Alliance, and the Dramatists Guild; an associate member of the National New Play Network; and a Constituent Theatre of Theatre Communications Group (TCG), the national organization for the American theatre. Visit TheAutry.org/NativeVoices for more information.
About the Autry Museum of the American West
The Autry is a museum dedicated to exploring and sharing the stories, experiences, and perceptions of the diverse peoples of the American West, connecting the past to the present to inspire our shared future. The museum presents a wide range of exhibitions and public programs—including lectures, film, theatre, festivals, family events, and music—and performs scholarship, research, and educational outreach. The Autry's collection of more than 500,000 pieces of art and artifacts includes the Southwest Museum of the American Indian Collection, one of the largest and most significant collections of Native American materials in the United States. 
EDITORS, PLEASE NOTE:  CALENDAR LISTING
WHO:  Native Voices at the Autry, America's leading Native American theatre company

WHAT: Pure Native by Vickie Ramirez (Tuscarora)

WHEN:
PREVIEWS
Wednesday, March 6, 8:00 p.m.
Thursday, March 7, 8:00 p.m. 

PERFORMANCES
Friday, March 8, 8:00 p.m.
Saturday, March 9, 2:00 p.m.* 
Sunday, March 10, 2:00 p.m.

Thursday, March 14, 8:00 p.m.  
Friday, March 15, 11:00 a.m.**
Friday, March 15, 8:00 p.m.
Saturday, March 16, 2:00 p.m.
Sunday, March 17, 2:00 p.m.

Thursday, March 21, 8:00 p.m.
Friday, March 22, 11:00 a.m..**
Friday, March 22, 8:00 p.m.
Saturday, March 23, 2:00 p.m.
Sunday, March 24, 2:00 p.m.

*TALK-BACK WITH THE PLAYWRIGHT
Saturday, March 9
Following the matinee performance, Artistic Director Randy Reinholz (Choctaw) and playwright Vickie Ramirez (Tuscarora) will discuss the genesis of Pure Native and their processes for writing and producing new plays.

**STUDENT MATINEES

WHERE:
Wells Fargo Theater
Autry Museum of the American West
4700 Western Heritage Way
Los Angeles, CA 90027-1462
 
TICKET PRICES:
$25 General Admission
$15 Students/Seniors (60+)/Military
$10 Autry Members

Previews:
$15 General Admission
$10 Students/Seniors (60+)/Military
Free for Autry Members
Student Matinee Prices: $2/person

MUSEUM ADMISSION:
Pure Native tickets include museum admission to the Autry during the month of March. Present your Eventbrite ticket for complimentary admission. Offer valid March 1-31, 2019, for general museum admission only (no special events) during regular museum hours.

DINING
The Autry's Crossroads West Cafe will offer a limited menu before and after matinee performances, and from 6:00 to 8:00 p.m. prior to evening performances. Beer, wine, and light dinner fare will be available for purchase. 

PUBLIC INFORMATION:
Phone: 323.495.4354
Online: TheAutry.org/NativeVoices