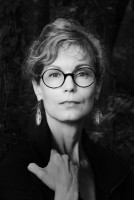 Susan Lyon grew up in Oak Park, Illinois. Her initial interest in art was sparked by a PBS television show on Georgia O'Keeffe, which inspired her to take drawing classes. Lyon studied art at the American Academy of Art in Chicago and was an active participant in Chicago's Palette & Chisel Academy of Fine Arts, where she first began exhibiting and selling her work. At age 23 she was the youngest winner of the club's prestigious Gold Medal, which she won two years in a row at its annual Gold Medal show, and she also won a Third Place award at its Silver Medal show.
Lyon draws inspiration from such painters of the Gilded Age as John Singer Sargent, Joaquin Sorolla, and Anders Zorn. She also is passionate about artists like Philip Malavin from Russia and contemporary masters Richard Schmid and Nancy Guzik. Her technique is to paint wet-on-wet to start and then wet-on-dry for her finishing touches. She is equally at home working in oil and pastel/charcoal. 
In 2019 Lyon won the $25,000 Gold Medal Award at Oil Painters of America's 28th Annual National Juried Exhibition of Traditional Oils. At the 2016 Prix de West Invitational Art Exhibition and Sale, Lyon won the Donald Teague Memorial Award. Her other awards include two Honorable Mentions at the Western Rendezvous of Art, and an Honorable Mention and Second Prize from the International Artist magazine art competitions. She has been featured in Art of the West, The Artist, Artists & Illustrators, The Artist's Sketch Book, Art-Talk, International Artist, Pastel Journal, Pratique de Arts, Southwest Art, and U.S. Art. The book Visions and Voyages: The Art of Susan Lyon was published in 2008.
Lyon lives in a rural area of North Carolina with her husband, artist Scott Burdick, whom she met at the Palette & Chisel Academy in 1989 and married in 1993. She and her husband travel widely. "The excitement of traveling and seeing so many new sights, people, and incredible works in museums, combined with the challenge of painting on the spot, makes me a travel addict! Even before I go on a trip I'm planning the one after."
Susan Lyon is represented by Gallery 1261, Denver, Colorado; InSight Gallery, Fredericksburg, Texas; Maxwell Alexander Gallery, Los Angeles, California; Sage Creek Gallery, Santa Fe, New Mexico; and Wilcox Gallery, Jackson, Wyoming.
---
Back to Artists and Artwork