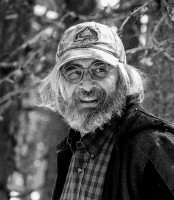 Greg Beecham has been a full-time artist since 1978. He is the son of artist Tom Beecham, who taught him to draw when he was in sixth grade. After a tour of duty in the United States Navy, during which Beecham served as a hospital corpsman, he spent a few years in college before once again studying with his dad during the summer of 1978. Following a handshake from his dad, he launched his career.
At the 2017 Prix de West Invitational Art Exhibition and Sale, Beecham won his fifth General and Mrs. Don D. Pittman Wildlife Award. In 2017 he also received an Award of Merit at Society of Animal Artists' annual exhibition. In 2014 Beecham was selected as a participant in the Gilcrease Museum's Rendezvous Retrospective, where more than thirty of his paintings were on display at the museum from April through July, and was elected into the Gilcrease Rendezvous Hall of Fame. At the 2011 Western Rendezvous of Art in Helena, Montana, Beecham won an Award of Merit and the Montana Historical Society Legacy Award for Osprey Squared, which was added to the permanent collection. Among his other awards are the Artists' Choice and People's Choice Awards at the Western Visions Miniatures and More Show and Sale, National Museum of Wildlife Art, Jackson, Wyoming. He has also received the Patrons' Choice Award and the Nona Jean Hulsey Rumsey Buyers' Choice Award at the Prix de West.
Beecham has taught workshops for many years and considers it a way to give back all that those, including his dad, have given him. In late 2016 he produced his first instructional video, Confessions of a Wildlife Artist. His work has been featured in Art of the West, Big Sky Journal, Southwest Art, Sporting Classics, and Western Art Collector. He is a member of Northwest Rendezvous Group and the Society of Animal Artists.
Beecham lives in northwest Wyoming with his wife, Lu, two cats, and three horses. Together they have raised a son, Sam, and a daughter, Sarah.
Greg Beecham is represented by Legacy Gallery, Jackson, Wyoming, Scottsdale, Arizona, and Bozeman, Montana.
---
Back to Artists and Artwork