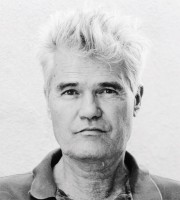 Billy Schenck has been known internationally for more than 44 years as one of the originators of the contemporary Western pop art movement. He is an American painter who incorporates techniques from photorealism with a pop art sensibility to both exalt and poke fun at images of the West.
Career highlights include the 2013 Utah Museum of Fine Art's exhibition, Bierstadt to Warhol: American Indians in the West; the Denver Art Museum's 2011 Western Horizons exhibition; and a retrospective of serigraphs created by Schenck from 1971 to 1996 at the Tucson Museum of Art. 
Schenck's work is held in the museum collections of the Albuquerque Fine Arts Museum, the Denver Art Museum, the James Museum, the Museum of the Southwest, the New Mexico Museum of Art, and the Tucson Museum of Art. Private collections include those of Chris Evert, Steve Forbes, Louis K. Meisel, Martina Navratilova, Sylvester Stallone, and the estates of Malcolm Forbes, Elaine Horwitch, Laurance Rockefeller, and Fritz Scholder. Corporate collections include American Airlines; Hilton Hotels; IBM; Raymond James Financial; Sturm, Ruger & Co; the Swiss National Bank; and Wells Fargo Bank.
About Schenck, Julie Sasse, Chief Curator and Curator of Modern and Contemporary Art, Tucson Museum of Art, writes, "What has remained constant throughout Schenck's career is his individuality in dealing with the subject matter of the West. Using the artistic formula of classic Western film direction and the photographically reliant systems of contemporary art, he has bridged two genres that resonate with the American experience. From early depictions of cinematic cowboys to real-life cowboys and cowgirls, to poetic reveries about the Native American existence in the Southwest, Schenck melds the real with the imagined, autobiography with fantasy." 
Billy Schenck is represented by Blue Rain Gallery, Santa Fe, New Mexico; Castle Fine Art, London, Manchester, Leeds, and Cambridge, England; JoAnne Artman Gallery, Laguna Beach, California, and New York City; Mark Sublette Medicine Man Gallery, Tucson, Arizona; Maxwell Alexander Gallery, Los Angeles, California; Modern West Fine Art, Salt Lake City, Utah; and Visions West Contemporary, Denver, Colorado, and Bozeman, Montana.
---
Back to Artists and Artwork