Tabletop Frontier: A Hand-Carved Model of a Mythic Old West Town
Posted on: July 6, 2020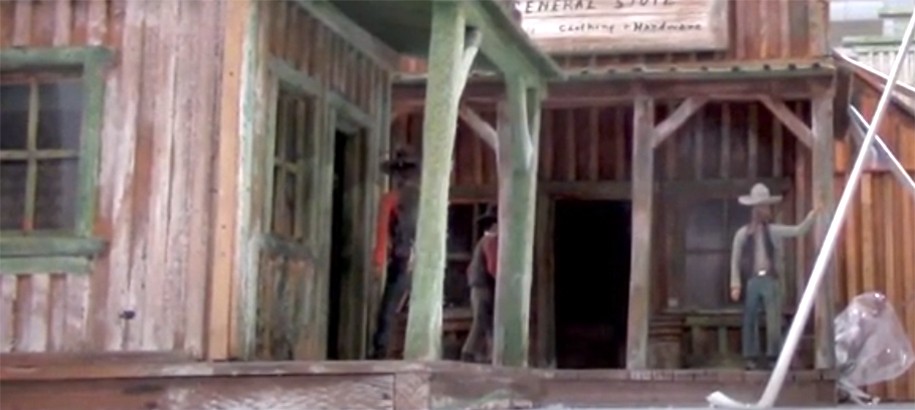 By: Josh Garrett-Davis, Gamble Associate Curator of Western History, Popular Culture, and Firearms
In the video below, the Autry's Chief Conservator, Richard Moll, shows off a model frontier town carved by cowboy artist Gene Hoback. This meticulous creation is on deck to make its debut at the Autry in our renovated popular culture exhibition in the Ted and Marian Craver Imagination Gallery. This core exhibition will explore how the West has been imagined in many types of media—movies and television, sure, but also other forms of what anthropologists call "expressive culture," including wood carvings.
Gene Hoback (1913-1969) is still somewhat obscure. He was evidently a working cowboy on ranches near the California coast between San Luis Obispo and Ventura. A 1935 account places him on the Rancho Tepusquet near Santa Maria. He also reportedly worked as a horse wrangler on films, including How the West Was Won (1963). Some accounts describe him as being Native American, but I have not yet been able to find more details about his background. In the 1950s and '60s, he sold dioramas to collectors around California, including to Roy Rogers. Our model was donated to the Autry by the family of Caryll and Dr. Norman F. Sprague Jr., prominent Los Angeles philanthropists who led the Southwest Museum. Hoback is buried in Ojai, California.
What accounts for the magic of such a model? The writer Steven Millhauser once described "the sadness, the secret poignance, of dollhouses, model whaling ships, glass animals, little automatons." Though we become giants or gods as we examine and even possess the exquisite details of a miniature—"the more precise, the more wonder-compelling"—there is always the "unfulfilled yearning to be part of that world." In Hoback's heyday, yearning to be part of the Old West reached its zenith, and it seems this model brings us back to that poignant nostalgia.
P.S.: For a lighthearted take on a Western miniature town, there's this scene in Stuart Little (1999). Yeehaw!