Posted on: March 27, 2020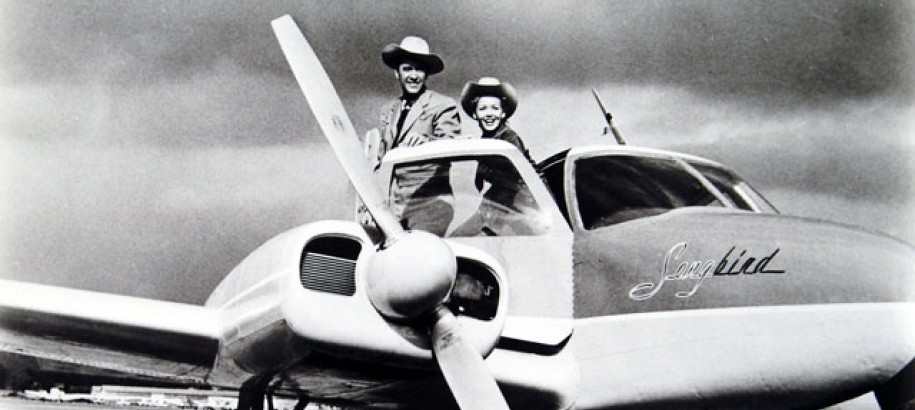 By Cheryl Miller, Head Library Metadata and Discovery Services, Autry Museum of the American West
---
"FROM OUT OF THE CLEAR BLUE OF THE WESTERN SKY COMES SKY KING."
For many, this familiar opening to the 1950s television series also meant sharing the adventures of Penny, the teenage niece of Uncle Sky (Grant Kirby), title character in the television series. Actress Gloria Winters-Vernon, who played Penny, passed away on August 14, 2010. She was a generous friend to the Autry who donated many items from her television, film and personal appearance career including photographs, costume, scripts, and publicity materials from "Sky King." 
Penny and Uncle Sky patrolled Sky Crown Ranch in a Cessna named Songbird and helped bring law and order to the fictitious city of Grover, Arizona. "Sky King" was first broadcast on radio 1946 and continued until 1954, running concurrently with the airing of the television program in 1951-1952.
Images
(Click image for details)

:
A falling out between the sponsor, Peter Pan Peanut Butter, and the advertising agency cancelled the television series, but in 1955 new episodes were produced and sponsored by Nabisco. "Sky King" aired through 1959 showing both new and earlier episodes.
Penny was just one of many teenage girls (and boys) featured on television in the 1950s when adolescent consumers were heavily targeted by sponsors. Ms. Winters wrote articles on babysitting and in 1964 authored "Penny's Guide to Teenage Charm and Popularity." Thirty-two years later in 1996, indie rock band Nada Surf released their single "Popular," much of which is delivered in sarcastic spoken word taken directly from or inspired by the book.