Posted on: May 24, 2021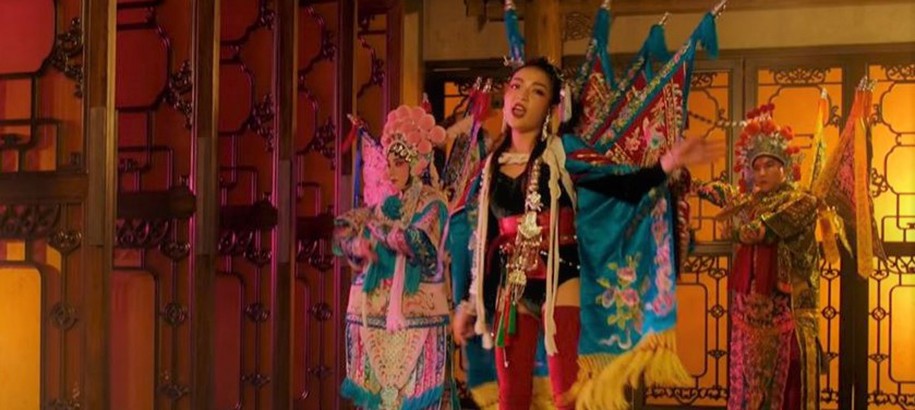 By Christina Lehua Hummel-Colla, Library Collections Assistant
It is a weekday morning, and I am exploring a playlist titled "Chinese Rap Collection 2021," by user XHZY on Spotify. The music keeps me company and helps me focus as I settle into the workday. A song by Vava, a rapper from Ya'an, Sichuan, China catches my attention and I switch over to the artist page so I can listen to more of her work. The second song under the "Popular" section of her page, 我的新衣 (wǒ de xīn yī) (My New Swag) begins with a rich instrumental section featuring traditional Chinese instruments. Sounds of the ban lei, or "Chinese clave," layered with those of gongs, the guzheng, or Chinese zither, and low acoustic drums fill the air around me. I listen to the song on repeat over the next week and the instrumentals cause sense memories to bubble up toward the surface.
It is a Saturday morning, and I am sitting in the backseat of a car with my sister. Our parents are driving us into Chinatown. We are passing underneath the Gateway Monument, adorned with two golden dragons ushering in good luck and harmony. Symbolizing mutual cooperation and prosperity for the local Chinese community and the city of Los Angeles. We are pulling into the parking lot at our go-to dim sum restaurant. My sister and I gaze in wonder at the koi fish in the lobby, before ascending a grand, rounded staircase to the bustling dining room. Once we are seated, a host brings a hot pot of herbal tea to our table, along with small dishes of spicy mustard and chili oil. Hostesses push carts laden with covered metal steamers and plates through the aisles. We are awash in the scent of fresh bao and dumplings, sticky rice rolls, and aromatic herbs.
Vava's music is primarily influenced by Jay Chou, "King of Mandopop," a singer, songwriter, and rapper born in Linkou, Taipei County, Taiwan. Vava's music also draws from international influences, such as Rihanna and the British rapper Little Simz. When asked about the connection between Chinese and American hip-hop in an interview with Rebecca Kanthor for Esquire, Vava responded, "We're still finding our way, still creating and finding our own Chinese style of hip-hop. We need to put more Chinese elements into our music. Already some rappers abroad are inserting Chinese elements into their music, like Migos with the inclusion of mahjong in 'StirFry'." She has also commented on the relationship between Chinese hip-hop and Black American culture, stating, "[Hip-hop] isn't our thing, it's someone else's. [But] you'll have to copy it first to be able to create something original and make it your own. Just like an American might come to China and learn Peking Opera."
The 我的新衣 (wǒ de xīn yī) music video is heavily influenced by the aesthetics of Peking opera, featuring masked figures and women in heavy make-up and costume, with Vava herself rocking outfits that move seamlessly from theatrical costume to street chic. Around the one-and-a-half-minute mark of 我的新衣, Vava features a classic Peking opera excerpt, "Selling Water," sung by Wang Qianqian/Nina Wang. Wang's voice is high and resonates with a reed-like quality, ethereal and otherworldly.
My sister and I wander through the markets with our mother and father, walking off our deceptively large breakfast of basket upon basket of dim sum. In a maze of shops and booths, we explore this space that is a world unto itself. One store's walls are covered in DVDs, a TV in the corner emanating music from a Peking opera. A stall is packed with clothing, another with colorful toys. Everywhere we look, there is something to see, something to hear. As we wind our way back out to the street, we can smell the food being sold from carts on the sidewalk. Our mother buys a container of boiled peanuts to take home for later. As we make our way slowly back to the car, moving through the bustle of tourists and locals alike, we pass countless more storefronts, portals to further microcosmic worlds. The scent of aromatic herbs and medicines wafts out onto the sidewalk from a health store. We cross the streets, pass the newspaper vendor at the corner, and return to the car and to our home in the San Fernando Valley. But Chinatown is still there, and we know we will return to this home within our hometown, whether for a birthday, celebration, or the simple joy of a morning spent eating good food and wandering through the streets and markets.
我的新衣 was featured in Crazy Rich Asians (2018), a romantic comedy telling the story of Rachel Chu, a Chinese American professor who travels to Singapore with her boyfriend, Nick Young, discovering along the way that his family is among the richest in Singapore. The two creative works pair well. The song forms a bridge both between older and younger generations in China and between Chinese traditional music and rap and hip-hop. And though Crazy Rich Asians pares down its source material (the Crazy Rich Asians trilogy by Kevin Kwan) to fit the genric forms of a romantic comedy feature, Kwan's story also explores themes that bridge intergenerational, cultural, and ethnic divides.
Beyond Vava's killer fashion and artistic talent, her ability to seamlessly bridge these gaps between cultural and musical styles is what makes 我的新衣 unique and special. It is a song that not only caught my ear, but awakened nostalgia, transporting me back to childhood days spent wandering the streets of Chinatown in Los Angeles.
Images
(Click image for details)

:
Image Captions
Main Image Caption:
[1] Make way for Miss Vava, who has been alternately referred to as China's rap or hip-hop queen and the Rihanna of China. Screen capture from the 我的新衣 (wǒ de xīn yī) (My New Swag) music video, taken by author.
Additional Image Captions:
[2] My sister, Violette, and I in the lobby in front of the little koi pond at Ocean Seafood Restaurant in Chinatown. Violette rocks a gorgeous red ensemble while I shlub around in jeans with my book—I am happy to report that my style has improved somewhat over the years. This photograph was most likely taken by our mother, circa 2000s.
[3] In Migos' "Stir Fry" music video Quavo, Takeoff, and Offset play a high stakes game of mah jong. Screen capture taken by author.
[4] The Migos trio strikes a pose as they gear up for a martial arts battle against a rival restaurant owner. Screen capture from the "Stir Fry" music video, taken by author. 
[5] A cast of performers in Peking opera costumes accompany Vava in the 我的新衣 (wǒ de xīn yī) (My New Swag) music video. Screen capture taken by author.
[6] This is just one of Vava's many great looks. Screen capture from the 我的新衣 (wǒ de xīn yī) (My New Swag) music video, taken by author.
[7] A lantern slide depicting Chinatown, Los Angeles, California in 1944. Braun Collection. Autry Museum; LS.12315
[8] A lantern slide depicting Lim's Cafe and Rice Bowl in Chinatown. Braun Collection. Autry Museum; LS.12321
[9] A black and white photograph of a gateway to Chinatown near Castelar Street, off Sunset Blvd, 1980. Hankey, Roy, Los Angeles Photographers Photo Collection/Los Angeles Public Library. https://tessa.lapl.org/cdm/ref/collection/photos/id/125316. 
[10] A black and white photograph of a shopping area on Broadway in Chinatown, 2000. Roth, Marissa, Los Angeles Neighborhoods Photo Collection/Los Angeles Public Library. https://tessa.lapl.org/cdm/ref/collection/photos/id/3993. 
References
Montgomery, William Francis. "Analysis and utilization of hip-hop techniques in classical music." Louisiana State University, 2019. LSU Doctoral Dissertations. 4946. Retrieved May 21, 2021. https://digitalcommons.lsu.edu/gradschool_dissertations/4946.
Kanthor, Rebecca. "VaVa: The Chinese rapper on her difficult childhood, Chinese hip-hop and government censorship." Esquire Singapore, May 11, 2018. Retrieved May 21, 2021. https://www.esquiresg.com/features/vava-the-female-chinese-rapper-on-difficult-childhood-chinese-hip-hop-government-censorship/?fbclid=IwAR0pzU9XqfWX47vLf8fM0wi92D_viWUtQxvsvAHA0505h8SoU9gpGNsczBI.
Kornhorst, Adan. "Photo of the day: Vava evokes Peking opera in new music video." Radii China, December 10, 2017. Retrieved May 21, 2021. https://radiichina.com/photo-of-the-day-vava-evokes-peking-opera-in-new-music-video/.
Niewenhuis, Lucas. "Friday song: Vava, queen of Chinese hip-hop, demands 'look at me' on Crazy Rich Asians soundtrack." Sup China, September 21, 2018. Retrieved May 21, 2021. https://supchina.com/2018/09/21/friday-song-vava-queen-of-chinese-hip-hop-demands-look-at-me/.