Posted on: August 1, 2018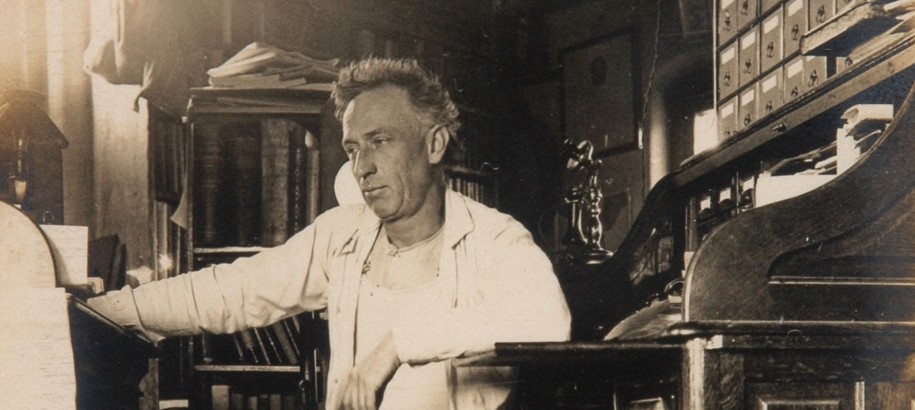 By Julia Tcharfas, Collections Cataloger, Autry Museum of the American West
Charles Fletcher Lummis (1859 – 1928) has an almost mythical role within the history of early Los Angeles – somehow both shaping the city's cultural landscape and remaining a largely underground figure within it. Most accounts of his life begin when he was twenty five with a transcontinental 143-day-long walk from Cincinnati to L.A. narrated through his weekly dispatches to the Los Angeles Times.Upon arrival, Lummis took up the job as editor of the paper and by the turn of the century he had finished construction on his Highland Park home, El Alisal, where he entertained movies stars, tribal delegates, experimental scientists, artists, and politicians. Lummis took the position as the City Librarian of the Los Angeles Public Library in 1905 and in 1907 he founded the Southwest Museum of the American Indian. The Autry Museum became the home of the Charles F. Lummis collections and archives when it merged with the Southwest Museum in 2003.
The Lummis collections are widely referenced by scholars as important primary sources for Native cultures of the Southwest, local California history, and the essential relationships between the two. Lummis and his collections were critically scrutinized by L.A. historian Mike Davis in his book City of Quartz, and more recently celebrated as the subjects of KCET's 2016 Artbound documentary episode, "Charles Lummis: Reimagining the American West." Lummis and his collection are also the subjects of the exhibition Making a Big Noise: The Explorations of Charles Lummis, currently on view at the Southwest Museum.
Despite the abundant evidence of Lummis's commitment to Native American rights and his celebration of the cultures of the Southwest, this part of his biography has often been overshadowed by his eccentric personality. His social life regularly made it into the pages of gossip columns. Especially noteworthy were the parties he called "noises," hosted at El Alisal. For decades these parties served as a social hub for writers, artists, musicians, and other bohemians in Los Angeles to mix with socialites, scholars, and aristocrats. A house guest book catalogs these unusual connections across 505 pages with its nearly 7,000 signatures left between 1899 and 1928.
Lummis was an obsessive cataloger in every aspect. His journals list daily expenses, notable events of the day, and photographs taken. Most significantly, he recorded every one of his meetings. Encounters with women were notoriously recorded in code (which was eventually cracked by his second wife, resulting in a divorce). This emphasis on relationships, and in the case of Lummis, recorded relationships, became the central focus of my current cataloging project.
Earlier this year, I began cataloging the Lummis Family Albums—a collection of 26 hand-bound photo albums made by Lummis as Christmas gifts between the early 1900s and 1920s. Each album is the size of a small book, with approximately 10 to 25 pages of folded craft paper bound with string. On the front cover of each book, Lummis penned a Christmas greeting to the recipient. Inside and centered on each page are cyanotype prints featuring family members, secretaries, and famous guests throughout the decades. From year to year one can see Lummis, his son, and colleagues on archaeological voyages; the construction of his house; and he and his children growing older. One son, Amado, died from pneumonia at the age of six, but his picture continues to surface in the albums, forever young. Another son, Jordan, grows up on the pages of the albums, appearing as a child in the first few albums and later as a man in a military academy uniform. The story of the Lummis family is illustrated in the pages of these albums, proliferated as gifts to friends over many years. In an archival context, both the albums and their distribution form a kind of a social network.
In cataloging the Family Albums, my primary concern was identifying the people pictured and attributing their relationship to each other. Now, with this new data, we can tell a more complete story of the Lummis family and the ephemera they left behind. The Lummis family was as unconventional as the founder of the Southwest Museum himself. Charles's grandfather, William Lummis, fathered 16 children. Charles had siblings and stepsiblings, as well as three divorces and one daughter, Bertha, born out of wedlock, who came into his life at age 23. Constructing a genealogical tree pushed the boundaries of standardized ancestral charts.
Although Charles Lummis's biography has been widely examined, creating a genealogical chart for his extended family has been a new undertaking for the museum. In fact, in his biography Charles F. Lummis: Crusader in Corduroy, Dudley Gordon writes,
Concerning his family tree, [Lummis] gave it little heed. It was enough for him that his forebears arrived in New England in the 1630's [sic]. He was too preoccupied with improving the present generation to give much time to tracing his ancestry. (p. 38)
Perhaps unconcerned with his ancestors, Lummis was preoccupied with his living relatives and extended network of peers. Here is Gordon again: "Few men were as well oriented to the institution of the family as was Lummis; to him the family hearth was the keystone of civilization" (p. 37). This network of relationships—and the objects produced by them—make Lummis a fascinating case study when considering mapping relationships within a collections database.
The Autry database contains approximately 60 extended Lummis family members, each of whom has a different relationship to the collection. They are mentioned in correspondence, the subjects of photographs, people who have donated to the museum, those on the mailing list for social events, and in the case of Los Angeles poet Suzanne Lummis, a previous employee of the Autry Museum. Now, in addition to cleaning up and organizing familial data like nicknames and bios, I also began to link the relationships between individuals.
Traditionally, collections platforms are built to network things, and people in the database are linked to objects, not to each other. However, the Lummis family project opens the door for a new kind of data management. In the age of social media and linked open data, the relationship itself becomes a resource. Given the modern technological ability to mine data, museums and audiences both want to know more about where objects come from, their original owners, and their stories. As the founding figure of the Southwest Museum, the more we know about Charles Lummis and his social network, the better we can understand his collecting practices. It seems that Lummis, as archivist and socialite, already knew this more than a century ago. During his time as the Los Angeles City Librarian (1905–1910), Lummis amassed an Autograph Collection containing 1,700 signatures on stationery that he designed. In a sense, he collected his own relationships.
In my role as Collections Cataloger I've undertaken to identify and link Lummis to his family members, peers, friends, and acquaintances in our database. This data enriches the knowledge within our collections. And now we can look forward to seeing how researchers and curators might use this data as a new resource to better understand how the Autry's material history of the American Southwest can be linked not only to important individual patrons such as Lummis but also the wider social milieu of 20th-century Los Angeles and beyond. This project is a reminder that collections are not only made of objects, they are made of people too.