Collecting Community History Initiative: Juneteenth in Leimert Park, CA
Posted on: July 22, 2020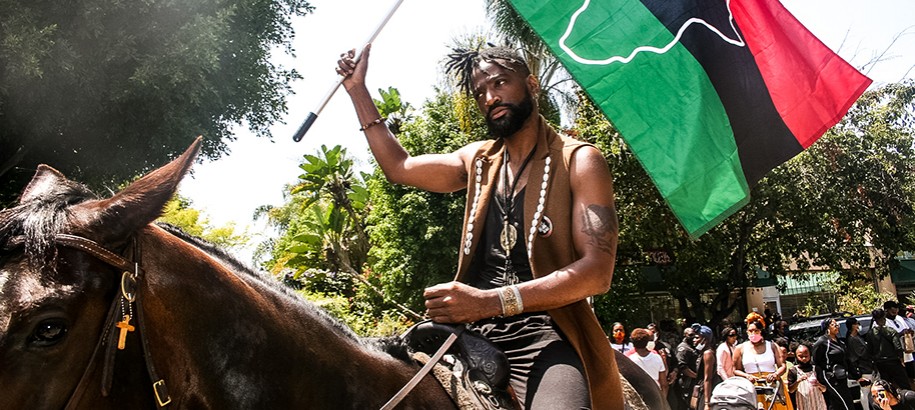 By Kyrie Blackman, Getty Marrow Undergraduate Intern for The Autry's Collecting Community History Initiative 
In June of this year, the Autry launched its Collecting Community History Initiative: BLM Protests in the West and offered its solidarity and support of the Black Lives Matter movement in the wake of the George Floyd-inspired protests across the world.  
Given the strong response to the protests, the Autry and I went to the heart of Black Los Angeles to collect and offer the perspective of the communities we are engaging with—notably during this year's 11th annual Leimert Park Rising Juneteenth Celebration and its importance to Los Angeles as a whole. 
Established in 1927 by real-estate developer Walter H. Leimert, the Leimert Park community was an active residential community that was sold to white homeowners. Advertising was exclusive to potential white homeowners due to the restrictive housing covenants that prohibited African Americans from owning homes in the areas north of Vernon Boulevard and east of Vermont Avenue. However, in 1948 the United States Supreme Court declared those racial covenants legally unenforceable, which prompted an influx of Black Angelenos to the Leimert Park area in South Los Angeles. 
Nearly a century later, Leimert Park stands as a staple in and for the Black community. Notably, as a mecca for art, dining, and business that comes alive every year during Juneteenth (June 19th)—a day that commemorates the emancipation of those who were enslaved in the United States during the Civil War. 
 On June 19th, 1865, enslaved Africans in Galveston, Texas, learned from Union Soldiers of their liberation. In 1866, with jubilation, those formerly enslaved shared their first Juneteenth celebration by singing songs, attending sporting events, and throwing gatherings to express their newfound freedom. The same excitement occurs annually as African Americans celebrate their ancestor's freedom nationwide—especially in areas like Leimert Park in Los Angeles. However, this year's celebrations had particular resonance because of the latest civil rights moment—the Black Lives Matter protests of 2020.   
This year, Leimert Parks' Juneteenth celebration drew thousands of people wearing face masks to commemorate the holiday and their community's unity amidst the recent uprisings caused by the deaths of George Floyd, Ahmaud Arbery, Breonna Taylor and countless others at the hands of police. Harnessing their collective frustration and wanting to create space, on this Juneteenth the Black community throughout the city of Los Angeles descended into the Leimert Park Village to celebrate Black history, excellence, creativity, and entrepreneurship. 
Here are several people and voices from that day who celebrated the holiday and have contributed to the CCHI.
Images
(Click image for details)

:
Each voice above offers a glimpse into how communities of color in the West are bonding and creating unity amidst protests during this pandemic. Look out for more blog posts highlighting other communities and submissions similar to this. We, the Autry, are excited to partner with you to log our community's accounts about the West during COVID-19. Complete this submission for to share your experiences.