Posted on: October 12, 2020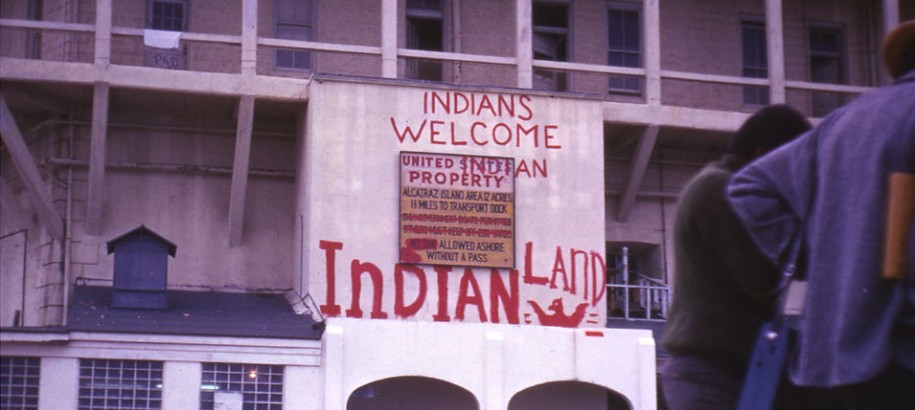 By Joe D. Horse Capture, Vice President of Native Collections and Ahmanson Curator
It's one of the most significant artifacts of the Red Power era.
Kent Blansett
Founder and Executive Director
American Indian Digital History Project
Occupation of Alcatraz
On November 20, 1969, a group of Native Americans landed and occupied Alcatraz Island for 19 months. The initial group of over eighty occupiers referred to themselves as "Indians of All Tribes" reflecting the diversity of Native Americans in the Bay Area during this time period. The Bureau of Indian Affairs Relocation Program began in 1948 and encouraged Native peoples that resided on reservations and rural Native communities to leave their homelands and assimilate in large urban cities. As one of the targeted areas for relocation, the Bay Area received a large influx of Native Americans from across the country. This facilitated new communities to be formed that were Intertribal in nature. Through this Intertribal dialogue, Native Americans from different communities shared a common history: the oppression and lack of respect by the federal government for generations. Organized, activated, and well informed of their history, the Indians of All Tribes' action was a call to all Native Americans across the country to stand up for their rights and communities. During the several months of the takeover, more than 10,000 from over 130 Tribes visited the island from all over the country.
The impact of the occupation of Alcatraz cannot be overstated. It is considered the first major national occupation for collective Indigenous rights and land liberation. This event influenced Indigenous takeovers across the country and around the world. Among many Native Americans today the power of Alcatraz takes on a certain aura, a time when our parents, grandparents set the tone for us to follow- to stand up for our People.
Much of the history of the occupation and its key players have been recorded elsewhere, but one key element of the story has been missing. A logbook of those who visited the island exists and is presented here to the public for the first time. Although only a fraction of those that visited the island signed the book, it does provide us greater insight into the diversity and numbers of people who visited and stayed on the island. A brief overview of the 254 pages shows names of Native Americans that are common household names like Wilma Mankiller and John Trudell.
On the first page of the book, Luwana Quitiquit (Pomo) writes, "HISTORY This book found in the old broiler room by myself brought to the pier for registration new residence and visitors on December 7, 1970." Native scholar Kent Blansett, author of A Journey to Freedom: Richard Oakes, Alcatraz, and the Red Power Movement and the founder and executive director for the American Indian Digital History Project, after seeing the logbook states that "it's one of the most significant artifacts of the Red Power era."
For every name that was signed into the book there is a story. A family story of activism, community, and determination. A story that we can share to honor those that set the standard for us and serve as an inspiration to continue to move forward.
Images
(Click image for details)

:
My Family's Story
My father, George Horse Capture Sr., ended up in the Bay Area in the 60s with his father, whose name I carry, following. During this time period our last name was changed from Horse Capture to Capture. I was born in Oakland in 1963 and lived along with my older brother George Jr, my biological mother, and father. Having served in the Navy, my father became a welding inspector for the state of California and slowly worked his way up. At the time, he was one of the few minorities in the area to hold this position. My father had a good career in front of him with opportunities and promotions with the state. All was fine, then Alcatraz happened. My father had been disconnected from our culture because he wasn't taught by his father or grandmother. They knew, like many other Native families during this time period, but withheld information because it was too hard to be Native American with all the racial injustices and prejudices. My father once told us kids that when Alcatraz happened, he felt a seed inside of himself start to sprout. He visited the Island a few times and took my brother and I there. According to my older brother who is five years older than me, our father was part of the Native security group on the Island and spent a couple of weeks at Alcatraz. Although my memories are a bit hazy—I was 6 years old—my brother remembers a sense of wonder during our visit the Alcatraz. We were there during Christmas and my brother remembers Christmas trees where the decorations were tin can lids, many written with phrases like "Trail of Tears."
Once I had access to the Alcatraz logbook, I pored through the pages looking for my father's name. With guidance from my brother, I found it on page 22, line 9. There my father signed it on Tuesday December 23, 1969.
The impact of Alcatraz on our family, led by our father, was profound. He left his great job and enrolled at the local university, which happened to be Berkeley in the early 1970s. He grew his hair out and wore a headband. He changed our family name back to Horse Capture. In our household during this time we listened to Buffy St. Marie, Floyd Westerman, and Paul Ortega. Within our family, he was rebuilding what had been damaged.
He received his degree in Anthropology at Berkeley then we all moved to Montana, where he eventually received his master's degree at Montana State University-Bozeman, the first member of our family to do so. He was the first curator of the Plains Indian Museum in Cody Wyoming when they opened their doors in 1979 and one of the first Native American curators in the country. After a distinguished career in Cody, he went to the National Museum of the American Indian where he assisted with the opening of that museum. Furthermore, he brought our family back to ceremony. Through his example, he inspired my older brother and me in so many ways. George Jr. is a well-respected member and leader of our community at Fort Belknap Indian Reservation, MT. He sits on several non-profit boards and has started many projects for the benefit of our community. As for me, I have been fortunate to have a successful museum career.
There are many stories from Alcatraz and from those who participated in the occupation. I would like to invite each of you to look through the logbook and share your stories and photos; this is our history. With this action, we can ensure that we continue to honor and respect those that set the path for us to follow.
For more info about the Alcatraz occupation and Red Power, there is an exhibition on the island that can be found here. Also, Kent Blansett's most recent book.
Alcatraz Log Book
---
To see the logbook full-screen click the second icon from the right (with the four arrows pointed out) or click here
Loan courtesy of Sharon Rogers and Marshall McKay. Autry Museum; LT2016-4-42
If you would like to leave a comment or share a photograph related to the Alcatraz Logbook please send them to us using the following form Alcatraz Logbook Comment Form. We will review all submissions and post them below.
---