Works in Progress at the Autry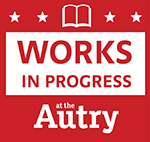 Works in Progress at the Autry is a series of workshops bringing together scholars and the public to support the development of new works such as books, films, and journal articles. During each workshop, scholars present their in-progress works to gather questions and feedback.
In advance of the Autry's fall 2016 opening of a suite of new galleries, a garden, and visitor spaces devoted to exploring California's environment through the lens of social history and contemporary cultural practice, upcoming workshops will explore topics such as the experiences of Native American women who worked in California's missions and the redevelopment of L.A.'s Broadway Corridor. Papers are circulated prior to the workshops for attendees to review in advance.
If you would like to be added to the e-mail list for this workshop series, contact Erik Greenberg, Director of Education and Visitor Engagement, at egreenberg@theautry.org.
---
Request for Proposals on the Experience of Native Americans in the 20th Century
Works in Progress at the Autry (WPA) seeks proposals for presentations of scholarly and creative works in progress on the histories, cultures, and other experiences of Native peoples in the American West during the 20th century. We seek projects from a range of fields and disciplines—from the social sciences and humanities to creative writing, theater, film, and beyond. Similarly the WPA encourages the submission of projects in a wide variety of formats, including working drafts of papers for publication, book chapters (both non-fiction and fiction), treatments for documentaries and feature films, and exhibit proposals, to name a few.
All projects must be works in progress (i.e., pieces that are not completed and that would benefit from public presentation and comment) and must explore the experience of Native American peoples in the American West (defined as those places west of the Mississippi River that are, or would soon be, integrated into the American State) circa 1900-1999. The selected proposals will then be presented by the author(s) at a public workshop during the 2016-2017 academic year.
PLEASE NOTE THAT OUR BUDGET PRECLUDES PAYING FOR TRAVEL AND HOUSING, AND SO ALL PROPOSALS SHOULD COME FROM SCHOLARS IN SOUTHERN CALIFORNIA, OR FROM THOSE WILLING TO HANDLE THE COSTS OF TRAVEL AND HOUSING ON THEIR OWN.
Submission Guidelines
The application process is open to anyone currently working on this topic in any field or discipline. Please send a 250-500 word proposal and a brief CV or resume (not to exceed 2 pages) via e-mail to Erik Greenberg, Ph.D. Director of Education and Visitor Engagement, egreenberg@theautry.org Please note that there is no submission deadline, but we anticipate finalizing all WPA programming by the middle of June.