What Is a Western? Interview series: When Women Wrote Westerns
Posted on:

Autry Curator Josh Garrett-Davis interviews Professor Rosanne Welch about the women screenwriters of Hollywood and their contributions to the Western genre. This interview is part of a series exploring the significance of the Western genre and the ways in which the pop culture shapes our understanding of the American West. If you're interested in seeing past interviews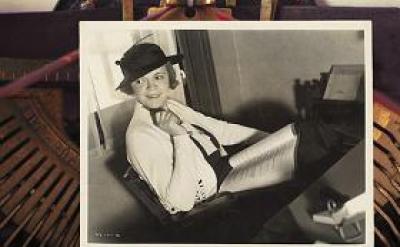 Learn More
---
To Read: 
 Welch, Rosanne, editor. When Women Wrote Hollywood: Essays on Female Screenwriters in the Early Film Industry.  McFarland Publishing, (2018).  
 **2019 runner-up for the Susan Koppelman Award, given to the best anthology, multi-authored, or edited book in feminist studies in popular and American culture by the Popular Culture Association. 
---
Beauchamp, Cari. Without Lying Down: Frances Marion and the Powerful Women of Early Hollywood. University of California Press, (1998). 
---
Susan Lee Johnson, Roaring Camp; The Social World of the California Gold Rush. (2000)   
An insightful look at the real people who populated the Gold Rush camps based on primary documents (from personal letters to county court records). 
---
Murdock, Maureen.  The Heroine's Journey. Shambhala (1990). 
---
Selbo, Jule. Film Genre for the Screenwriter. Routledge, (2014).  
A good chapter on the tropes of western films to help screenwriters know what audiences are expecting. 
---
To Watch: 
NOTE: Many silent westerns written by women cannot appear on this list because they were never preserved so we only know about them through titles, posters, and studio writing contracts 
---
A Romance of the Redwoods (1917)
Written by Jeanne Macpherson (for Mary Pickford) 
A young girl travels west to live with her uncle during the California Gold Rush only to find that he has been killed by Indians and his identity assumed by an outlaw. 
---
Cimarron (1931)  
Based on the novel by Edna Ferber/adapted by Howard Estabrook (who won Oscar for Best Writing, Adaptation) 
Concerns the Oklahoma land rush of 1889.  
First Western to win Best Picture (and the last until Dances with Wolves some 60 years later). 
---
The Cowboy and the Lady (1938) 
Written by Sonya Levien with many other uncredited contributing writers including Anita Loos, Dorothy Parker, and Lillian Hellman, to name a few. 
"A lonely socialite masquerades as a maid and meets an unpretentious, plain-spoken cowboy who is unaware of her true identity."   
---
Giant (1956)  
Novel by Edna Ferber/screenplay by Fred Guiol and Ivan Moffat. They were nominated for an Academy Award for Best Adapted Screenplay. 
---
True Grit (1969) 
Screenplay by Marguerite Roberts/ based on the novel by Charles Portis. 
A 14-year-old farm girl hires an alcoholic ex-lawman to track and kill an outlaw who murdered her father. A Texas Ranger joins them.   
Though written by a female screenwriter this earlier version focuses more on the male characters while the 2010 remake by the Coen Brothers focuses on the 14-year-old girl which is more in keeping with the novel. 
---
The Man Who Loved Cat Dancing (1973)  
Novel by Marilyn Durham/ screenplay by Eleanor Perry and William W. Norton
A western focused on a defiant wife who leaves her husband and takes up with outlaws.
---
The Ballad of Little Jo (1993) 
Written and directed by Maggie Greenwald 
A society woman escapes being known for bearing a child out of wedlock by disguising herself as a man and going out West. 
---
Dr. Quinn, Medicine Woman (1993-1998)  
Created for television by Beth Sullivan 
The story of a woman from the Eastern states who moved out west when no one would let her practice medicine, a skill her father taught her. 
---
Wynonna Earp (2016)   
Written by Emily Andras/ based on the comic book series by Beau Smith  
This Canadian show focuses on the female descendant of the iconic character of the O.K. Corral – Wyatt Earp – and tasks her with killing the ghosts of the reincarnated outlaws Wyatt had killed using his now-supernaturally-charged magic gun, "Peacemaker."  And Doc Holliday figures in as her romantic partner while her sister is in a relationship with the female sheriff. 
---
A list of Gene Autry movies written by Betty Burbridge: 
The Singing Vagabond (1935) 
Springtime in the Rockies (1937) 
Gold Mine in the Sky (1938) 
Man from Music Mountain (1938) 
Prairie Moon (1938) 
Colorado Sunset (1939) 
Rovin' Tumbleweeds (1939) 
South of the Border (1939) 
Rancho Grande (1940) 
Gaucho Serenade (1940) 
Ride, Tenderfoot, Ride (1940) 
Melody Ranch (1940) 
Stardust on the Sage (1942) 
(You can stream Autry's films on SHOUT-TV as they are released.)