Saturday, June 10, 2023, 10:00 a.m.-5:00 p.m.
The Autry in Griffith Park
Appropriate For:

13+, Families
Join the Autry on June 10 and 11 for a fun-filled weekend perfect for the whole family! We look forward to welcoming you to celebrate contemporary and traditional Native art forms at the Autry Museum of the American West's 32nd Annual American Indian Arts Marketplace where you can purchase one-of-a-kind artwork, jewelry, and fashion.
Your ticket to the American Indian Arts Marketplace also includes: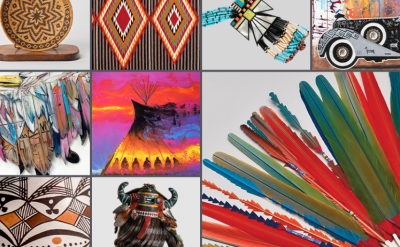 SCHEDULE OF EVENTS
FILM 
Saturday and Sunday, 11:30 a.m. - 1:00 p.m. | Wells Fargo Theater 
Indigenous Films from the 2023 Sundance Film Festival 
Introduction by Adam Piron (Kiowa/Mohawk) Director, Sundance Institute's Indigenous Program 
The 2023 Sundance Institute Indigenous Short Film Tour is a 73-minute theatrical program featuring a short film followed by a feature-length film, both from the 2023 Sundance Film Festival program and from alumni of Sundance Institute's Indigenous Program. 
I AM HOME / U.S.A. (Director and Screenwriter: Kymon Greyhorse, Diné and Tongan. Producers: JoJo Threehairs, Ernest Hill) — As time goes on and the world around us shifts, we adapt and change. Although we might look different, deep down we are still the same. We are made from Mother Earth – mud, wood, love, and patience. Cast: Tiara Folsom. 
Gush / U.S.A (Director, Screenwriter, and Producer: Fox Maxy, Payómkawichum and Mesa Grande Band of Mission Indians) — An embodied rumination of both male and female power, healing and haunting, all within an apocalyptic world. A transformation that courses through unknown terror to untamed collective joy. Cast: Michel Sayegh, Ruth Fish, Sergio Mejia, Littlebear Sanchez, No'aash Iswut Peltier, Suavitel Paper. 
PERFORMANCES  
Saturday and Sunday | In Heritage Court inside the museum, lower level 
 
1:00 p.m. Wildhorse Singers and Dancers Since 1989, Wildhorse Native American Association has been assisting urban Native American children and adolescents with cultural preservation. Gather around the drum with these talented youths as they demonstrate traditional powwow dance styles and traditional songs. 
2:00 p.m. Hoop Dance Workshop The art of hoop dance honors cultural traditions from multiple Indigenous communities that first employed hoop dance as a healing ceremony. Today, hoop dance is shared as an artistic expression to celebrate, share, and honor Indigenous traditions. Try your skills in a workshop with world champion hoop dancer Terry Goedel (Yakama/Tulalip).  
3:00 p.m. Wildhorse Singers and Dancers  
4:00 p.m. Hoop Dancing with Terry Goedel (Yakama/Tulalip) and the Goedel Family See an extraordinary display of artistry, athleticism, and tradition in a multigenerational performance by renowned hoop dancers from the Goedel Family. Each dancer presents their own variation of the intertribal hoop dance, weaving in aspects of tradition and culture. 
THEATRE
Saturday and Sunday, 2:30-5 p.m. | Wells Fargo Theater  
The Autry presents Native Voices 29th Festival of New Plays, an annual ten-day residency where playwrights are partnered with an artistic team, a dramaturg, and professional actors to explore their scripts in front of an audience at the Autry and La Jolla Playhouse in San Diego. Readings run approximately 2 hours.  
Central Standard Time by Maddox Pennington (Cherokee)  
Saturday, June 10, 2:30 p.m.   
After moving back to their family hometown in rural Oklahoma, Jay confronts chasms of generational and cultural differences in their hopes of contributing to their Nation and family. Jay's reconnection istested by resistance from relatives, scrutiny at workbut most of all by an uncertain and shifting notion of home.  
Comanche Girl on the Moon by Dustin Tahmahkera (Comanche)   
Sunday, June 11, 2:30 p.m 
Tired of being bullied at school, Petu discovers her late grandmother's secret rocket ship on her family's allotment in Oklahoma. Together with her humorous animal relatives and some eccentric interplanetary creatures, Petu plans to fly to the moon in search of a new start, but at what cultural cost to herself and her tribal community in Oklahoma? 
Learn more at theAutry.org/NativeVoices.