Posted on: April 5, 2021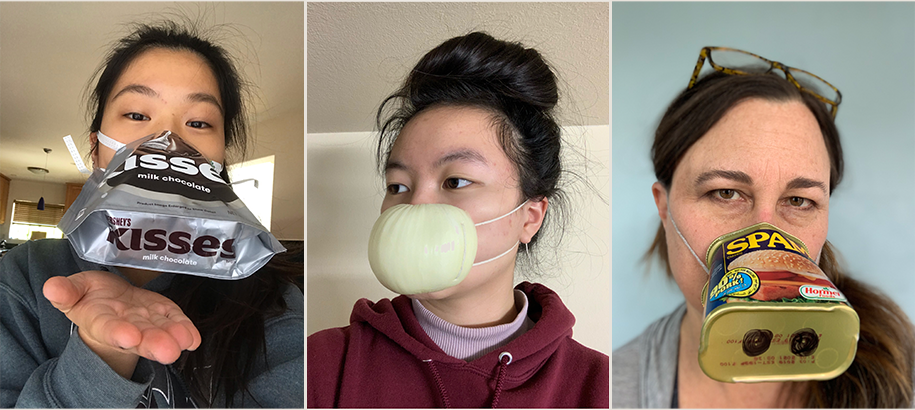 By Marina Nye, Curatorial Research Assistant and PhD Student, UCLA History Department
Students and teachers across the United States have had to adjust to a new online learning environment due to COVID-19. From kindergarteners to college students, this new Zoom platform has created unprecedented challenges. The submissions to the Collecting Community History Initiative (CCHI) shed light on student's day-to-day online schooling.
Students are doing their best to conduct business as usual in a home setting. Elementary school student Jimmy explains "my mom is the 'principal' and my dad is the 'vice-principal' and 'cafeteria cook.'" Jimmy's parents work to create a school-like atmosphere to help their son learn. But establishing this new work-at-home setting is far from easy. High schooler Chloe explains how the pandemic meant students "didn't have to have to leave our beds, couches, and houses."  She explains how studying at home "felt as if the online classes were optional rather than mandatory." Students struggle to stay focused while at home.
Another huge obstacle students face is internet connection. Chloe notes in her entry to the Initiative how stable WIFI is a continual issue for her and her classmates. According to a survey collected by the U.S. Census Bureau, 4.4 million households with children do not have reliable internet. Access to the internet is essential to learn in a pandemic world. The internet also keeps students connected to their community. Elementary students Banji and Sasha write how learning at home has been difficult because "I miss my friends. I will do anything to see them."
Aside from learning, a quintessential school experience that students are missing is recess. Many students want to play outside, like six-year-old Franklin. Franklin writes a daily journal documenting his experience during the pandemic. In his March 16th entry he writes "I did not go anywhere because it rand [rained] all day so we playd [played] indoors. Also we did dat [that] because the vires to [virus too]." Many students found ways to occupy themselves indoors. Aspiring "First African-American, Puerto Rican Woman President of the United States of America" and elementary student, Payton, has been making the most of isolation. She explains that working at home has allowed her to work at her own pace. During her 'recess,' she enjoys doing yoga and playing ROBLOX, a popular pastime for many young students, with friends.
The new online format has prevented students from participating in traditional adolescent rites of passage. Middle schooler Lachlan is saddened that she missed her in-person graduation. She explains how the purpose of the graduation is to memorialize the wonderful middle school years, but Lachlan worries that "the pandemic is just distancing us further than high school will." High school student Hugo shared that he is remorseful because he will miss senior day, prom, and graduation. While Hugo is sad that he will not experience these events in person, he is confident that these setbacks will not set back his dreams of college. He writes "COVID-19 is just another obstacle to overcome and hopefully will not stop the class of 2020."
Students are very cognizant of the pandemic; thus, teachers are helping students cope with these new challenges. Seventh-grade history teacher Allison Caesar has her students write Covid journals about their experiences. Her students' final project last year was to collectively create The 2020 Final Film + Media Project to document what it is like to live during the pandemic. Art teacher Kirsten Bahrs Janssen also asks her students to record their experiences by tasking them to "create a mask that would be poignant and remark on this moment." Her students stepped up to the challenge and created diverse and amusing masks using food and household items. Caesar and Janssen work not only as teachers but as historians collecting history from their students.
Classrooms, recess, and rites of passage have drastically changed as a result of online learning. Despite the adversities, students have worked hard to find the bright side to their new Zoom classroom. The submissions to the CCHI have provided an insight on the ways the next generation is confronting these challenges. Thanks to the thoughtful journaling of students and the hard work of teachers, the CCHI has a rich lens into the realities of education during the pandemic.
Images
(Click image for details)

: