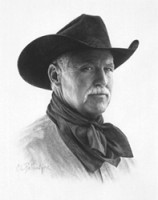 Harold T. Holden—or "H," as he is known to most folks—has been capturing the West in sculptures and paintings for more than 40 years. Although his work can be found in the Oklahoma State Capitol and on a U.S. postage stamp, his public sculptures have kept him busy, with 22 monuments completed in the past 20 years.
In April 2017, Holden was the first Oklahoma artist to be inducted into the Hall of Great Westerners at the National Cowboy & Western Heritage Museum in Oklahoma City. In 2014 he was inducted into the Oklahoma Hall of Fame and in 2012 was elected into membership in the Cowboy Artists of America. In 2010 the Oklahoma Heritage Association in Oklahoma City featured a one-man retrospective of his work and he received the American Cowboy Culture Award in Art from the National Cowboy Symposium, Lubbock, Texas. He had one-man shows at the Oklahoma State University Foundation in January 2008 and the Museum of Western Colorado in Grand Junction in May of 2007, and was recognized with a Distinguished Alumni Award by Oklahoma State University in 2005. Holden received the Governor's Art Award from Oklahoma Governor Frank Keating in 2001 and was honored in 2000 with the Lifetime Achievement Award from the Oklahoma Sculpture Society.
Holden's work is found in museums and collections around the world. He has participated in the Autry Museum's Masters of the American West, the National Cowboy & Western Heritage Museum's Prix de West Invitational Art Exhibition and Sale, the Cheyenne Frontier Days Western Art Show and Sale, and the Gilcrease Museum's Rendezvous in Tulsa, Oklahoma.
Holden lives near Kremlin, Oklahoma, with his wife, Edna Mae.
Harold T. Holden is represented by Holden Art & Law, Enid, Oklahoma; On Canyon Road, Santa Fe, New Mexico; and Wilcox Gallery, Jackson, Wyoming.
---
Back to Artists and Artwork