ENGLISH 

/ 
ESPAÑOL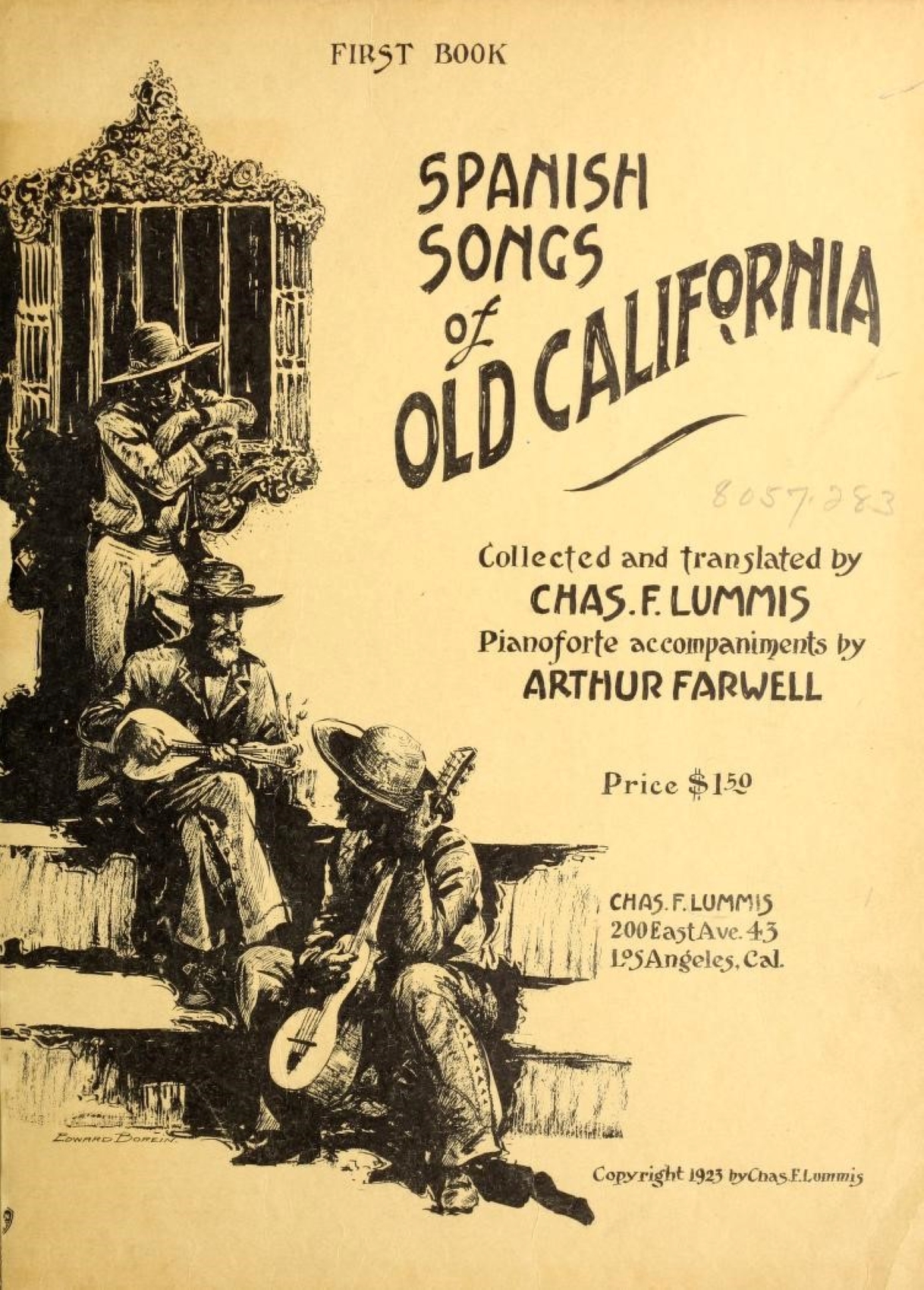 Charles Lummis, founder of Los Angeles's Southwest Museum, dedicated much of his life to preserving cultures that he felt were vanishing. Like a number of Americans at the turn of the twentieth century, Lummis was convinced that Native Americans' lifeways were on the road to extinction, and that Hispanic cultures in particular were doomed by modernity. Unlike many of his contemporaries, however, Lummis lamented these developments and worked to preserve at least some records of Indian and Hispanic cultures.
In 1903, he established the Southwest Society, the western branch of the Archaeological Institute of America (AIA). In 1907, he realized his ultimate goal of turning the organization into the Southwest Museum.
Key to the project of preservation was to save, by recording, the traditional music of Southwestern Indian and Hispanic cultures. In a 1905 article titled "Catching Archaeology Alive," Lummis sought to persuade the AIA that his "large scale folk-songs of the Southwest project" was archaeology. Lummis argued that it wouldn't be long before such artifacts were considered genuine archaeology. If not recorded now, he urged, the songs would be "as dead and gone as the rest." The challenge was "to catch our archaeology alive."
Lummis's first introduction to the Southwestern folksongs dated to his tramp across America in 1884. He developed a greater understanding and interest in the Spanish folksongs later, as he recuperated from a stroke in the late 1880s, while living in New Mexico. He started to collect the lyrics of folksongs in his diaries and notebooks. His first published article about New Mexican folksongs appeared in Cosmopolitan magazine in 1890. He followed this with a more extended description of the songs in his 1893 book, Land of Poco Tiempo.
In early 1904, the newly founded Southwest Society undertook its earliest project to record Californio folksongs. Lummis purchased an Edison recorder, horn, and cylinders for $44.25 from H. C. Fiske, Jr. & Co. of Los Angeles. Needing someone to transcribe the songs into musical notations, Lummis engaged the services of Albert Stanley, a professor of music from the University of Michigan. But Lummis wanted someone who would devote himself full-time to transcription and, to his good fortune, he met Arthur Farwell, a noted composer and publisher of music, at a lecture he gave in January 1904.
The AIA provided financial assistance that enabled Farwell to come to California during several summers to work with Lummis. One invoice for Farwell's first month of work in July–August of 1905 indicated he was paid $50 for his transcriptions. Over the next few years, he transcribed and harmonized several hundred of the songs. (Most of the transcriptions are in the Spanish Song Series in the Lummis Manuscript Collection.)
Lummis provided updates and reports of the project's progress in the Southwest Society meeting minutes, promising that a songbook was forthcoming. But it took almost twenty years to publish just fourteen of the songs.
Lummis's conviction that these cultures were disappearing was largely based on the fact that people in the Southwest who had taught him songs "a decade earlier couldn't remember them." Lummis felt that by recording these songs he was preserving "the earliest American Classics" which were on a par with their ancient counterparts from Greece and Rome. Today, we know that the songs haven't been forgotten. Many people recognize and sing many of the songs. There are groups in Southern California—such as Los Californios of San Diego—that are still performing many of the Lummis recordings.
In a passage from his 1923 Spanish Songs of Old California songbook, Lummis explained:
"Personally, I feel that we who today inherit California are under a filial obligation to save whatever we may of the incomparable Romance which has made the name California a word to conjure with for 400 years. I feel that we can not decently dodge a certain trusteeship to save the Old Missions from ruin and the Old Songs from oblivion. And I am convinced that from a purely selfish standpoint, our musical repertory is in crying need of enrichment—more by heartfelt musicians than by tailor-made ones, more from folksong than from potboilers. For 38 years I have been collecting the old, old songs of the Southwest; beginning long before the phonograph but utilizing that in later years. I have thus recorded more than 450 unpublished Spanish Songs (and know many more in my Attic). It was barely in time; the very people who taught them to me have mostly forgotten them, or died, and few of their children know them. But it is sin and a folly to let each song perish. We need them now."
Charles Lummis, el fundador del Museo Suroeste en Los Ángeles, dedicó gran parte de su vida a preservar culturas que él temía estaban desapareciendo. Como muchos estadounidenses a pricipios del Siglo XX, Lummis estaba convencido que las costumbres de los indígenas de los Estados Unidos estaban camino a la extinción, y las culturas hispanas en particular estaban condenadas por la modernidad. Pero a diferencia de muchos de sus coetáneos, Lummis lamentaba estos sucesos y trabajaba para preservar por lo menos unos cuantos de los rasgos de las culturas indígenas e hispanas.
En 1903, él estableció la Sociedad Suroeste (Southwest Society), que era la sucursal occidental del Instituto Arqueológico Americano (Archaeological Institute of America – AIA). En 1907, él realizó su máximo logro de convertir esta organización en el Museo Suroeste. Clave para el proyecto de conservación era el salvar, a través de grabaciones, la música tradicional de las culturas indígenas e hispanas del suroeste del país. En un artículo de 1905 titulado "Atrapando a la Arqueología Viva", Lummis intentaba convencer a la AIA de que su "proyecto a gran escala de canciones folklóricas del suroeste" era arqueología auténtica. Lummis arguyaba que no pasaría mucho tiempo antes de que estos artefactos se consideraran genuínamente arqueológicos. Si no se grababan inmediatamente, insistía, las canciones quedarían "tan muertas como lo demás". El reto era de "atrapar nuestra arqueología mientras esté viva."
La primera vez que Lummis conoció estas canciones folklóricas fue durante su caminata de 1884, en la cual viajó desde St. Louis a Los Ángeles en un espacio de vários meses. Después, mientras se recuperaba de una embolia a fines de los 1880s en Nuevo México, desarrolló un conocimiento e interés más profundo. Empezó a coleccionar la letra de estas canciones en sus diarios y cuadernos. Su primero artículo sobre las canciones folklóricas de Nuevo México se publicó en la Revista Cosmopolitan en 1890. A esto siguió una descripción más extensa en su libro La Tierra de Poco Tiempo (Land of Poco Tiempo) de 1893. A principios de 1904, la recién fundada Sociedad Suroeste emprendió su primer proyecto para grabar las canciones folklóricas de los californios. Lummis compró una máquina grabadora Edison, con trompa y cilindros, por $44.25, de H.C. Fiske, Jr. y Co. de Los Ángeles. Como necesitaba alguien que pudiera transcribir notación musical, él contrató los servicios de Albert Stanley, profesor de música de la Universidad de Michigan. Pero Lummis quería alguien que se pudiera dedicar de lleno a la transcripción y, afortunadamente, conoció a Arthur Farwell, un compositor y editor de música, en una plática que dio en enero de ese año.
La AIA dio el apoyo financiero que permitió que Farwell llegara a California durante varios veranos para trabajar con Lummis. Un recibo del primer mes del trabajo de Farwell, de julio y agosto de 1905, indica que se le pagó $50.00 por sus transcripciones. Durante los próximos años, él transcribió y armonizó varios cientos de las canciones. (La mayoría de ellas están en la Serie de Canciones en Español en la Colección de Manuscritos Lummis.)
Lummis hacía reportes sobre el progreso del proyecto que se registraban en los minutos de las reuniones de la Sociedad Suroeste, prometiendo que pronto habría un cancionero. Pero después de veinte años, sólo había logrado publicar catorce canciones. La creencia de Lummis de que estas culturas estaban por desaparecer se basaba en gran parte en que las personas de las tierras del Suroeste que le habían enseñado las canciones "hace una década, ahora ya no las recuerdan." Lummis pensaba que al grabar estas canciones, él estaba preservando "los más antiguos clásicos americanos", que él consideraba a la altura de sus contrapartes en Grecia y Roma. Hoy, sabemos que las canciones no han sido olvidadas. Mucha gente canta y reconoce varias de estas canciones. Incluso hay grupos en California del Sur que cantan muchas de las canciones que Lummis grabó – como los Californios de San Diego.
En un pasaje del cancionero Canciones en Español de la Vieja California (Spanish Songs of Old California) de 1923, Lummis explica:
"Yo en lo personal pienso que los que hoy heredamos a California tenemos una obligación filial de salvar lo que podamos del Romance incomparable que ha hecho del nombre de California una palabra evocadora por 400 años. Yo pienso que nosotros no podemos decentemente evitar cierto fideicomiso de salvar las Viejas Misiones de la ruina y las Viejas Canciones del olvido. Y también estoy convencido que, desde un punto de vista puramente egoísta, nuestro repertorio musical necesita urgentemente enriquecerse – más por músicos que hablan con el corazón que con una técnica a la medida, más por la música folkórica que la obra chapucera. Por 38 años he coleccionado las más viejas canciones del Suroeste; empezando mucho antes del fonógrafo, pero también utilizándolo recientemente. Así he grabado más de 450 canciones en español que son inéditas (y sé que hay más en mi ático). Estaba apenas a tiempo; las mismas personas que me las enseñaron las han olvidado casi por completo, o se han muerto, y pocos de sus hijos las conocen. Pero es un pecado y un error el dejar que estas canciones mueran. Las necesitamos ahora."
Featured Images
(Click image for details)