Roam From Home With Caroline Boeing Poole and Other Women Wanderers
Posted on: July 17, 2020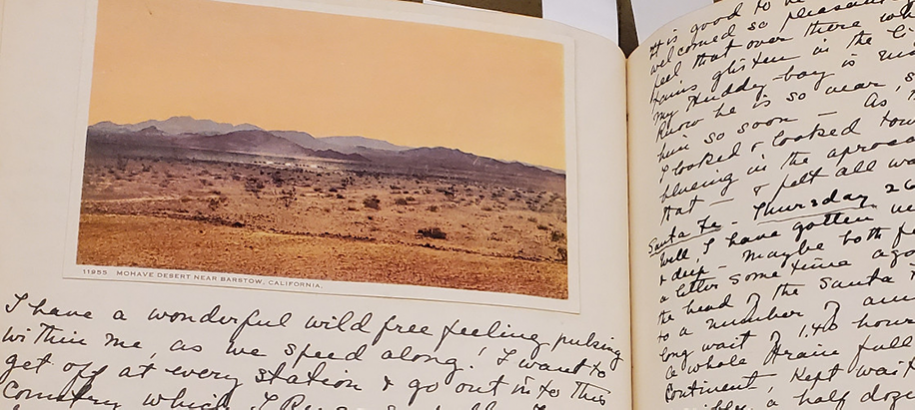 By Victoria Bernal, Women in the Archives Social Media Manager
I have a wonderful wild free feeling lurking within me, as we speed along! I want to get off at every station & go out into this country which I know so well.
—Caroline Boeing Poole writing about a train trip to Santa Fe, New Mexico (1930-1931)
Since many will "roam from home" during these summer months, we're sharing a few pages from the 1930s travel diary of Caroline Boeing Poole (1882-1932) and other women travelers, which not only transport one to another place but another time.  
I have a special interest in women's travel diaries as the women in my family kept very detailed accounts of their trips. My grandmother not only summarized stops along multi-state road trips, she collected postcards, tourist brochures and paper placemats (I've turned some of this ephemera into fabric which I now use to sew face masks). I have a whole box of her sister's travel diaries. Following her mother's example, my mom started her first travel diary as a young girl. A page from my young mom's 1946 travelogue is pictured below, next to a mask I made from my grandma's 1946 Painted Desert postcard posed atop the other travel diaries in my family collection.
Of course, my family's roadside adventures were significantly more modest in comparison to those of Caroline Boeing Poole, a woman of means and sister to the founder of the Boeing Company. As a well-heeled traveler who could afford extended trips to expensive resorts, Poole used her privilege to document the Southwest, publish books by John Muir and donate to various native tribes. Poole's travelogues are filled with lyrical descriptions of western landscapes, illustrated with a treasure trove of postcards, maps, hotel letterhead, and her own photos. 
Before the Autry received her personal papers in 2018, Caroline Boeing Poole was mostly remembered for her expansive Native American basket collection that was donated to the Southwest Museum in her memory by her husband John Hudson Poole, Jr. in 1939. The Autry collection also includes a glamorous oil painting of Poole dressed in lavish finery. Yet her travel diaries reveal a more rugged side to Poole. Her elegant and refined portrait seems incongruous to the woman who wrote about pack mules, frogs and crags and who hid under a "veneer of conventionality" while living life as a cowgirl. Her account of the Grand Canyon during the Summer of 1930: 
I mounted a dandy young grey mule called Eagle & he was fine, as Shorty [the travel guide] said, 'all but talked.' He had such a cute fuzzy face & ears as long & holly as an Easter bunny...It was quite dusty & of course very steep—but oh so glorious on this grand trail. I felt like shaking hands with all the great crags, the palisades and rocky walls. There was so much to see as we slowly wound our torturous way down & around, over & under, sometimes from high in air on a sharpe [sic] over-hanging turn as if the Eagle might be wishing to take to the air. The great marvelous ever-changing Canyon lying far far below. [Vol 5]
After dinner we sat outside under the trees, in the soft balmy air & chatted. I never heard so many frogs in all my life & such queer exotic crocking. Later great soft luminous stars came out & hung in the sky like jewels. We told stories for a while in the big stone [Bright Angel] Lounge & then all went to bed about 9:30. I wasn't tired—but oh bed felt so good. [Vol 5]
Her entry on the Petrified Forest: 
I am still thinking of the wonderful Petrified Forest and that lovely wild sweep of country—a picture to be even remembered. Those gorgeous colored tree trunks lying strewn about like the...pillars of ancient Greece, only those are like jewels as they glean in the sunshine. Here a great log of carnelian & jasper with crystals beaded through the heart. There are fragment of topaz and gorgeous tomato red, polished by the elements. You walk upon a mosaic of multicolored jewels, you stoop to pick up this one & that one and with a [unreadable] throw it down upon the vivid carpet again. It is unlike anything anywhere in the world—a fascinating place. [Vol 5]
If wanting to travel further afield (virtually), the Sallie Bingham Center for Women's History & Culture has a digital collection of 19th century & 20th century women's travel diaries written by white British and American women. One of the goals of this project was to expand the inclusion of women's perspectives in the Duke University Libraries digital collections. Closer to home, a search in the Online Archive of California yields a number of intriguing travel stories from women, including Ambrosia Wysinger Jones, who started a travel agency that catered to African Americans looking to vacation in Africa and the Caribbean (archived at Oakland Public Library) and high school teacher Esther Smith who documented her three-month bus tour of the American West in 1935 (archived at UC Irvine). As part of the "Nebraska Discovery Documents" project, volunteers with the University of Nebraska Special Collections and Archives can help transcribe the 1923 travel diary of Lucy Ann Forbes and Florence Meinsen titled "Traveling Fools."
Women's history scholars have long been challenging the general idea that, in our collective past, men moved in the public sphere while women kept to the private domestic sphere. Yet, women's travel diaries illustrate the many ways women moved through these public landscapes—whether by plane, train, car, foot, bike, bus, or a grey mule named Eagle. Hopefully highlighting these diaries will inspire others to share and preserve their mothers, aunts, and grandmothers' journeys so that we can build a more inclusive historical narrative about how and why all types of women traveled. Not all travelogues are light-hearted accounts of family vacations as many stories of women traveling under difficult and trying circumstances also need to be documented.
The Library and Archives at the Autry are also connecting to these travel narratives on social media. We encourage you to participate in making these connections with us by using the hashtag #ArchivingWomen to post travel diaries, postcards, and photos so that we can roam from home through the women wanderer stories in your life.
Images
(Click image for details)

:
Image Captions
Pages from Caroline Boeing Poole's Travel Diary (Vol 7) 1930-1931 with postcard of the Mohave Desert. From the Caroline Boeing Poole Collection, Autry Museum.
Page from Caroline Boeing Poole's Travel Diary (Vol 7) 1930-1931 featuring map of Fred Harvey Motor Cruises Across the Southwest. From the Caroline Boeing Poole Collection, Autry Museum.
Photo (2020) of travel diaries from Victoria Bernal's family collection, including a page from her mother Peggy Park Bernal's 1946 about the Grand Canyon. Face mask sewn by Victoria Bernal from material she made from her grandmother's 1946 postcards of the Grand Canyon.
Photo (2020) of Victoria Bernal's handmade masks and her mother and grandmother's travel ephemera that inspired them. From Victoria Bernal's family collection.
Oil portrait of Mrs. Caroline Boeing Poole by unidentified artist. Donated by John Hudson Poole, Jr. Southwest Museum of the American Indian Collection, Autry Museum of the American West; 282.L.1
Page from Caroline Boeing Poole's Travel Diary (Vol 5) 1930-1931 featuring text and postcard of Phantom Ranch. From the Caroline Boeing Poole Collection, Autry Museum.
Page from Caroline Boeing Poole's Travel Diary (Vol 7) 1930-1931 dated April 1 with text and postcards of the Grand Canyon. From the Caroline Boeing Poole Collection, Autry Museum.
Page from Caroline Boeing Poole's Travel Diary (Vol 7) 1930-1931 featuring map of Navajo Nation. From the Caroline Boeing Poole Collection, Autry Museum.
Page from Caroline Boeing Poole's Travel Diary (Vol 6) 1930-1931 featuring her handwritten note and drawing of a cowgirl hat. From the Caroline Boeing Poole Collection, Autry Museum.
Pages from Travel Diary, Lucy Ann Forbes, Florence Meinsen 1923, MS 0398. From the Archives & Special Collections at the University of Nebraska Libraries