Posted on: December 16, 2020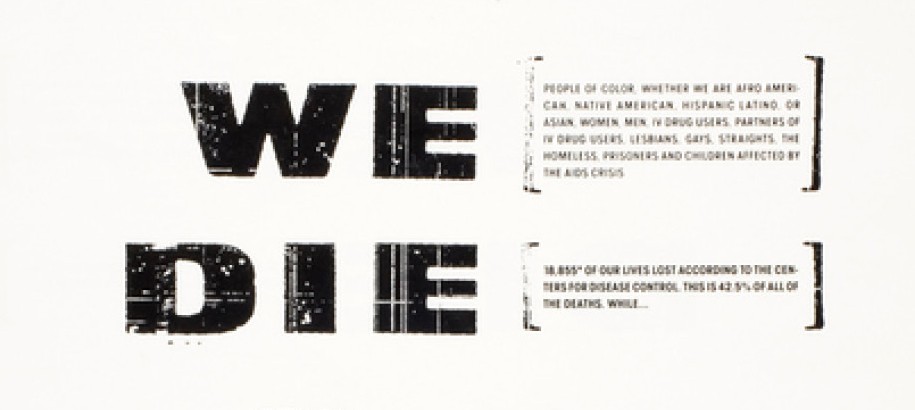 By Eugene Wyrick, Associate Design Director
Each year, we commemorate World AIDS Day on December 1. I want to reflect on what this day means to me in 2020—through my personal experience coming of age (and coming out) during the 80s and 90s, through my work on one of the Autry's latest exhibitions, and finally, against the backdrop of COVID-19.
For much of the pandemic shutdown, I have had the good fortune to work on the timely and prescient exhibition (currently on view at the Autry online, and hopefully, in person soon), When I Remember I See Red: American Indian Art and Activism in California. This important show includes a group of sculptures by the artist Mooshka (Kevin Cata), from his Kinky Kachina series. His sculptures are included in a group of artworks under the section titled You Are on Native Land, which discusses individual identity in the context of community and shared experience.
As I confront these pieces myself, I am reminded of my own identities, and how they variously intersect (and do not) with Mooshka's, and, by extension, with HIV/AIDS and World AIDS Day. I present my thoughts and reflections here as a fellow traveler of sorts, and while I do my best to be an ally, I acknowledge that my own perspective and lived experience line up only imperfectly with that of Mooksha, Native communities, and those living with HIV/AIDS.  
The four characters of the Kinky Kachinas are 911, Master, Horny, and Pecker (see below). These handmade works include found and collected objects such as a gas mask, feathers, a boar's tooth, and baby shoes. Kachina dolls are part of a Pueblo spiritual tradition that links the spirit world to the physical world. Kachinas are said to emerge from the underground and teach life skills. After being diagnosed with HIV, his artmaking became part of Mooshka's therapy. For me, looking at his artworks, I think about the stigma many older gay people have felt (likely younger LGBTQ folk, as well) for being legally labeled as "other"—perverts, criminals, unnatural—for generations. Such stigmatic labeling has long been internalized and somewhat embraced by some gay men who identify as sexual or cultural rebels. I cannot speak for Mooshka, but I personally connect his work with artists such as David Wojnarowicz and Ron Athey, whose art reinforces the idea of sex as an imperative personal narrative in the body of political discourse. (Click this link to see Mooshka speak about his life and artwork In the Life: Ep. 1205, "Outfront" )
A long-term HIV survivor, Mooshka succumbed to illness in 2018 at the age of 52. As someone of the same generation, looking back at the AIDS epidemic, it's easy to recall the collective shock and turmoil we felt as a nation as the death toll rose each day. Hearing of celebrities and artists passing, one could not help wondering who was next and fear that it could be someone we knew or someone we loved.
Doctors identified the first cases of what they first branded as GRID (Gay-related immune deficiency) in 1981, which was later changed to AIDS (Acquired immune deficiency syndrome). I was eleven at the time. To me, growing up in rural Virginia, gay people seemed to be a myth or a fiction. The only gay representations that could be found in the available media were a handful of characters on television. Even in TV land, the only "out" gay characters were Jodie Dallas from Soap (played by Billy Crystal) and Steven Carrington on Dynasty (played by Al Corley), though we all had our suspicions about Uncle Arthur (Paul Lynde) on Bewitched. In real life, there were no openly gay people living in our small town—at least none that I knew of. The words "queer" and "gay" were abstractions; I was still unaware at the time of the malice those words harbored and the actual harm common in the lives of gay people: the beatings, ostracization, persecution, and isolation.
Images
(Click image for details)

:
Years earlier, I had told my mother that I wanted to marry Lenny, my best friend at the time. I didn't realize that there was anything unusual about that idea. It just seemed like the most organic idea to marry the person I was closest to. She told me that I would change my mind about that when I was older. Instead, I learned (like so many others) to hide my attraction to other men and to internalize the vitriol expressed by those words I could only relate to abstractly earlier in life. The isolation and alienation that comes from the perception of being alone, of being the only gay person in your neighborhood or school, is devastating to a child. The absence of heroes or even role models on TV to look up to is unnerving.
Also in 1981, Ronald Reagan was inaugurated as president and as such he presided over the first eight years of the AIDS epidemic. In 1982 (a year into the AIDS epidemic, at a time when there were already a thousand dead from the disease), Larry Speakes 1 joked when asked what President Reagan was going to do about the epidemic: "Is the president going to ban mouth-to-mouth kissing?"2 From a historical perspective, the irreverence the Reagan Administration demonstrated by its wholesale dismissal of the epidemic was met with determined activist movements. Groups such as ACT UP (AIDS Coalition to Unleash Power), Queer Nation, and Treatment Action Group fought to put the AIDS crisis on the front page of national newspapers. Activists Vito Russo, Larry Kramer, Michelangelo Signorile, and many others worked tirelessly with these organizations to prevent the lives of those dying from the virus from being swept under the rug by an unconcerned administration. The degradation that many gay people experienced at the time came in the forms of isolation from their families, the fear of losing their jobs if exposed, and the fear of being judged by others.
When I left home for college in 1987, over 13,000 people had died from AIDS in the U.S. Nightly, we would hear news about the "gay cancer" that the political right was calling "God's judgment on gay people."3 Our "moral leaders" and political leaders of the time chose to let the virus run rampant across the globe as punishment for our "lifestyles." In his first address on the AIDS epidemic (six years after the first cases had been reported), Ronald Reagan said, "We have made faster progress against AIDS than against polio or hepatitis. [The] battle against AIDS has been like an emergency room operation. We've thrown everything we have into it. I'm sure we will find a cure. . . ." Around this time, like many other gay men, I decided to live out my life in celibacy, to avoid the social stigma of being gay and the then-deadly sexual roulette game of intimacy.
In 1988, a national organization called ACT NOW (a subsidiary of ACT UP) invaded the FDA.4 At the time, Dr. Anthony Fauci had been heading the National Institute of Allergy and Infectious Diseases for four years, working to understand and develop drugs to treat the virus. On this day in October, he clashed with protesters who had studied every detail of the FDA drug approval process and were prepared to school the media in issues related to their treatments. Protesters demanded a faster process for drug approval, the ending of double-blind drug trials on life-threatening illnesses, and the expansion of trials to include other groups who had been infected with the disease: women, people of color, IV drug users, and hemophiliacs. After the occupation, the FDA and NIH began to work with communities and include community members in decision making.
 
As late as 1991, Virginia and many other states had laws regarding "crimes against nature, morals, and decency" (commonly known as sodomy laws), which not only criminalized the acts of sodomy in any form, but also made it legal to terminate the employment of anyone defined by the state as an "unnatural person." Laws that were technically applicable to unmarried heterosexual couples as well, were primarily enforced as a means of publicly exposing and jailing homosexuals. If exposed, individuals could also face legal eviction for living in "lascivious cohabitation" (same-sex couples living together). These laws were invalidated in 2003 by the U.S. Supreme Court's decision on Lawrence v. Texas, but remained technically prosecutable until March 4, 2020, in Virginia.5
Slowly, human nature being what it is, vows of celibacy were slowly being reconsidered. I remember one of the rituals of dating as young couples was going to a local clinic and getting tested for HIV at the start of a relationship. Due to the likelihood of each person having done risky things in the past, each wanted to confirm for the other that they were safe. This became a familiar custom in the community. It was not "malts at the soda shop," but there was comfort in knowing that it was what our friends did and that we were all taking steps to know our status and to take care not to pass it on if we were positive.

For my generation and for those following, we grew up with the nagging worry of contracting the disease. Every encounter, whether a glancing smile in a bookshop or a date with a handsome acquaintance, was shaped by the consciousness of staying safe. In the early days of AIDS, we—gay, straight, bi, and everyone else—all lived with not knowing how the disease was transmitted. People were afraid of being bitten by a mosquito or drinking from a water fountain. Fears we now know were absurd, but at that time our ignorance permeated everyday interactions, leading to both hypervigilance and an impassioned, grassroots movement to curb the spread of the disease. Recalling these times and the struggles our generation faced in combating the AIDS virus leads me to consider the similarities in the handling of the current health crisis. The denial of perilous circumstances, public distrust of medical professionals, and the politicization of personal actions to help control the virus, both echo and contrast the management of a crisis that has been ongoing for much of the past forty years.

I'm sitting here in my COVID-19 isolation unit (also known as my living room), my husband in the next room typing away, grateful for the right to have married my best friend. And left wondering how it is that AIDS has left prominent scars across our cultural consciousness and COVID-19 is blatantly dismissed in some groups today?
After years of battling one another publicly, Dr. Anthony Fauci and activist Larry Kramer developed a deep friendship. In 1988 the San Francisco Chronical published an article written by Kramer proclaiming to Dr. Fauci that "Your refusal to hear the screams of AIDS activists early in the crisis resulted in the deaths of thousands of Queers."6 Afterward the two men began to talk, and before his death earlier this year, Kramer described Dr. Fauci as the only hero of the AIDS crisis. Though there is still no cure for HIV, thanks to the efforts of Dr. Fauci and researchers across the globe, treatments are extending lives and helping to reduce the spread of the virus.
Since 1981, approximately 726,000 people have died of AIDS-related illnesses in the U.S. And still today, even with the great medical advances developed to manage the virus, nearly 13,000 people a year continue to die from this disease. At the time that I am writing this, 246,000 people have died from coronavirus in eight months. We lose approximately 1,200 Americans a day from COVID-19. I cannot help but wonder how our national consciousness will be marked by this latest health crisis. During the brunt of the AIDS crisis, our nation wept for the losses of our brothers, our sisters, and our children who died of AIDS; we made quilts, we made soup, we cleaned our friends' apartments. My hope is that we adopt the empathy and concern that we once shared as a country and begin to worry about our neighbors' health and take the precautions necessary to show we care about one another again.
                                *                                              *                                             *
In viewing Mooshka's Kinky Kachina series, I am struck with how all of the aforementioned thoughts, reflections, and histories come rushing to the surface. Great art has this knack of activating certain parts of our backgrounds and identities, while also letting us resonate and empathize with facets of identities we perhaps do not share directly with the artist. I am grateful to have been part of the team who has worked on the Autry's installation of When I Remember I See Red, and I only hope you too will be able to experience these remarkable works in person soon.
---
1Reagan White House Press Secretary, 1981-19872. October 15th, 1982
2White House Press Conference, ABC News
3PBS, Out of the Past
4The Atlantic, Before Occupy: How AIDS Activists Seized Control of the FDA in 1988
5VA State Laws § 18.2-344, § 18.2-345, § 18.2-3616.
6New York Times, We Loved Each Other': Fauci Recalls Larry Kramer, Friend and Nemesis