Posted on: April 20, 2021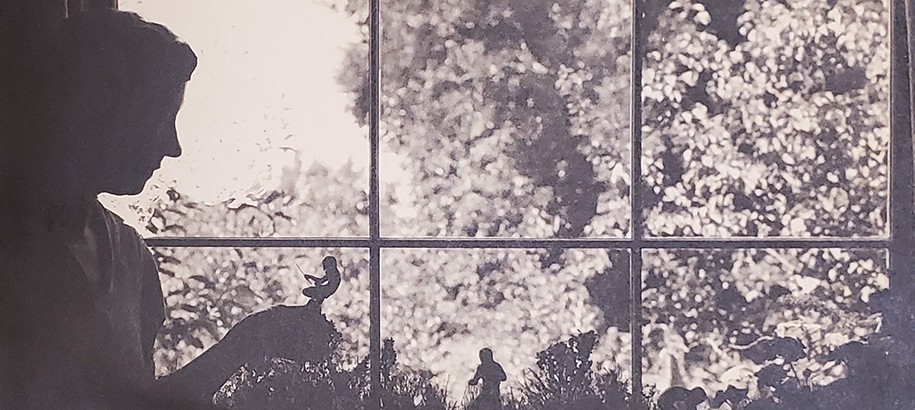 By Christina Lehua Hummel-Colla, Library Collections Assistant
There is always a need to revisit archives and one of the great things about archives is that it is the raw materials that can be reinterpreted over and over again across time to create another story that relates to the now. And that's one of the reasons why research is called research is because you're searching over and over again. So, archives are not dusty, static elements for you to just observe, archives are really there for you to engage with and they're dynamic and they also have a pulse.
—Liza Posas, Head of Research Services and Archives; "Finding Her Story"
The What's Her Story: Women in the Archives exhibition at the Autry Museum features an array of fascinating twentieth and twenty-first century women whose stories are documented both in archives of their own creation and in the Autry's holdings of institutional papers, government documents, and rare documents. Liza Posas, Head of Research Services and Archives and curator for the exhibition, introduced these philanthropists, solo sojourners, political activists, artists, local community members, and a pioneering anthropologist in "What's Her Story: Roll Call."
And yet, this is the mere tip of the iceberg—the Library and Archives contains approximately 400 archival collections. While women, people of color, and additional minority groups have and often continue to be underrepresented in archives, the number of women's archives at the Autry is not insignificant. Further, reviewing archival holdings, delving into the materials they contain, and conducting detective work can both help archivists to address silences and gaps moving forward, as well as to reveal stories contained within archives that might otherwise go unnoticed.
In this spirit, I set out to write a blog post summarizing the women's archives held in the Library and Archives at the Autry. As I browsed through our collections on the Online Archive of California, I quickly amassed an ever-growing list of collections centered around women and their lives. Digging into the finding aids (archivist lingo for guides created to help orient one to a collection), I uncovered a whole warren of rabbit holes which led me to fascinating women, whose passions and accomplishments captivated me. What follows is an introduction to the first five women and their archives—the first step on what promises to be a long journey through an archival wonderland. Join me, and meet Frances E. Watkins, an archaeologist and anthropologist; Anne Makepeace, a documentarian; Elizabeth Mason, a sculptor, writer, jewelry maker, and Santa Barbara historian; Eva Scott Fenyes, an artist, professional or not; and Mildred Walter, a Spanish teacher and dancer.
Frances E. Watkins Papers, 1855–1968, Braun Research Library Collection, Autry Museum of the American West, Los Angeles; MS.8.
Frances E. Watkins earned a Bachelor of Arts degree from the University of Denver in 1929, specializing in archaeology and anthropology. After graduation, she joined Isabel Kelly and Eva Horner on what may have been the first excavation directed by an all-female team. In 1930, Frances began working for the Southwest Museum of the American Indian as an assistant curator and, occasionally, as a librarian. She went on to receive a PhD in Anthropology and Archaeology from the University of Southern California in 1942. An accomplished scholarly writer, she authored twenty-four articles to The Masterkey, the Southwest Museum's periodical, three articles to other museum publications, annual accessions reports and columns on museum news and activities, and nine articles for external publications. For more on Frances and women archaeologists, see "Excavating Stories of Women Archaeologists in the Archives" by Victoria Bernal.
Frances' archive is arranged into four series, or categories:
Series 1: Manuscripts and Employee Files, 1886–1963
Series 2: Personal Papers, 1912–1959
Series 3: Subject Files, 1855–1968, undated
Series 4: Publications, 1891–1961
Materials contained in the archive include her lectures, manuscripts, correspondence, scrapbooks, student writings and dissertation, bibliographies and research files, and monographs and serials.
Anne Makepeace Production Materials of Edward S. Curtis Documentary, Braun Research Library Collection, Autry Museum of the American West, Los Angeles; MS.9
Anne Makepeace is a writer, producer, and director of feature and documentary films. She studied at Stanford University, where she earned a B.A. in English (1969) and an M.A. in Education (1971). While working as an educator and utilizing film and video in the classroom, she developed an interest in filmmaking that led her to return to Stanford and earn an M.A. in Film Studies (1982). In 1990, Anne began research on what would become a decade-long project culminating in Coming to Light, Edward S. Curtis and the North American Indians, a biographical documentary film about Edward S. Curtis. Anne and her production team conducted extensive research of primary source and published materials in libraries, archives, museums, and private colleges. During filming and post-production, she and her team traveled throughout the United States and Canada to interview Indigenous peoples and Curtis scholars. Coming to Light premiered in 2000 and production materials for the film were deposited with the Braun Research Library around 2003.
The collection contains materials used in the making of Coming to Light and includes the documentary's production and research materials. Production materials include filming directions, footage shot for the film, and archival footage from additional sources. Research materials relating to Edward S. Curtis cover his documentary and photographic work, correspondence, articles, published works, manuscripts, photographs, newspaper clippings, and ephemera.
Elizabeth Mason Papers, 1893–1953, Braun Research Library Collection, Autry Museum of the American West, Los Angeles; MS.205.
Elizabeth Mason was many things over the course of her life—a sculptor, writer, jewelry maker, and Santa Barbara historian. After completing her studies at the New York School of Design and Pratt Institute, she worked in Colorado overseeing the Craftwood Shops in Manitou and the Mahon Jewelry Store in Colorado Springs. She studied automobile mechanics during World War I and, afterward, oversaw the craft shop at Fitzsimmons General Hospital and worked as a vocational therapist. Eventually, she moved to Santa Barbara where she worked as an educator for the Works Progress Administration Federal Art Project, an office worker at the Santa Barbara College Hospital, and a curator of the Santa Barbara Historical Society. Around 1925, Elizabeth was hired to create dioramas for the Southwest Museum. She created twenty-eight out of thirty-seven dioramas that were on permanent display in the museum's entrance tunnel and the Poole Wing. The other dioramas were also created by women—Adelaide Chamberlain, Assistant Curator in Archaeology and Ethnology, and Margaret Rose Tew, who had been hired as the museum's sculptor. Elizabeth created additional works for the National Park Service and the Santa Barbara Historical Society, along with sculptures and bronze plaques found in other parts of California. When she passed away in Santa Barbara on June 13, 1953, she bequeathed most of her estate to the Southwest Museum.
Elizabeth's archive is arranged into four series, or categories:
Series 1: Southwest Museum diorama correspondence, notes, and sketches, circa 1925–1942
Series 2: Personal papers, 1893–1953
Series 3: Manuscripts by Mason, circa 1920s to 1953
Series 4: Transcriptions or manuscripts by other authors, circa 1920s to 1953
Elizabeth's archive includes correspondence, sketches, research notes, transcriptions of published material, and manuscripts and personal documents that she collected and created.
Eva Scott Fenyes Collection, 1904–1951, Braun Research Library Collection, Autry Museum of the American West, Los Angeles; MS.206.
Though Eva Scott Fenyes neither exhibited her work nor considered herself a "professional artist," she studied art in New York, Europe, and Egypt, and painted throughout her life. After moving to Pasadena, Eva began to document historic adobes in a series of gorgeous watercolor paintings. She spent more than thirty years traveling from San Diego to Sonoma, preserving the history and beauty of her surroundings along the way. Eva's interests were varied and also included music, archaeology, philanthropy, and history. She hosted art and literary salons bringing together a wide array of local artists, writers, and intellectuals at her home in Pasadena. A matriarchal example, Eva served on the board of trustees at the Southwest Museum, followed by her daughter, Leonora Curtin, and her granddaughter, Leonora Curtin Paloheimo—both of whom continued to serve on the board through the late 1980s.
Eva's archive consists of her correspondence and newspaper articles she collected, most of which she assembled into a multivolume set of scrapbooks. An additional folder consists of material added to the collection by Southwest Museum staff. It includes booklets, documents, and clippings from 1901–1951; primarily about the Fenyes paintings at the Southwest Museum.
Hundreds of Eva's drawings and paintings are available to view in the Autry's Collections Online.
Mildred Walter Manuscripts and Papers, 1933–1986, Braun Research Library Collection, Autry Museum of the American West, Los Angeles; MS.236
Mildred Walter lived in Los Angeles and taught Spanish in the public school system until she retired in 1941. She loved to dance, and she especially loved Mexican folk dance. During the 1950s and 60s, Mildred embarked on about forty trips to Mexico, conducted research in libraries in the United States and Mexico, and wrote about her experiences observing dances in a 112-page manuscript titled Dances of Mexico. In the process, Mildred and her husband amassed a large collection of Mexican cultural works that they referred to as Museo Mexicano Mildre. Evidently eager to share their knowledge and collection, they opened their home to give lectures and slide shows by appointment. Undeterred by old age, Mildred continued dancing, teaching, and performing through her late 80s.
Mildred's archive is arranged into six series, or categories:
Series 1: Correspondence, 1948–1978
Series 2: Personal papers, 1963–1971
Series 3: Business and travel papers, 1953–1986
Series 4: Lecture and Draft Manuscripts, 1952–1960
Series 5: Oscar Lewis, 1964
Series 6: Research Files, 1933–1985
Materials in the archive include books, drawings, magazines, newsletters, newspaper clippings, manuscripts, notes, photographs, and sheet music.
Images
(Click image for details)

:
IMAGE CAPTIONS
Main Image Caption:
[1] A photograph of Elizabeth Mason working on a diorama for the Southwest Museum. From MS.205, Box 7
Additional Image Captions:
[2] A framed portrait of Frances E. Watkins from the Frances E. Watkins Papers, Series 2: Personal Papers, 1912-1959. From MS.8, Box 3
[3] A photograph of Elizabeth Mason turning toward the camera and pausing her work on a diorama for the Southwest Museum. From MS.205, Box 7
[4] A watercolor painting on paper by Eva Scott Fenyes, of the adobe house of Don Francisco Maria Alvarado on the Los Penasquitos Grant. Dated June 14, 1913. FEN.73
[5] A portrait of Mrs. Eva Scott Fenyes, circa early 1900s. P.36472
[6] One of seven woodcuts signed by "Rafael G" from the Mildred Walter Manuscripts and Papers, Series 6: Research Files, 1933-1985. From MS.236.6.84