Posted on: April 28, 2020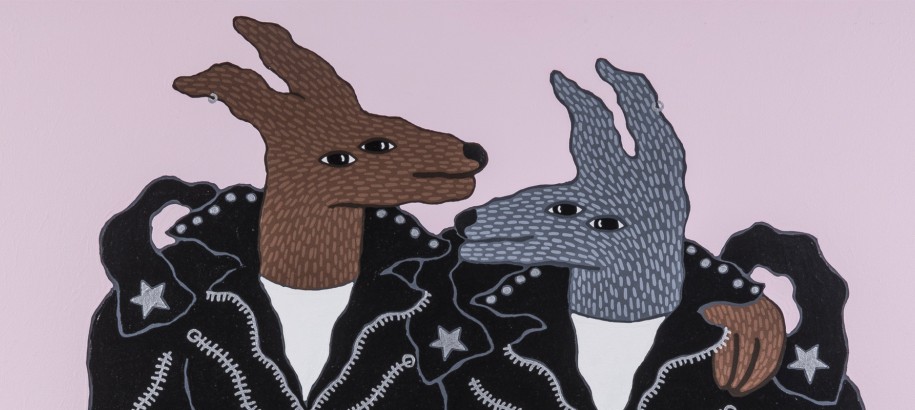 Harry Fonseca, Wide-Eyed and Bushy-Tailed # 1 (detail), 1993, acrylic on canvas. © Autry Museum of the American West; 2016.10.211
---
By: Amy Scott, Executive Vice President of Research and Interpretation and Marilyn B. and Calvin B. Gross Curator of Visual Arts
"Harry, I understand, Coyote brother, the how and why and why not Coyote needs to laugh—so we can love those who make us feel contradictions we need to see, that we need to realize, that we need to know what our lives have become!"
—Poet Simon Ortiz (Acoma) Cited in Patsy Phillips, "Sundays with Harry: An Essay on a Contemporary Native Artist of Our Time," Wicazo Sa Review 27:1 (Spring 2012)
Harry Fonseca (Nisenan Maidu, Hawaiian, Portuguese, 1946-2006) was an instrumental force in reshaping Native art with his trademark blend of traditional imagery, contemporary experience, and vibrant color and form. As he used his art to explore both his personal journey and the role of history in shaping Native consciousness in the present, Fonseca sought to expand definitions of Indian art and to shatter the expectations placed upon it.
Born and raised in Sacramento, Fonseca became involved in reviving traditional Maidu dances with his uncle, Henry Azbill and fellow artist, Frank La Pena, in his twenties. Influenced by this experience and the dance regalia of his Native culture, Fonseca began painting Coyote, the legendary shapeshifter and trickster, in the late 1970s. Together, Fonseca and Coyote explored many different worlds, from traditional Native dances and art forms to the gay neighborhoods of San Francisco and the performative rituals of ballet and opera. After 1990, he spent much of his time in Santa Fe, where he became a leading figure of the art community, with his figures of Coyote and his counterpart Rose decorating posters for the local opera and other events. Around the same time, he also began exploring the difficult history of his people in California, including the genocidal impact of the Mission system and the Gold Rush.
Fonseca's legacy remains visible today across the contemporary art world, especially in the work of new generations of Native artists who embrace traditional and new media to explore the historical, cultural, and political divides that so often shape our understandings of Native peoples, ourselves, and one another.
Learn more about Fonseca's life and work from his partner Harry Nungesser and friend Nancy Marie Mithlo (Chiricahua Apache), Professor of Gender Studies at the University of California, Los Angeles.