Way to a Heart: How Pandemic Cooking Re-United a Family
Posted on: September 25, 2020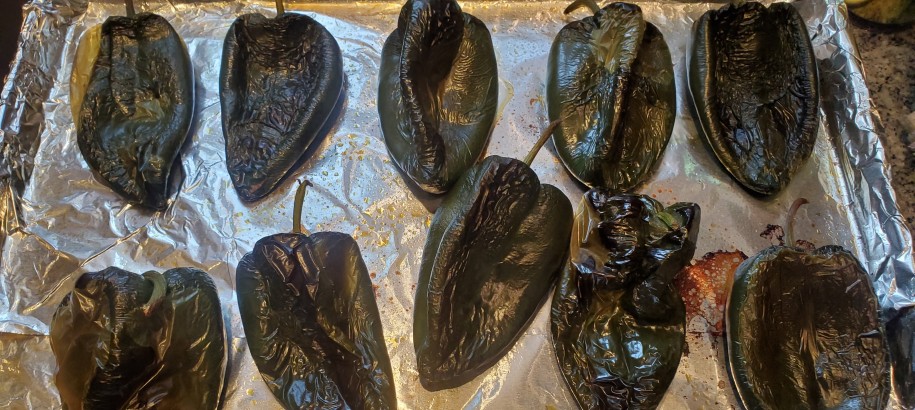 By Christina Lehua Hummel-Colla, Library Collections Assistant
Since childhood, one of my favorite social activities has been cooking and baking with friends and loved ones. In high school, I baked cakes, cookies, and even a flan with two of my best friends. As an undergrad, I would squeeze into the dormitory's kitchen to make treats with my roommate and our shared friends. Over the past year, I have learned whole new ways of cooking with two members of my chosen family, Molly and Timber. Neither of them eats eggs, and Molly maintains a vegan and gluten free diet. When we cook together, we usually keep things as simple as possible, but sometimes we like to get really fancy (or, rather, I sometimes overengineer a meal and they, being the gracious and patient people that they are, bear with me).
But on March 21, when Los Angeles issued the shelter-in-place order, our shared cooking and mealtimes ceased. Not only did my overall social options become severely limited, but I was suddenly isolated from two people who mean a great deal to me. We chatted via text, tried Zoom calls, and I continued cooking and baking as I sheltered in place. Like many, I ventured out into bread and sourdough—but preparing food alone in the kitchen without anyone to talk and laugh with was simply not the same.
Finally, as we began to understand COVID-19 a little better and some of the restrictions eased up, Molly and Timber and I decided to join each other's quarantine pods. Our social cooking and mealtimes were back on! So, when I began re-creating recipes from Comidas Mexicanas, I knew that at least one of my archival cooking experiments would become an intricate affair involving the creation of a meal all three of us would enjoy despite our disparate dietary needs.
Thus began my culinary adventure in re-creating Sra. Maria Esparza's recipe for chiles rellenos, but with a contemporary twist. The recipe seemed straightforward enough—which, of course, made it an excellent candidate for a classic "Christina overengineers dinner" night. The challenge: to make three different iterations of the chile relleno, each tailored to a specific set of dietary needs, yet each with a similar flavor profile—and all tasty enough to be worthy of the effort.
Remembering my late nights spent re-creating the mole poblano recipe from Comidas Mexicanas, I began preparing the meal much earlier in the day. Readying the pasilla chiles was straightforward enough, although removing the skins, seeds, and veins was a delicate business reminiscent of Operation, the anxiety-inducing children's game. However, it was after the chiles were prepared that the whole affair began to diverge into three distinct cooking styles.
To minimize the chance of cross contamination, I began with Molly's chiles rellenos, which I stuffed with vegan pepper jack cheese before dredging them in a vegan egg substitute and a gluten free flour blend seasoned with salt, pepper, and garlic powder. Then into a cast iron skillet filled with about two inches of vegetable oil they went! As the oil hissed and bubbled, the three of us chatted, leaning against counters and in the doorway, preparing the next batch of rellenos. For Timber, I stuffed the chiles with Oaxacan cheese before dredging them in the vegan egg substitute and glutinous flour seasoned with salt, pepper, and garlic powder. When Molly's chiles were finished, I topped them with more vegan cheese and popped them into a warm oven. The remaining chiles I stuffed with Oaxacan cheese before dredging in Sra. Esparza's recommended egg mixture, along with the seasoned glutinous flour. Timber's chiles came out of the frying pan, and into the oven topped with shredded queso fresco.
Finally, when the last of the chiles rellenos were finished and topped with shredded queso fresco, we served our various meals with hearty portions of refried beans/frijoles (another Comidas Mexicanas recipe, and a story for another day) before collapsing on the couch to enjoy our meals, an episode of The Umbrella Academy, and each other's company. The sound of the television must compete with clattering forks and knives, along with our commentary, chatter, and laughter. And while our distinct iterations of the chile relleno have likely departed a great deal from Sra. Esparza's original recipe, I like to think that the joys of sharing a good meal in each other's company would remind her of dinners with her own family and loved ones.
Chiles Rellenos (Original Recipe)
Toast eight green chiles. Peel and take seeds and veins out then stuff with cheese.
Beat the whites of two eggs then add the yolks. Fold chiles into flour and then into the beaten eggs.
Add salt to taste.
Fry in oil.
Mrs. Maria Esparza
Chiles Rellenos (Author's Recipe)
1 doz. Green pasilla chiles
Oaxacan cheese (or, vegan pepper jack cheese)
3 eggs (or, vegan egg substitute)
Flour (or, gluten free flour mix)
Salt, pepper, and garlic powder (to taste)
Toast twelve green pasilla chiles in the oven until fragrant and skin becomes loose.
Peel the skin from the chiles and remove seeds and veins. Be gentle! The chiles will be tender and fragile. If seeds prove difficult to remove entirely, run the chiles under water to help.
Stuff chiles with Oaxacan cheese. Optional: stuff chiles with vegan pepper jack cheese.
Beat the whites of three eggs, then add the yolks. Optional: Use a vegan egg substitute.
Mix salt, pepper, and garlic powder to taste into flour. Optional: Use a gluten free flour blend instead of glutinous flour.
Fold chiles into flour or gluten free flour blend and then into the beaten eggs or egg substitute.
Fill a large, deep pan with a heavy bottom with about two inches of oil.
Fry chiles in oil. Top with more cheese, if desired, and serve with Cholula (or a hot sauce or salsa of your choice).
Christina Lehua Hummel-Colla