Posted on: February 22, 2021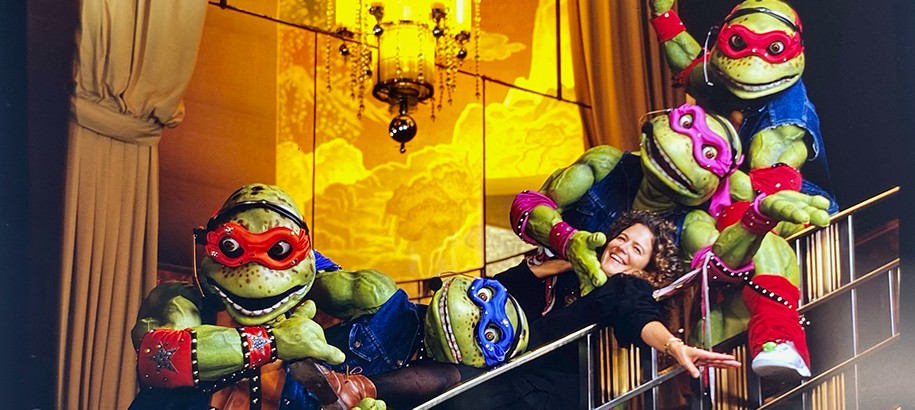 By Caleb Allen, Cataloging Assistant
Commercial photographers are an odd sort of cultural worker: responsible for showcasing the products that one ought to want, glimpses of vacations one ought to strive for, providing a keyhole into the lives of the celebrities one loves, and generally helping to visualize a zeitgeist. It's rare that one ever bothers to learn who a commercial photographer is—for every Annie Leibovitz or Steven Meisel, there are innumerable other photographers who are more or less unknown to the wider public. Now, it would be unfair to count Theo Westenberger among the ranks of the complete unknowns—after all, she was the first woman to ever shoot a cover for Sports Illustrated—though she's hardly a household name.
Westenberger's career as a photographer began in the early 1970s and lasted until her death from lung cancer in 2008. Over the course of nearly four decades, Westenberger photographed what feels like every conceivable subject—pampered pets, film industry dynasties, tropical vacation destinations, high and low-level politicians, movie stars, quirky "local" personalities, absurd collections, and so on—for magazines like People and Newsweek. From a purely material perspective, one can see larger industry trends reflected in the body of her work: a gradual move from relatively expensive 120mm film to cheaper and more portable 35mm film, then the jettisoning of film entirely for the perceived convenience of digital. On a cultural level, one can glimpse the fickle nature of trends: shoulder pads, Dallas, and colorful lycra one moment; oversized clothing, billowing lines, and an obsession with more "alternative" figures like River Phoenix the next.
It can be difficult for those outside of the industry to understand just how much work is involved in a commercial photo shoot. For the image—or handful of images—that appear in each publication or advertisement, hundreds, and sometimes thousands, of photographs are taken. Only the best images will do, which means that photographers, their subjects, lighting crews, set designers, stylists, and editorial directors are constantly changing elements in front of the camera so that, at the end of the day, that perfect image will emerge. It's hard work—call times are usually early in the morning, especially for set and styling crews; building sets and getting talent prepared requires performing a nauseating number of tasks within a tight timeframe; and this work repeats itself for every change of costume, change of set, and so on. The work is exciting but being on set comes with a fair amount of stress. Still, there are fun, spontaneous moments: sometimes the talent can't keep a straight face, stand-ins used for lighting tests will pose for the camera in absurd and comic fashions, and on occasion both the talent and the photographer will horse around and take hilarious photographs together. Having worked as a high-end set design assistant in what now feels like a previous lifetime, these brief moments—moments that the public rarely gets to see—are some of my fonder professional memories. Having spent nearly three years cataloging Westenberger's oeuvre, it has been most fascinating to see the commercial photographic process replicated in miniature. Not only does the Autry have the images that made their way into publication, but there are outtakes upon outtakes upon outtakes, showing just how much work goes into that one perfect image. Buried in between all of these images, however, one occasionally runs across comic gems—pictures which show Westenberger in a bubble bath with Arnold Schwarzenegger or being hoisted aloft by the Teenage Mutant Ninja Turtles; odd images of Ayn Rand attempting to appear personable (and failing miserably), or Debbie Reynolds and Carrie Fisher seated on the back of a fiberglass cow.
Household name or not, Westenberger's work contains many gems. Some of these have been unearthed by my own efforts cataloging the collection, others remain to be discovered by diligent researchers.
Images
(Click image for details)

:
Main Image Caption:
Theo Westenberger & the Teenage Mutant Ninja Turtles. Theo Westenberger photographic archives [manuscript materials], 1974-2008. Autry Museum; MSA.25.440
Additional Image Captions:
Theo Westenberger & Arnold Schwarzenegger in Makeup for Terminator 2: Judgement Day. Theo Westenberger photographic archives [manuscript materials], 1974-2008. Autry Museum; MSA.25.1135
Ricki Lake. Theo Westenberger photographic archives [manuscript materials]. Autry Museum; MSA.25.2827
Debbie Reynolds and Carrie Fisher on a Fiberglass Cow. Theo Westenberger photographic archives [manuscript materials]. Autry Museum; MSA.25.2690
Ayn Rand on a Platform at Grand Central Station. Theo Westenberger photographic archives [manuscript materials]. Autry Museum; MSA.25.2582