Sheltering in Place: Photographs from the Autry Collection
Posted on: May 11, 2020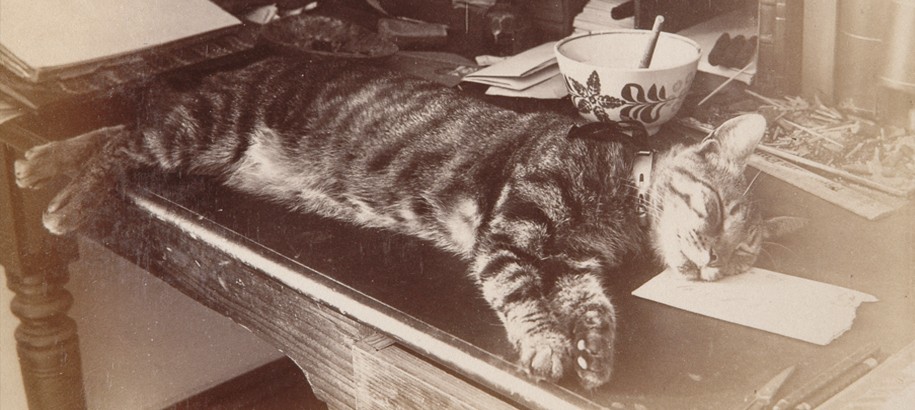 By Sarah Signorovitch (Registrar, Loans and Exhibitions) and Julia Tcharfas (Collections Cataloger)  
Since mid-March the Autry Museum, like many other similar institutions, has been closed to visitors and non-essential staff as we follow California state and local directives and do our part to curb the spread of the novel coronavirus. Our local response in Los Angeles is called "Safer at Home" and, in addition to the extremely vital work of healthcare providers, allows for grocery stores, hardware stores and other businesses supplying essential services to stay open.  
Even though those of us who can stay home are free to leave for essentials and neighborhood walks, sheltering-in-place has eliminated much of what we associated with the hustle of our modern everyday lives. We no longer commute, sit in traffic on the freeways, fly to conferences, attend in-person meetings, welcome LAUSD students on field trips or eat lunch with our co-workers in the Crossroads Cafe. Our museum work carries on in the privacy of our homes and through Internet messaging and web-based collaborative platforms.   
What was once constant coming and going has been dialed so far down that our days have begun, curiously, to resemble those of a different era. While balancing home office with home life, our co-workers now embrace the baking of bread, sewing, gardening, keeping unusual pets, and experimenting with food. Looking through the Autry's photograph collections we recognize a new connection with the lives of people that have come before us. These relatable images of past lives resonate with our current experience. We see in them the fantasies and realities of our isolation, and also a measure of hope and reassurance. Or, in the words of the Autry's mission statement, these images help us connect, "the past to the present to inform our shared future." 
Solitary Work / The Home Office:  
For many, our beds, patios, and kitchen tables have become our offices while working from home. The stacks of work papers, books, and coffee mugs are encroaching on our domestic lives. In fact, for most of us our work surfaces now resemble the desks of turn of the century poets and academics represented in the Autry photo collection.  
The tending of plants, pets, and home:   
Without a busy social life, art openings, lectures, and happy hours many of us have brought new life indoors. We are growing more plants and adopting new pets. Some are finishing construction and home improvements. Caring for the things close around us has brought a new purpose to our evenings and weekends.      
Our private spaces made public:   
More and more of our private lives are seeping into work life. We are sharing images of our cooking and our childcare activities with colleagues. We get glimpses of each other's interiors and bookshelves when we meet on video calls.  
Windows / looking out and looking in:  
We go for walks in our neighborhoods. We take different streets and admire the homes and gardens cared for by our neighbors. We peer into the windows and find connection. We say hello from the street.   
Images
(Click image for details)

: