Posted on: April 21, 2020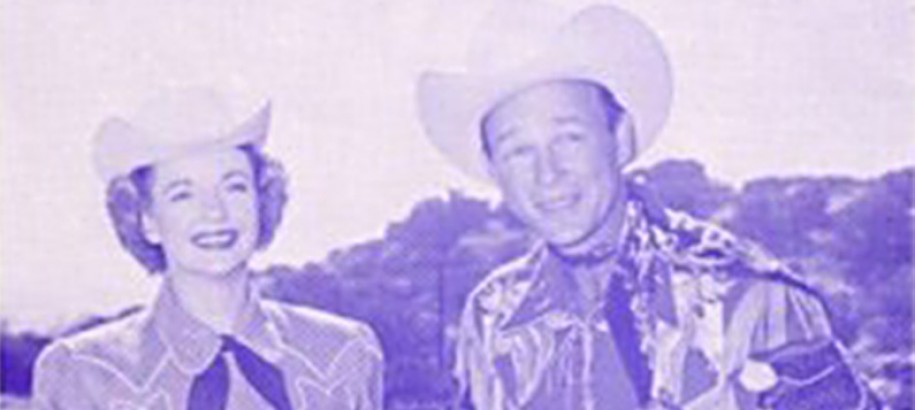 By Mallory Furnier, former Autry Project Archivist
Many Roy Rogers and Dale Evans promotions revolved around their licensed merchandise, though not every publicity bonanza centered on branded products. Rogers and Evans also made their name as champions of a variety of charities. Beginning first in the late 1940s, the Roy Rogers-Dale Evans Safety Slogan Contest and School Safety Awards encouraged schools and individual students to consider safety issues and prevent accidents. It is unclear when the contests ended and how much they overlapped, but both appeared with regularity until at least the mid-1950s.
As part of the Safety Slogan Contest, children were required to come up with a safety slogan of ten words or less. Two sample slogans were provided to give an idea of the contest's aim. The slogans "Never Feel Safe Enough to Be Careless" and "Don't Let Your Next Move Be Your Last" may sound harsh, but such jarring language emphasizes the seriousness of the campaign.
The Safety Slogan Contest appeared more commercial than the School Safety Awards, as applicants were usually instructed to turn in their slogans to local department stores. Prizes for the Safety Slogan competition were generally Roy Rogers Merchandise items. This was not always the case, though, as in 1950 the grand prize was a pony from Roy Rogers Ranch with a Roy Rogers saddle, martingale, and bridle. The following year, Hale's store of Sacramento offered a grand prize of a ride on Trigger and tickets to Roy Rogers's Big Western Extravaganza, along with a number of Rogers-branded products. These contests stretched across the country, from Owensboro, Kentucky, to Honolulu, Hawaii, with a variety of department stores and prizes involved.
The School Safety Awards were far more detached from Rogers branded products. In a letter to elementary school principals in November 1954, Rogers points out that the program "is purely non-commercial." He notes that his involvement was motivated by the loyalty of child fans and of the vast numbers of children he met in hospitals who were hospitalized due to accidents rather than disease or handicap.
Images
(Click image for details)

:
Rogers worked with the National Safety Council on this program, and local Safety Council branches across the United States distributed school safety surveys. Farmers Insurance Safety Foundation also sponsored the award. These organizations reflect a growing concern in the twentieth century for the welfare of children at home and at school.
The National Safety Council began as the First Cooperative Safety Congress in 1912, focusing at first on industrial safety. The organization expanded its safety concerns in 1924 when it teamed with the U.S. Chamber of Commerce to create a Uniform Vehicle Code, providing a model for traffic laws in all states. Then, in 1941 President Franklin D. Roosevelt asked NSC to use its resources to campaign against accidents. More than eighty film and radio stars were enlisted to record public service announcements promoting safety awareness. It was at about this time that Roy Rogers became involved with his safety programs.
As part of the School Safety Award competition, schools were required to fill out a safety checklist consisting of "safety instruction to meet the needs of the pupils," such as creating pupil safety organizations, leading practice crossing streets, creating exhibits and bulletin boards on safety, and cooperating in community safety activities such as fire prevention week. The checklist would then serve as the table of contents for a school's safety report.
School Safety Award competitions resulted in trophies for first, second, and third place schools in the nation. Initially schools were given a giant cup trophy, but later competitions gifted winning schools with a Trigger trophy. Judging was completed by a panel involving the National Safety Council and celebrities.
The cause of children's safety was not a flippant one, as a small collection of articles in the archive confirms. "Watch Out for Junior"—from The American Weekly, November 13, 1949—noted that "in the last year, one out of every seven accidental deaths in the United States was that of a child under 15 . . . Of all the deaths of children and teen-agers up to 19, almost a third are the result of accidents." Newspapers ran horrifying stories about children injured in accidents, from a four-year-old girl critically burned while playing with matches to a nine-year-old who lost her left foot to a train while playing on railroad tracks. Between these articles and the work of the National Safety Council, issues of accident prevention and child safety were squarely planted in the minds of the American public.
The involvement of celebrities increased the attraction of safety issues for kids and parents alike. Rogers and Evans became part of safety promotion campaigns due to concern for their target audience, whether or not it also promoted Roy Rogers and Dale Evans awareness. By the time of their safety programs their celebrity was well established, as were their reputations for involvement with charity. In one set of notes to Rogers, the National Safety Council stated, "Saving children's lives and reducing accidents by teaching safety is one of the greatest public service programs we can possibly support." Rogers and Evans clearly agreed.
Image Captions:
All images are from the Roy Rogers and Dale Evans Archive held at the Autry:
The photo caption typed on the back of the image reads, "Supt. Frank Mixsell and a member of the Safety Patrol at Balboa School, Glendale, Calif., accept the second annual Roy Rogers Elementary School Safety Award from the 'King of the Cowboys,' Roy Rogers, who made the presentation." Autry Museum; MSA.24
Entry Blank for the Safety Slogan Contest. Autry Museum; MSA.24
Certificate of Merit for Seventh Place, Ford Green School, Nashville, Tennessee, 1948-1949. Autry Museum; MSA.24
Feature from Screenland film fan magazine, December 1949. Autry Museum; MSA.24
Rogers shows off the prize for the School Safety Award competition in an image printed in The Philadelphia Inquirer, October 16, 1949. Autry Museum; MSA.24
This dramatic image of a four year old who suffered a concussion after falling out of a moving car comes from a collection of article clippings highlighting the need for accident prevention, "Danger – Kids in the Car!: Are your children safe when you're driving?  They're not unless you know these rules," by Katherine Clifford. Autry Museum; MSA.24
Eighth Annual School Safety Award Luncheon Program, October 1, 1956. Autry Museum; MSA.24
#RoyRogers #DaleEvans #Trigger #schools #safety