Posted on: June 25, 2020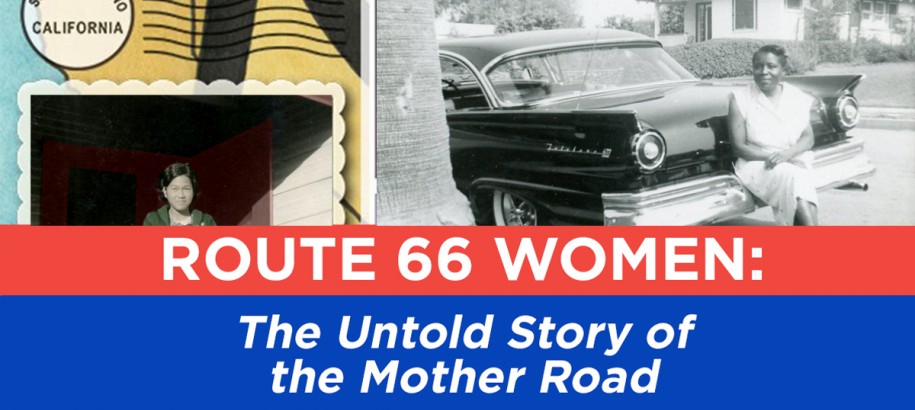 By Katrina Parks, Filmmaker   
Internationally, Route 66 is viewed as an expression of something uniquely American—a blend of freedom, the open road and adventure. Signs for the highway can be found all over Europe and Asia, and the myth of Route 66 draws hundreds of thousands of people to make their own journey every year. However, the actual experience of traveling and living along the Mother Road has always been greatly impacted by race and gender. From the Spicer family traveling from California back to the South on Route 66 to the Sakatani family during WWII, and the women who played a seminal role at the Southwest Museum of the American Indian (Los Angeles' first museum), Route 66 has been a mirror that reflects National tendencies towards progress and regression, towards equality and hate. 
The clips below, and forthcoming panel this Saturday, June 27, shed light on how women overcame segregation and gender discrimination on Route 66 in Southern California to build better lives for themselves and generations to come. As the Nation grapples with the legacy and continued presence of racism and discrimination across a broad spectrum of society and institutions,  most evident in recent episodes of police brutality, the clips featured explore an iconic symbol of the American West, Route 66, through the lens and experiences of a diverse group of women. These experiences offer a much-needed re-examination of the beloved highway, as the most well-known representations in pop culture and historical works have had a white, male perspective. As historian and author Virginia Scharff so eloquently wrote:
The Allegory of the American West has been told as a story of men in motion: the plains warrior on his horse, the engineer laying railroad tracks across the landscape, Jack Kerouac and Neal Cassady hurtling down the open road in a Ford, a Dodge, a Cadillac convertible. These icons embody power, speed, strength and control in celebration of man's mastery of the Western environment. But the Western story is also a tale of women's movement. Wherever we look across the landscapes of the West, we find women on the move, traveling in every direction, for myriad reasons, with consequences we have only begun to imagine and appreciate.1
Looking at history through local women's lives is a unique approach to understanding some of the most significant events of the 20th century. Panel begins at 11:00 a.m., Please RSVP to take part in a discussion with the filmmaker Katrina Parks and distinguished panelists: librarian Marva Felchlin, historian Susie Ling, third-generation Monrovia resident Keiko Sakatani, council-member Larry Spicer, and author Candacy Taylor.
---
Films included in the program:
Keiko Sakatani and Susie Ling:
http://www.route66women.com/portfolio/keiko-sakatani/
Councilmember Larry Spicer:
http://www.route66women.com/portfolio/the-spicer-family/
Candacy Taylor at Clifton's:
http://www.route66women.com/portfolio/candacy-taylor/
The Women of the Southwest Museum:
https://vimeo.com/431504409
---
Not included in the program's screening time, but relevant:
San Bernardino - Women of Route 66
http://www.route66women.com/portfolio/san-bernardino-women-of-route-66/
Cynnie Troups "Get Your Kicks on Route 66" story:
http://www.route66women.com/portfolio/cynthia-hare-troup/
And Jean Hagey:
http://www.route66women.com/portfolio/jean-hagey-fairfax-motel/
---
1Carolyn Brucken & Virginia Scharff, Homelands How Women Made the West (University of California Press, 2010), 49.