Posted on: January 3, 2019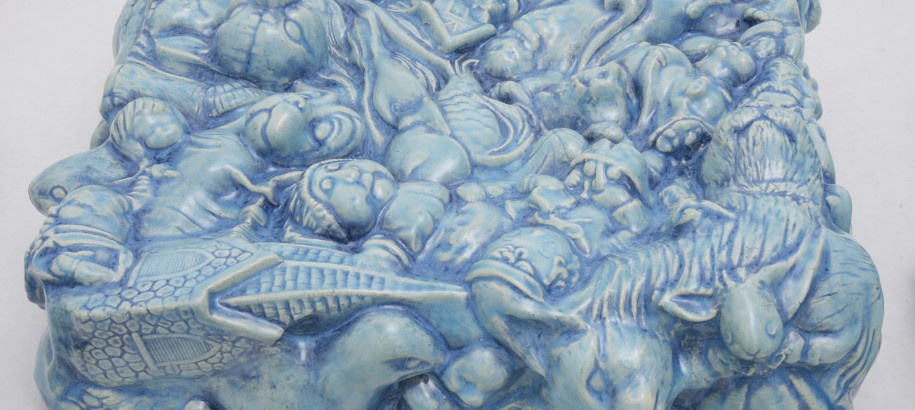 By Julia Tcharfas, Collections Cataloger, Autry Museum of the American West
This September the Autry Museum unveiled a new exhibition, Grounded: Contemporary Ceramics, Gifts of Dr. Loren G. Lipson. The display, like the man who donated these and many other works of art in the Autry collections, is a vibrant, colorful, and powerful presence, one that speaks to the dynamic nature of contemporary art. Sadly and unexpectedly, a month after the opening, the Autry Museum also hosted the memorial services for Dr. Lipson, who passed away on September 27. 
During the service, countless testimonials from family, friends, and colleagues memorialized Loren (as one speaker noted, it was the first memorial he had attended that included an intermission), a man with soft, curly white hair, a devious smile, and a brutal sense of humor. Working with museums across the country, Loren made it his personal mission to bring artists, curators, and museum directors together in creating support and exposure for Native art.  For his memorial they came from near and far, from Palm Springs to Newark, to pay their respects.
Loren's mission was nothing short of groundbreaking. During the last decade of his retirement, he worked tirelessly to fill American art museums with contemporary Native art representing a wide array of Native cultures and traditions, including Cahuilla, Wiyot, Crow, Shinnecock, Cochiti, Santa Clara, Hopi, and Navajo. In his mission he differed from any other donor or collector. Loren rarely took possession of the art he gave, sending it directly from galleries and studios to museum walls. He ignored protocols, timescales, and many other museum conventions. He bought art directly from living artists and insisted on its inclusion in the world's most prestigious collections. Loren was driven by a personal desire to shift the scales of artists represented in museums. In fact, he once confessed that the reality of gifting work to an institution was a lot more difficult than he had imagined. However, by the end of his life, he had placed hundreds of works in over 40 museums, including the Crocker Art Museum, the Palm Springs Art Museum, the Denver Art Museum, LACMA, the Philbrook Museum, the Gilcrease Museum, the Newark Museum, the Whitney Museum of American Art, the Museum of Modern Art, and the Metropolitan Museum of Art. As many speakers at Loren's memorial noted, "He was relentless."
Through their collections and exhibitions, the museums—and the collectors and donors who support them—shape the culture we live in. Loren's gifts reflect a bright, rebellious, diverse, and engaged world. The saturated, large-scale self-portraits by Wendy Red Star infuse a new identity into the collections of numerous museums; a retrospective of anthropomorphic and shamanic sculpture and watercolor by Rick Bartow has been on tour for over a year; and a larger-than-life Indigenous figure by Rose B. Simpson towers over the paintings in the Autry's Art of the West Gallery  The message throughout these works is clear. Like Loren, they demand our attention.    
A dear friend, he will be missed.
Images
(Click image for details)

: