Posted on: August 20, 2020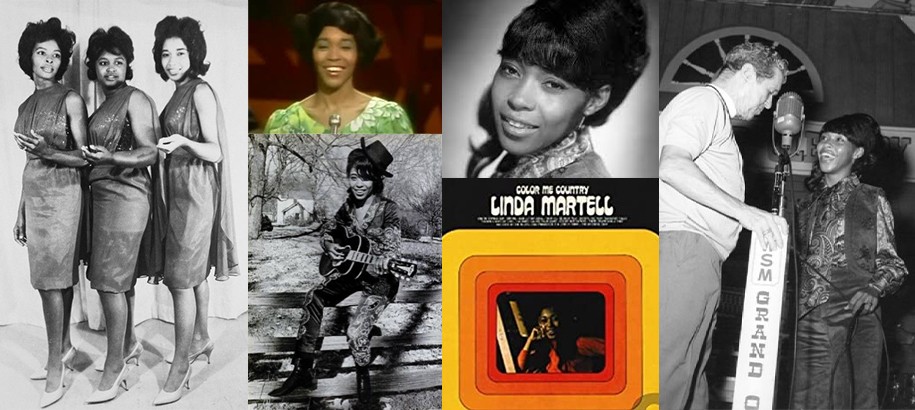 Linda Martell's presentation as a singer showed an overlap between R&B and C&W in the 1960s and '70s.
By Kyrie Blackman, Getty Marrow Undergraduate Intern for the Autry's Collecting Community History Initiative
Country music often serves as the soundtrack of the American West. Its sound reaches audiences not only in the West but in all corners of our country. While interning at the Autry this summer, I dug up a story that you may not have heard from your grandfather, while he plays his old country records. It is a story missing, for example, from Ken Burns's 16-hour documentary Country Music (2019). Linda Martell was the first African American female country singer to sing at the Grand Ole Opry, and she helped pave the way for others to be artists in the country music industry. Her journey brought unique obstacles that she had to face due to her not only being Black but being Black and a woman. Martell's experience is an example of the term "intersectionality," or the combination of multiple forms of discrimination. Even though many don't acknowledge it, intersectional identities greatly affect how people are treated. Her story of great success and sudden retirement etched her name in country music history.
Linda Martell's country music career was unique as she jumped in the scene in 1969 and retired only five years later in 1974. Born Thelma Bynem in 1941, from Leesville, South Carolina, she began her career as an R&B and gospel singer. She honed her singing ability at an early age at her community church. Her family formed a band that backed up her, her sister, and cousin performing as an all-female trio known as "Linda Martell and the Anglos." The group recorded their first single when Martell was 21 and found success as they appeared with R&B artists like singer Jimmy Hughes. Linda's voice began to stand out and her biggest opportunity came in 1969 when she performed at Charleston Air Force Base. That day, officers harassed and pressured her to perform country songs in place of her usual R&B lineup. As she gave in, the crowd was amazed by her talent which caught the attention of Manager Duke Rayner who believed she would become a star.
Her country music career began by happenstance after being discovered by an aspiring manager. He shared his intentions going in: "I figured that if I could find a colored girl that could sing Country and Western, I'd have something special."* Rayner saw his opportunity through Martell. He convinced her to fly to Nashville, Tennessee, to record a demo for Shelby Singleton and Plantation Records. After arriving in Nashville, she recorded a country version of the song "Color Him Father" by The Winstons. The song became a national hit and ascended to the Top 25 charts in 1969.
Things quickly picked up for Martell and from that success, she was able to earn an opportunity to perform on country music's biggest stage the Grand Ole Opry.  At the time, it was described as the Nashville mecca for white singers. Managers intentionally sought out Black women to complement singer "Country Charlie" Pride, the first African American to perform there in 1967. Ebony magazine described it as "Country Music Gets Soul" in a March 1970 issue. Martell's voice intrigued many. Ebony noted, "Her gutsy, emotional soul sound brings a new dimension of country-Western music—a dimension that gets a knowing smile and a drawling 'Yea-a-ah' from fans who each year turn down about 10,000 new hopefuls who seek fame and fortune in the field."  Within three months she had eleven performances at the Opry as well as numerous other appearances. Her talent was indisputable as her voice brought together two unique genres.
Racism was prevalent in the country music industry at the time, and many artists became motivated to disassociate themselves from the genre. Martell faced challenges including racism, classism, and misogyny because she was a Black woman in a white-male-dominated industry. This intersectionality made her newfound stardom difficult to navigate. As her career continued, it brought about disagreements between her team and her producer.  At the time there was a troubling dynamic between white male producers and Black female artists, in which there became a connotation with sexual exploitation and violence. Her husband advocated for her to gain more control of her career against Shelby Singleton. That did not sit well with the producer, and he terminated her contract, knowing it would not be likely that she would be able to create space for herself in the industry without his sponsorship. Knowing this, her passion started to shift as she expressed the need to be at home with her family. She abruptly ended her career in 1974 after releasing multiple top 60 songs and one hit album.
The dynamic between Black country singers and white producers continued long legacies of racism and exclusion. While Martell has not expressed that racism was the cause of her decision to retire, it is very likely a factor. Her accomplishments opened the door for later Black artists, specifically Black women, in the country music industry. Newer country artists consistently pay homage to her career and find her story a source of inspiration. Singer Mickey Guyton is in a similar position nearly 50 years later. In a recent interview, she discusses the position she faces being a Black woman in country and how she understands how Linda Martell may have felt. She shared,
It's devastating that Linda would want to leave music like that, but I get it. I was on my way to doing that at the top of the year; that's how painful it is to pursue a career in country music and be a Black woman—or be a woman, period. It's so painful because the odds are completely stacked against you. And to go through what she went through, during the time that she went through it…I can't even imagine.
As we begin to have conversations about inclusion in all industries including country music, we can look back to stories like Linda Martell's and reflect on how their journey carved a path for others to walk on. 
---
IMAGE ABOVE, CLOCKWISE FROM TOP LEFT: Linda Martell & the Anglos, Leesville, South Carolina 1962, Doo-Wop.blogg.org • Linda Martell performing "Bad Case of the Blues" on the television show Hee Haw in 1970 which aired from 1969 to 1997, WideOpenCountry.com • Nashville, TN, circa 1969. R&B and Country singer Linda Martell poses for a portrait circa 1969 in Nashville, Tennessee (Photo by Michael Ochs Archives/Getty Images), JSTOR.org and GettyImages.com • Linda Martell at Opry 1969, OxfordAmerican.org • Linda Martell's Album "Color Me Country," 1970, BlackGrooves.org • Linda Martell posing with guitar, BlackThen.com