Let Them Eat Books: Chocolate Spice Cookies from The Arizona Cook Book
Posted on: December 11, 2020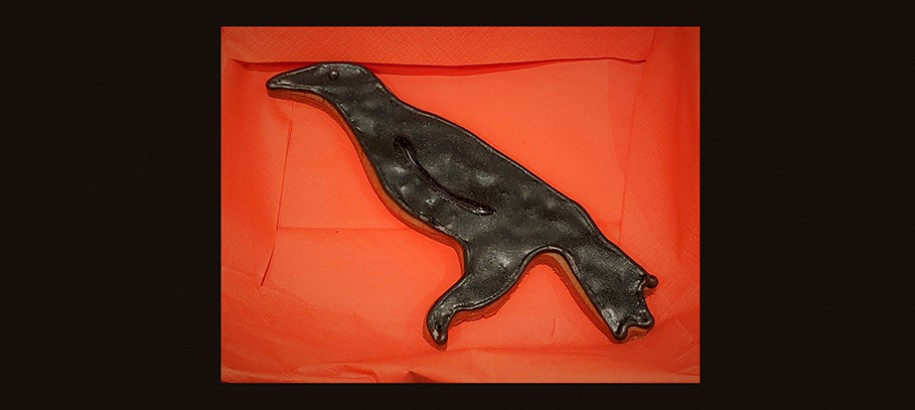 By Christina 
Lehua 
Hummel-Colla, Library Collections Assistant
Williams needed a public library, and the women of the Williams Public Library Association were determined to provide one. Though a small town with a population of about 2,500 in the early 1900s, Williams was not insignificant, hosting the terminal of the Grand Canyon Railway and serving as the Gateway to the Grand Canyon. Despite this, the town had not the means to construct and maintain a public library. 
Stepping in to fill the gap in public services, women of the Williams Public Library Association began gathering volumes for a library collection. In 1909, they made their books available when a local residence opened its doors to provide two reading rooms for men, along with amusement rooms for men and boys, and a music room. According to an article in The Williams News, accessed courtesy of the Arizona Memory Project, the Williams Public Library Association simultaneously began fundraising to build a public library on two lots it owned at the corner of Bill Williams Avenue and Third Street. 
The Association's fundraising efforts included hosting special events, such as performances and dances, soliciting and accepting donations, and publishing a cookbook. The Arizona Cook Book, published in 1911 by the Williams Public Library Association, included recipes contributed not only by women residing in Williams, but in other Arizona cities and even other states. The book's introductory section explained that "the proceeds from the sale of this book will be used in constructing and maintaining a public library for our town." Ironically, though, the book also began with the following poem contributed by a woman named Lucile: 
We may live without poetry, music and art;
We may live without conscience and live without heart;
We may live without friends; we may live without books;
But civilized man cannot live without cooks. 
He may live without books – what is knowledge but grieving?
He may live without hope, – what is hope but deceiving?
He may live without love, what is passion but pining?
But where is the man that can live without dining? 
Despite the self-contradictory messaging, the cookbook was a success. According to a 1915 article published in The Williams News, the Association published 300 copies of the book, from which they raised a sum of $250 (the equivalent of just under $6500.00 in 2020). Such fundraising efforts led to fruition on August 7, 1915 when the cornerstone for the public library was finally laid and construction of the building began. 
Today, an original copy of the book resides in the Library and Archives at the Autry, where I rediscovered it while reviewing cookbooks in our collection. Back in October, I was looking for historical inspiration for a batch of baked goods that I intended to donate through For Goodness Cakes, a non-profit that organizes volunteers to make and deliver birthday cakes and holiday treats for foster children and at-risk youth. My search led me to a recipe for chocolate spice cookies from The Arizona Cook Book, which reads as follows: 
One cup sugar, one teaspoon cinnamon, one-half cup butter, six tablespoon cocoa, three cups flour, two teaspoons baking powder, three eggs. Place cinnamon, butter and sugar in dish and cream. Then add well beaten whites. Sift flour, cocoa, and baking powder into mixture, making soft dough. Turn out on board, cut in squares, bake in moderate oven. Delicious.    – Contributed. 
While most of the recipe was relatively straight forward, the "moderate oven" was a curiosity I had not yet encountered. I learned that terms such as moderate oven, along with cool, slow, and hot oven, were used to guide how hot the oven should be before ovens had thermometers and thermostats built into them. A moderate oven translates to 350- or 375-degrees Fahrenheit in modern terms and, given that many cookie recipes I have used in the past call for the latter temperature, I decided to set my oven to 375. 
Donning my mask, I prepared and rolled out the cookie dough. Rather than cutting into squares per the recipe, I used a cookie cutter to make a batch of crow shaped cookies that went into my moderate oven. After eight minutes, the whole apartment smelled of warm chocolate and cinnamon. Later, after the cookies had cooled, I found another recipe for uncooked icing from The Arizona Cook Book to use for decorating. The recipe reads as follows: 
Three cups of powdered sugar, two tablespoons of milk, three tablespoons of melted butter; any flavoring desired. Beat for about ten minutes. – Mrs. Ross Barnard, Williams, Ariz. 
Since Mrs. Barnard's recipe left the flavoring to my discretion, I added a small amount of vanilla and almond extract for an additional dimension in the cookies' flavor profile. After adding a generous quantity of black food coloring to the icing and piping it onto the cookies, I had a small murder of crows, all individually packaged and ready for a COVID-safe donation through For Goodness Cakes. Not only did The Arizona Cook Book succeed in helping the Williams Public Library Association raise the funds to build and maintain a library, but the recipes contained within succeeded in creating cookies that were, indeed, delicious. 
[1] A completed crow cookie – chocolate spice decorated with Mrs. Ross Barnard's uncooked icing and a black sugar pearl 
Additional Image Captions: 
[2] Ingredients for chocolate spice cookies 
[3] A ball of cookie dough, ready to be rolled out and cut into shape 
[4] Crow cookies, prepared for baking in a moderate oven 
[5] A murder of crows, ready to fly off as a donation through For Goodness Cakes 
Images
(Click image for details)

: