Posted on: August 9, 2021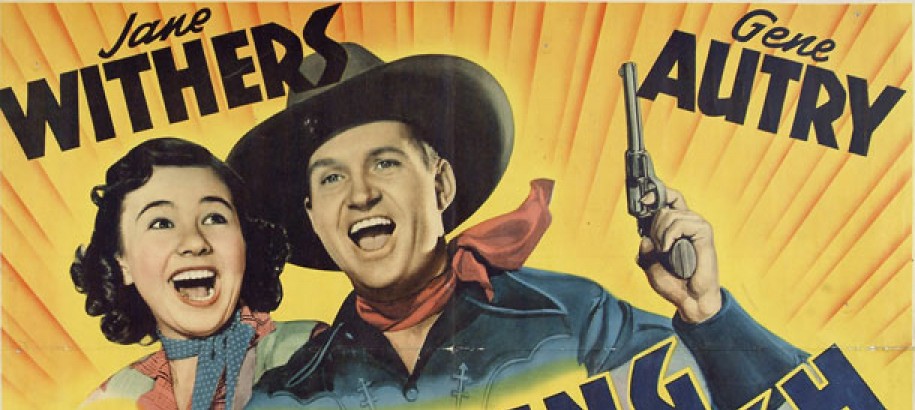 By: Caroline Sheehan, 2018-2019 Autry/Occidental College intern; Liza Posas, Head, Research Services and Archives
Jane Withers, actor, philanthropist, and doll collector, passed away Saturday August 9, 2021. She was surrounded by her family and friends. A testament to the range of her life's achievements can be found everywhere: in newspaper and magazine articles, film reel footage, and in archive collections like those held at the Autry.  
Jane Withers was born in Atlanta, Georgia, on April 12, 1926. Her mother, Ruth, dreamt of having a child star, and gave her the name Jane so it would fit on a marquee. Her parents wasted no time in getting Jane ready for the stage. Jane was taught to sing and dance before she was three years old. Her first gig at the age of four was on a local radio broadcast under the alias, Dixie's Dainty Dewdrop. In 1932, Jane and her mother moved to Hollywood as a definitive attempt to get Jane into the spotlight. For the next two years Jane worked on children's radio, doing voice-overs for cartoons, child modelling and a bit part player in several films. The popularity of child stars in the 1930s is often attributed to the fact that the Great Depression left audiences yearning for something wholesome and good in the face of financial despair. Although there were many child stars, Jane Withers stood out as the freckled, dark-haired hell raiser and would find great success in Hollywood.
In 1934, her "big break" came with Bright Eyes where she was cast as the foil character to the sweet dimple-faced Shirley Temple. This supporting role performance won Withers a seven-year contract with Fox Studios. Although the two were rivals on the screen, Shirley Temple and Jane Withers eventually developed a life-long friendship. While contracted with Fox Studios, Withers was cast in 47 films that eventually launched her into childhood stardom. She became one of the top 10 box office stars in 1937 and 1938. In 1940, she had risen to such fame that Fox cast her alongside famous singing group the Ritz Brothers in Pack Up Your Troubles and with the renowned actor Gene Autry in Shooting High.
With her fame, came her fans. At one point, Withers was responding to fan letters three nights a week with the help of five secretaries. One of her most famous fans was then-president Franklin D. Roosevelt who apparently had a vault of all of Wither's films. Withers received more than letters from her fans. Through the years, she accumulated over 10,000 dolls and bears from her admirers.
Images
(Click image for details)

:
Withers was also involved in philanthropic organizations in Los Angeles, such as the Assistance League's Junior Thrift Shop Auxiliary that worked to raise funds to support the League's various charitable activities across the city.
As Withers matured to her teen years, she became increasingly frustrated with the childish projects that she was always cast in. At 15, penned under the name Jerrie Walters, she wrote the original story of Small Town Deb. This story was then turned into a film by Fox Studios in 1941 and Withers was finally cast in a more serious role as the lead character, Patricia Randall.  Although her contract with Fox Studios ended in 1943, Withers continued to star in films such as Samuel Goldwyn's The North Star, which went on to earn six Academy nominations.
In 1947, Withers decided to retire from the industry. Although she was just 21 years old, her epic childhood fame equipped her to be financially independent.  She married Bill Moss, a Texas oilman and rancher, and they had three children.  The couple divorced in 1954 and the next year Withers married the singer Kenneth Errair, they had two children and were married until Errair's death in 1968.
Withers remained out of show business until 1955 when she began film school at the University of Southern California. There she dreamt of directing her own films. She also met Hollywood producer and director George Stevens who casted her in his 1956 epic Western drama film Giant, alongside Elizabeth Taylor and James Dean. Withers befriended James Dean during filming when she offered to launder a favorite pink shirt he feared the studio laundry service would lose or destroy. From that day on she would wash the shirt until the tragic afternoon when Dean was killed in a car accident. Withers kept the shirt as a reminder of her good friend.  This film established marked a second chapter in Withers professional life, ushering her from movie to television.
Her acting career in the 1950s and 60s was predominately featured on television, the newest and fastest growing visual medium of the day. Perhaps her most famous TV role was that of "Josephine the Plumber," a character in a long-running series of television commercials for Comet cleanser. This campaign not only boosted sales for Comet, it also made Withers a household name amongst baby-boomers, extending her legacy into the second half of the century.
In 1979, Withers was honored by the Young Artist foundation with its first Former Child Star Lifetime Achievement Award, recognizing her outstanding achievements as a child actress in the film industry. She remained connected to Gene Autry and was a guest act at the Autry Museum's "Music of the West: A Tribute to Singing Cowboys" festival in 1992. Her last professional credit was for a voice acting role in the 2002 film The Hunchback of Notre Dame II. A collection of books from her personal library, titled the Jane Withers Collection, are housed at the Thousand Oaks Library in California.
Media Captions
Gene Autry and Jane Withers sing Wanderers from the 20th Century Fox film Shooting High (1940). The publicity book for this film promoted the pair as "Hollywood's favorite comedienne and the screen's No. 1 Cowboy Star." Shooting High is the only movie Gene Autry made with 20th Century Fox. Posted courtesy of Gene Autry Entertainment. https://www.youtube.com/watch?v=WfQ0zzLX9KM.
Movie poster for Twentieth Century Fox's SHOOTING HIGH (1940), starring Gene Autry, Jane Withers, and Marjorie Weaver; directed by Alfred Green. Donated by Miss Lillian G. Spencer. Autry Museum; 88.295.1
Newspaper clipping of Marco Newmark with a young Jane Withers celebrating the seventieth year of M.A. Newmark and Co. at Los Angeles Children's Orthopedic Hospital, from the Newmark Family Collection: Loeb Family - Newspaper clippings album (1931-1935). Autry Museum; MS.227.2.53
Letter from Jane Withers to Elbridge Ayer Burbank where she thanks him for sending her a drawing of "Mr. Lincoln" and mentions working on Tin Hats with the Ritz Brothers, July 21, 1939. From the Edward Ayer Burbank Collection. Autry Museum; MS.577
Autographed image of Jane Withers to the Assistance League while she was a Junior Thrift Shop member of the League, circa 1940s. From the Assistance League of Los Angeles Institutional Archives. Autry Museum; MS.11
Image of Jane Withers with Assistance League member demonstrating one of the gumball machines to be put in Los Angeles courthouses. All proceeds from the gumball sales went to support the charities run by the League, circa 1940s. From the Assistance League of Los Angeles Institutional Archives. Autry Museum; MS.11
Japanese movie poster for Warner Brothers' Giant (1956), starring James Dean, Elizabeth Taylor, Rock Hudson, Carroll Baker, Sal Mineo, Mercedes McCambridge, Dennis Hopper, Judith Evelyn, Paul Fix, Jane Withers, and Chill Wills; directed by George Stevens. Autry Museum; 94.118.19
Valley Times newspaper photograph of Jane Withers in Chatsworth, California home with her family, from left, William, husband Ken Errair with youngest son, Kenneth, and Wendy and Walter, March 4, 1959. From the Valley Times Collection/Los Angeles Public Library (Order Number 00113142). Posted courtesy of LAPL.
"Comet's Lady Plumber" advertisement, Good Housekeeping magazine, 1965 February issue.
Jane Withers with Monte Hale at the  Autry Museum's "Music of the West: A Tribute to Singing Cowboys" festival, 1992. Autry Museum Institutional Archives.