Posted on: August 24, 2020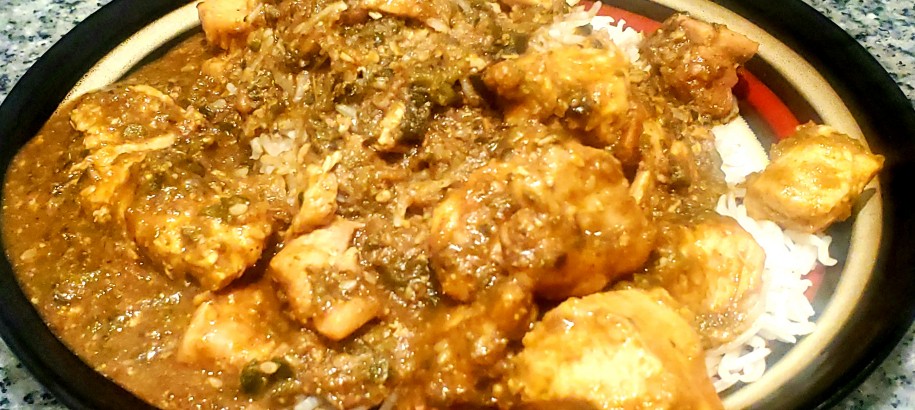 By Christina Lehua Hummel-Colla, Library Collections Assistant
"Whether she walked a short way or a long way, the telling is easy, but the journey was hard."
—Vasilisa the Beautiful, Russian Fairy Tales
The first thing my colleagues and I noticed about the Mole Poblano recipe that Señora Librado Garcia contributed to Comidas Mexicanas is its brevity. Nine ingredients. Four lines of instructions. Having never prepared a mole before, I tried to start my work earlier in the evening, intending to have a good dinner ready to share with my sister and her girlfriend at the end of a long day. Instead, I split my labor across two days and worked well past what I imagine most would consider a "normal" dinner time.
On the first night, I prepared my ingredients, cutting up the chicken breasts and leg meat into bite size pieces and separating out any bits myself, my sister, and her girlfriend would probably not want to eat. I cooked the chicken on the stove in the largest pan I own. Noting Sra. Garcia's instruction to "put the soup from the chickens" into the sauce mixture, I separated the chicken from the liquid left in my pan and set both aside. Then I moved on to the chiles, cleaning them before cutting the stems off and carefully removing the seeds before setting those aside as well, and moving on to dice the tomatoes. Due to the large quantity of ingredients involved, by the time I was finished with this phase, it was already late. We ordered delivery for dinner and I covered the ingredients to save in our fridge for the next day.
On the second night, I prepared the dish. Having noticed Sra. Garcia's instruction to "Grind the ingredients with the tomatoes making one mixture," I came prepared with a small $20 food processor to help me with my labor. Processing the tomatoes, chiles, and toasted bread still took a while, as I pulsed small quantities of each before pouring them into a large mixing bowl. Inferring that I should grind the seeds as well, I emptied my container of roasted sesame seeds into a measuring cup and pulled out my mortar and pestle. After another round of grinding small quantities of ingredients, I added the sesame seeds to the mixing bowl, along with the chicken stock, cocoa powder, sugar, and cinnamon.
After mixing everything together, I realized there was no practical way for me to strain the mole before cooking it – I only had one small sifter on hand for baking. "Alright, I like texture anyway," I said to myself before pouring the sauce into my largest pot, allowing it to simmer and stirring occasionally to minimize the chance of sauce sticking and burning at the bottom.
Where precisely I went astray in recreating Sra. Garcia's 1937 recipe, I do not quite know. Beside not straining the mixture, I had already made so many adjustments to suit my contemporary kitchen, tools, and ingredients. All this to say, when I dipped a spoon in for a taste test, I knew immediately that something was wrong. The sauce was bitter and something I could not quite articulate was missing from the flavor profile. Enter my sister and her girlfriend, who aided the troubleshooting process. We added more cocoa powder, sugar, cinnamon, and salt. I added honey and butter and water for flavor and to help thin the sauce. My sister's girlfriend contributed two of the Sadaf jumbo dried limes that she uses in Iranian and Persian cooking. Finally, the sauce tasted like something we all wanted to eat. I added the cooked chicken back into the mix and pulled out the rice cooker so we could serve everything over basmati rice.
By the time we sat down to eat dinner, we had ended up with something of a fusion dish, a meal that my sister's girlfriend said her Iranian father would love to eat. Not quite Mexican American, not quite Persian or Iranian, a dish inspired by food history and deeply influenced by contemporary culinary techniques and tools. A dish as culturally mixed as the three of us. A dish as culturally mixed as Los Angeles itself.
As I cleaned up my mess of a kitchen, as I put away the mountains of leftovers, and as I sat down to begin writing the next morning, I reflected on my journey thus far. I had as many, if not more, questions for Sra. Garcia than I had when I began. Who was she cooking with, and who was she cooking for? From whom did she learn to cook? Do her descendants continue to prepare her recipe, creating and re-creating new traditions along the way?
Did she labor long hours in the kitchen with female friends and family? Did they all gather around a large table to share the fruits of their labor, inviting loved ones to partake and share in the joy of a good meal? Which special occasion called for the creation of such a labor-intensive dish? For the recipe was far more labor intensive than the brief recipe implied, even with all the modern conveniences I have access to in this, the year of our coronavirus, 2020. The whole process calls to mind the concept of invisible labor, a term often used to describe the myriad tasks performed by (mostly) women in the domestic sphere, vital to the functioning of a healthy household, but so frequently unseen and unrecognized.
In the end, I consign myself to the fact that many of my questions will remain forever unanswered. Sra. Garcia and her immediate friends and family are probably gone, and as far as we know, her Mole Poblano recipe is the last we will ever hear from her. Her culinary tricks and secrets may well be lost in time and space. Most likely, she is long since passed, and the world has danced around the sun many times in the interim. Yet, the joy of cooking and sharing a good meal with our loved ones remains, and I am grateful to Sra. Garcia for the gifts she left behind for us to rediscover.
Images
(Click image for details)

:
Recipes
Mole Poblano (Original Recipe)
2 chickens
1 doz. chile pasiya (sweet chile)
1 cup sesame seed
2 fresh tomatoes
5 slices of toast
1 tablespoon chocolate
1 teaspoon sugar
¼ teaspoon cinnamon
salt to taste
Cut chickens into small pieces and cook. Toast chili, sesame, and bread separately. Grind the ingredients with the tomatoes making one mixture. Put the soup from the chickens, chocolate, sugar and cinnamon into mixture and strain and cook for one hour then add chicken and stir constantly.
Mrs. Librado Garcia

Mole Poblano (Author's Recipe)
1 large pack / 4 lbs. of chicken breasts
1 large pack / 4 lbs. of chicken leg meat
1 doz. Green pasilla chiles
1 (scant) cup toasted sesame seed
5 slices of toast
2 fresh tomatoes
2 dried limes  
3 tablespoons cocoa powder
 2 teaspoons sugar
½ teaspoon cinnamon
salt to taste
honey to taste
2 tablespoons butter
 2 cups water
Cut chickens into small pieces and cook. Separate chicken from the liquid in the pan and set both aside.
Prepare the chiles by cutting the stems off and removing the seeds and stems. Toast the chiles and bread separately.
Grind the toasted sesame seeds.
Add the chiles, tomatoes, and toast to a food processor and pulse until well mixed, adding to a mixing bowl as space is required in the food processor.
In a large mixing bowl, mix the liquid from the chickens with cocoa powder, sugar, cinnamon, salt, honey, butter, and water.
Transfer the mixture to a large pot, add the two dried limes, and cook on medium high heat until the mixture reaches a boil. Decrease the heat to low and let simmer for one hour, stirring occasionally.
Add chicken to the mixture until the mole poblano reaches a uniform temperature.
Serve as you like, or over Basmati rice.
Christina Lehua Hummel-Colla
Captions
Main Image Caption:
[1] Author's plated Mole Poblano, served over Basmati Rice
Additional Image Captions:
[2] Prepared ingredients for cooking Mole Poblano, including chicken stock, chicken breast and leg meat, diced tomatoes, toasted bread, toasted and cut green pasilla chile, roasted sesame seeds, sugar, cinnamon, cocoa powder, and salt
[3] Author's food processor, used to prepare green pasilla chiles, toast, and diced tomatoes
[4] Author's mortar and pestle, used to grind roasted sesame seeds
[5] Mortar and pestle. Autry Museum; 93.21.140
[6] Señora Librado Garcia's recipe for Mole Poblano, printed in both Spanish and English, published in Comidas Mexicanas