Posted on: September 24, 2020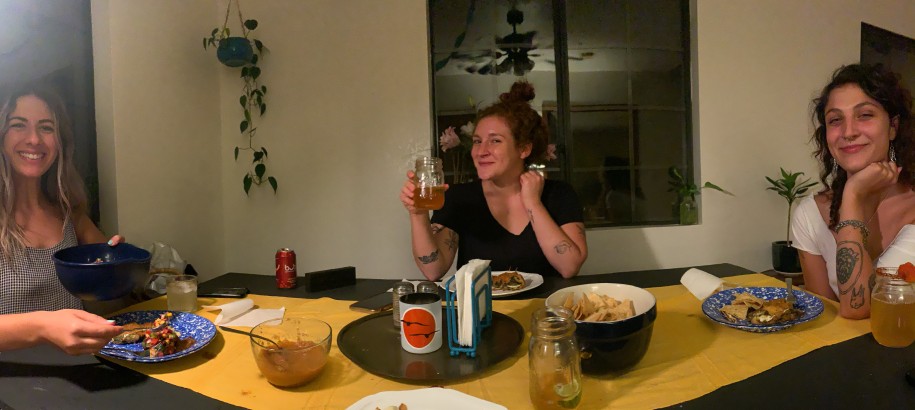 By: Keisha Raines, Communications and Digital Marketing Manager
I wouldn't call myself a great cook. I have signature dishes, but I also still have to Google "how to hard boil an egg" because I never commit the sequence and time to memory. I wouldn't even say I enjoy cooking because most the time I was cooking for one and where's the fun in that? Before the pandemic, I made quick meals in between work and going out. Usually eggs in some form or a stir fry. I prepared salads for work lunches that I would eat at my desk, shoving greens into my mouth like some sort of deranged rabbit. On the weekends, I met friends at restaurants, grabbed tacos from a truck outside a bar, or ordered Thai from Postmates. For the most part, food, and the act of preparing it, was always out of necessity instead of pleasure. Then COVID hit and my options for food and socializing became severely limited.
In February 2020, on a whim, I answered a friend's Instagram post looking for a person to fill a vacant room in her three-bedroom house. Between work and friends, I was rarely home and barely talked to my roommates. Then, on March 21 Los Angeles issued a shelter-in-place order. I was now stuck inside, cut off from seeing my friends, with two people that felt like strangers. For a while, we barely interacted and would politely talk while in the kitchen or when we caught each other in the hall. If they were anything like me, they shut themselves in their room to process what was happening and felt isolated and confused. One day, while out grocery shopping, I felt the need to connect to these people I was sheltered with and knew the only answer was food. I bought things for shrimp tacos and from that moment a tradition was created, Saturday nights became Family Dinner Night. Every week we would cook and eat together like a family. It was during these dinners at the beginning of quarantine that we connected and learned more about one another. Leah invented a game where we go around the table and share what we look forward to when this is over or our favorite cake, cocktail, or meal. The dinners helped me feel less alone during this time of doom and gloom. It became something to look forward to during weeks where every day feels like Groundhogs Day, the movie. The format of our Family Dinners typically goes a little something like: dinner is said to start at 7-8 p.m., we volunteer someone to put on a record, and at some point someone offers to make drinks or pour the wine. During dinner prep, the kitchen becomes cozy and a place for conversation and catching up with one another. We talk and laugh loudly to compete with the music. Someone sets the table, then we all gather around and sit in our de facto spots. The dinners are nothing elaborate, and while we have celebrated birthdays, there is no special occasion attached. It's just a time for us to feel together.
This past Saturday, I made chile rellenos from Comidas Mexicanas, a 1937 cookbook from the Autry's collections that contains Mexican American recipes contributed by women living in Pasadena's Mexican communities. Chile rellenos are an item I frequently order at a cheesy Mexican restaurant. You know the kind, loud mariachi music playing, strings of colorful lights crisscross the ceiling, they serve bucket sized margaritas and complimentary salsa and chips for the table. Side note: it's weird to think that communal chip baskets may be a thing of the past. While reviewing the chile relleno recipe, I was shocked at the simplicity of it. I assumed it was nothing short of wizardry that put the cheese into a pepper, which was then fried and retained one whole piece. I was pleasantly surprised that it didn't take much effort, and I also made a salsa roja top it.
While preparing the chile relleno and sauce, I thought about the original contributor of this recipe, Sra. Maria Esparza. I considered how she must have made these chile rellenos for her family and maybe learned the recipe from her mother. I thought about the conversations that were shared over her stuffed peppers. It made me think of how in this situation, I created family out of my roommates. How this pandemic has done a lot to close us off from one another, yet these Family Dinners have brought me closer to these individuals that I now love. While I whipped egg whites, I took a moment to appreciate the people I've been quarantined with and felt grateful for where I was at that moment. This situation we are all in is one we didn't ask for or plan, yet here we are six months later, trying to make the best of it. Throughout it, I've found a joy in cooking and the fun that comes from the process as opposed to just cooking as a means to an end. I like to think that while Sra. Esparza could not have imagined that her recipe would be prepared in such an unusual time, she would appreciate that almost a century after she shared the recipe it still is served at Family Dinner.
Original Stuffed Chiles Recipe (with Notes from Keisha)
Toast eight chiles (I chose poblanos, but anaheim or pasilla will work, says the internet).
Peel and take seeds out, then stuff with cheese (the recipe wasn't specific, so I followed my heart and used Oaxacan cheese. Monterey would also work).
(Optional: Enjoy a beverage, I suggest a Michelada with a Pacifico, garnished with a spicy mango and lime.)
Beat the whites of two eggs (to make the breading nice and fluffy, beat the whites until stiff peaks form) then add the yolks.
Fold chiles into flour and then into the beaten eggs (I wasn't able to find a way to do this that didn't involve getting my hands completely immersed in the egg mixture. If you do, send an e-mail to communications@theautry.org, because I don't believe it is possible).
Add salt to taste (to be honest, this confused me. Was I supposed to taste the egg mixture? Was I supposed to taste the whole thing once dipped? I decided to avoid the salmonella and added the salt to the flour. Sorry Sra. Esparza).
Fry in oil (I used canola oil in a large rimmed frying pan and put about two inches of oil and fried two peppers at a time).
(Place the peppers on a baking sheet lined with paper towels to soak up the oil. Once all peppers are fried, plate the chile rellenos and spoon salsa roja on top.)
(Enjoy with friends and try to retell the history of Comidas Mexicanas.)
Salsa Roja
(I winged this recipe, so measurements aren't exact.)
6 Roma tomatoes (quartered)
¼ onion (yellow or white)
4 cloves garlic (use more or less, garlic isn't measured. You feel that with your heart.)
1 jalapeno (remove seeds if you don't want it that spicy)
5 sprigs cilantro
1 tsp. salt
3 hard shakes of cumin
If you want more spice, about 2 shakes of cayenne pepper

Add tomatoes, onion, garlic, jalapeno, cilantro, and spices to a blender and blend until smooth. Heat oil in a saucepan over medium-high heat. Add sauce and bring to a boil. Reduce heat to low and simmer, stirring occasionally.
Images
(Click image for details)

: