How I Owe My Life to Spam (Plus a Recipe for Spam Fried Rice)
Posted on: May 18, 2021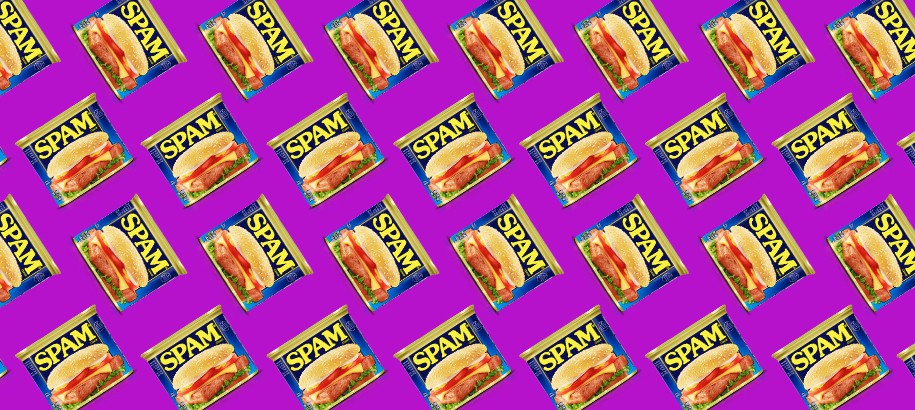 By: Keisha Raines, Communications and Digital Marketing Manager 
There doesn't seem to be a middle ground for Spam. You either think it's weird (which it is) and gross or you love it and think it's delicious (which it also is.) For my family in war-torn Guam, it was salvation. Without Spam, I might not be here today. To understand how canned pork plays into my creation, you need to know how it got to Guam. 
To say the residents of Guam love Spam is an understatement. The people of Guam eat an average of 16 cans per person annually, more Spam per capita than in any other country. The island's love affair with the canned meat began during World War II when troops introduced it to the Chamorros, the indigenous people of the Mariana Islands (including Guam), following the liberation from Japanese occupation. Upon the end of the Battle of Guam, Marines had only their military issued rations of canned meat to share with the starving island population who were newly freed from concentration camps. Many Chamorros, like my family, found their homeland devastated by war with no home to return to and very little food. They scrounged for what they could find and many times the only thing available was Spam, and other non-perishable items, from troops. That can of meat quickly became a beacon of hope. To many it was a symbol of survival against incalculable odds. Spam and freedom are so tightly connected in the collective minds of Chamorros, that the company released a commemorative can in honor of the 60th anniversary of Guam's liberation from Japanese occupation. Guam's dependency on Spam continued to grow in large part to it geographical situation and U.S. control over the island's imports. On top of that, the government seized two-thirds of the island and destroyed forests and farmlands needed for food to make way for military bases. With not a lot of opportunities to grow their own food, Spam became one of the only options.  
 
During Asian American and Pacific Islander Heritage Month and with the recent racist attacks on AAPI community, I find myself reflecting a lot more on my culture and looking at the strength of my ancestors. I look at their food that bears influences from three centuries of Spanish colonialism and am reminded of the resilience of the Chamorros. And Spam, that slightly funny ham in a can, has found its way in a variety of dishes demonstrating the resourcefulness of the people of Guam. So, while yes, Spam is not the most nutritious it may also be responsible for my existence. 
Spam Fried Rice Recipe
Measurements for fried rice are very loose and you can really add anything you want. In my house, it was always a clean-out-the-fridge meal that was made with old rice and vegetables that were on their way out. 
Ingredients 
2 tbs. oil  
2 eggs  
2 cloves garlic  
½ medium onion 
1 tbs. Grated ginger 
1 can of Spam 
Bag of frozen corn, peas, and carrots  
3 cups cooked rice  
1 1/2 tbs. soy sauce   
1/2 tbs. oyster sauce  
Whatever amounts to two quick dashes of fish sauce 
1/4 tsp. sesame oil  
2 green onions (chopped and green & white parts separated)  
Lemon, for serving  
Optional: Sriracha or hot sauce of your choosing and pickled Thai peppers. 
Directions: 
Heat 1 tbs. vegetable oil in a skillet over low heat. Add beaten eggs and cook until done, about 2-3 minutes per side, flipping only once. Let cool before dicing into small pieces.  
 
Heat remaining 1 tablespoon vegetable oil in a wok or large skillet over medium high heat. Add onions and cook until translucent then add garlic, ginger and Spam. Cook, stirring often, until light golden brown, about 3-4 minutes.  
 
Add frozen vegetables and white parts of the green onions. (If you want to add more veggies, now is your chance.) Cook, stirring constantly, until vegetables are tender, about 1-2 minutes.  
 
Add rice and gently toss to combine.  
 
Add soy sauce, oyster sauce, and fish sauce. Adjust the ingredients to your liking. Add sesame oil. Cook, stirring constantly, until heated through, about 1-2 minutes.  
 
Stir in remaining green onions and eggs.  
 
Serve immediately with lemon wedges.  
Images: 
(1) Ingredients 
(2) Finished product complete with pickled peppers 
(3-4) Spam can in honor of Guam's liberation from Japanese occupation during World War II. COURTESY OF DICKERSON AND QUINN / SPAM 
Images
(Click image for details)

: