Posted on: April 20, 2020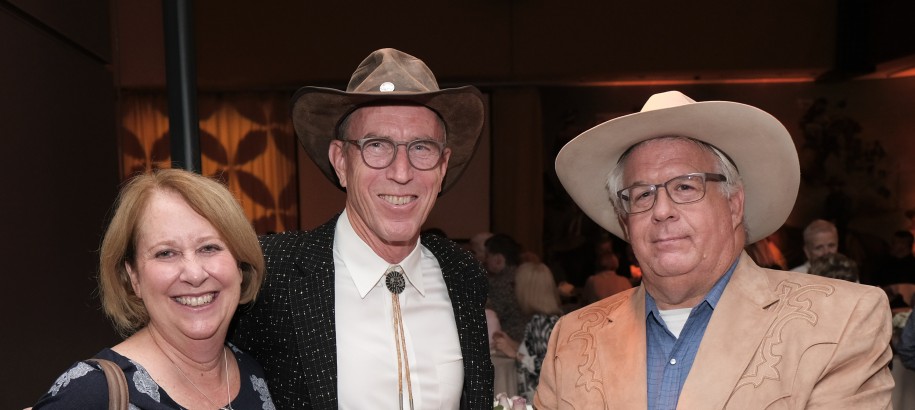 By:  Jenny Davidson-Goldbronn, Senior Director of Development
Donors Bruce and Carol Johnston share what they love about the Autry, why they joined the Autry's premier recognition society Curator's Circle, and why they did so now amidst unprecedented times.
Bruce and Carol have enjoyed Autry exhibitions, cultural activities, and special events for years, including American Indian Arts Marketplace and Masters Art Exhibition and Sale.  They regularly attend Native Voices performances and the Autry's signature What Is a Western? film series.
A chemical engineer by profession, Bruce finds great meaning in the diverse cultures across the globe and in that sense, involvement with the Autry is a no-brainer. "I have traveled extensively, meeting people with very different perspectives than I have. The stories the Autry tells through Native Voices, its exhibitions, and otherwise fill my need to learn from and engage with other cultures."
Carol is a chemical engineer turned educator who now serves as Chair of the Education Department at Mount Saint Mary's University. Education is the lens through which she views her role as community leader and donor. She appreciates how the Autry embeds science into its core galleries like California Continued, and cares about accessibility to students at large, including access to museums. She sees the Autry experts themselves as invaluable assets.
To Bruce, philanthropy means contributing to the betterment of society and specifically supports activities that enhance and educate people beyond their daily lives. Carol is grateful for the many wonderful opportunities they've experienced; to allow others to have the same means a great deal.
Images
(Click image for details)

:
When asked why they joined the Curators Circle now, Bruce replied "that giving now means that much more, considering the hardships so many are facing." He underscored how relevant it is to make Autry assets more accessible during coronavirus mandates. Carol added that they had been planning to give for some time. "Now is when our gift is needed most," she said, "and we are fortunate to be able to do so."
Bruce is excited about his growing engagement with the Autry as he looks toward retirement. He is a team player and problem solver with much to contribute. As a life-long learner, he looks forward to a greater understanding of the arts and what makes important cultural institutions like the Autry work. 
We at the Autry are most grateful to Bruce and Carol for becoming part of the Curators Circle at this most challenging time and look forward to their increased involvement. 
Should you wish to join the Curators Circle and/or give at any level, you can do so here.