How the Character of Coyote Helped Artist Harry Fonseca Come Out
Posted on: June 23, 2020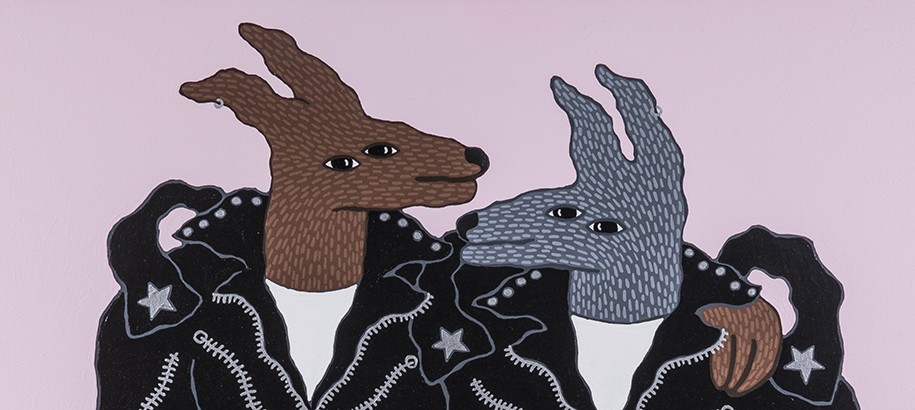 By Amy Scott, Executive Vice President and Marilyn B. and Calvin B. Gross Curator of Visual Arts
Harry Fonseca (Nisenan Maidu, Hawaiian, Portuguese, 1946–2006) was an instrumental force in reshaping Native art with his trademark blend of traditional imagery, contemporary experience, and vibrant color and form. As he used his art to explore both his personal journey and the role of history in shaping Native consciousness in the present, Fonseca sought to expand definitions of Indian art and to shatter the expectations and stereotypes that had long confined it.
Fonseca's best-known work remains his Coyote series, in which the character of Native legend became a vibrant and dynamic avatar for the artist, venturing "off-res" to explore the urban environment of San Francisco and a wide variety of performative roles including opera singer, ballet dancer, koshare, and painter. Moving easily from one world to the next, from one role to another, Fonseca's Coyote was a slippery and adaptable character who spoke to the (often) contradictory expectations placed on Native peoples while confronting some of the stereotypes that they faced.
Images
(Click image for details)

:
While Fonseca's Coyote and his embrace of the world around him is fairly well known, his emergence as a means for the artist to explore his own sexuality is not. Among his first Coyote images feature the creature "coming out" within the context of San Francisco of the early 1970s, shortly after the issue of gay rights came to national attention following the Stonewall riots in New York City. Fonseca's Coyote early on embraced the leather jacket, platform boots, earring, and other aspects of queer dress and in subsequent works appears with his arms slung around the shoulders of another male Coyote. By the early 1990s, Fonseca had left his wife and was in a long-term relationship with Harry Nungesser, who was with the artist until his death in 2006.
In addition to Coyote's role in his "coming out," Fonseca created a series of striking paintings in 1996 that feature seated skeletons devouring pink hearts dripping with paint (or blood?) in response to the AIDS crisis then devastating the creative community. According to Nungesser, Fonseca was "very angry about AIDS. Well, who wasn't? He knew, like we all did, people who have contracted HIV and died from AIDS."