Exploring the Roy Rogers and Dale Evans Archives:
My Roy Rogers Lariat Spins Like The Dickens
Posted on: April 10, 2018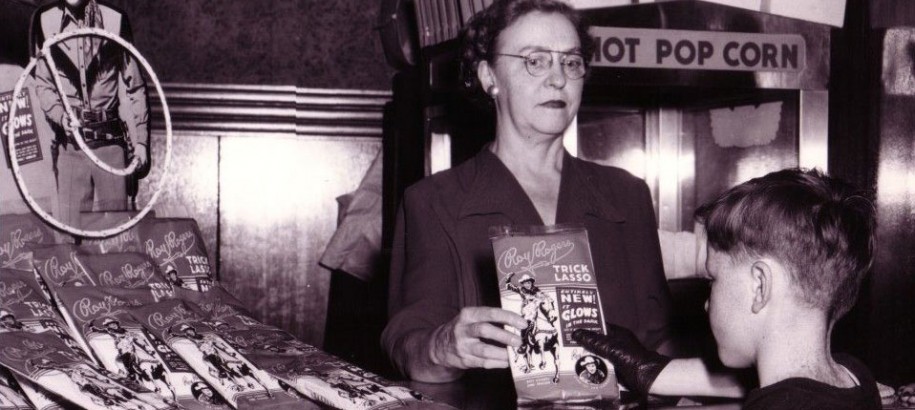 By Mallory Furnier, Former Special Projects Archivist at the Autry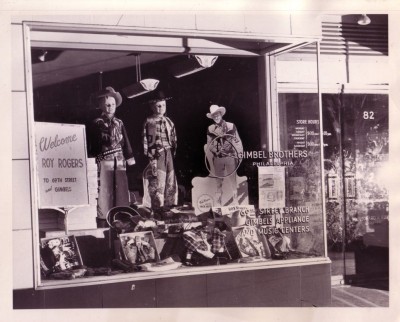 Beginning in the late 1930s, millions of children watched their hero Roy Rogers thunder across the screen on his intelligent steed Trigger, listened to his radio programs, or later thrilled to his television shows. The excitement of the flickering adventures was contagious for audience members won over by Rogers' dashing good looks, catchy tunes, and amiable charm. But how could the excitement of adventure be brought home and relived in the comfort of mom and dad's backyard? Roy Rogers' marketing and licensing team made sure that fans could take home a piece of Rogers for themselves in the form of a wide array of branded merchandise.
A 5 year old Roy Rogers fan wrote in the 1950s (with an adult's help), "All I asked Santa to bring me for Xmas was Roy Rogers gloves, spurs and lariat.  I got them all and I like them all but I 'specially like the lariat. I couldn't spin an ordinary old rope but my Roy Rogers lariat spins like the dickens. Boy, it's keen." The fun of owning Roy Rogers branded clothing was not lost on the boy, but the real thrill was getting a toy that allowed him to follow in the action footsteps of his hero.
So what exactly was this lariat that the 5 year old fan got so excited about? The Roy Rogers Trick Lasso! The Lasso allowed any child to spin it like a lasso champ and in a later incarnation it came in a glow-in-the-dark form. The Lasso, manufactured by Knox-Reese of Philadelphia, PA, took off once it allied with Rogers' name. Dave Knox, a former brewery promotion man, and Bill Reese, a former movie projectionist, teamed up together to manufacture the Lasso.
According to an American Magazine article Knox invented the lasso while working for Uncle Sam during World War II. Knox produced training films for the Air Force and needed to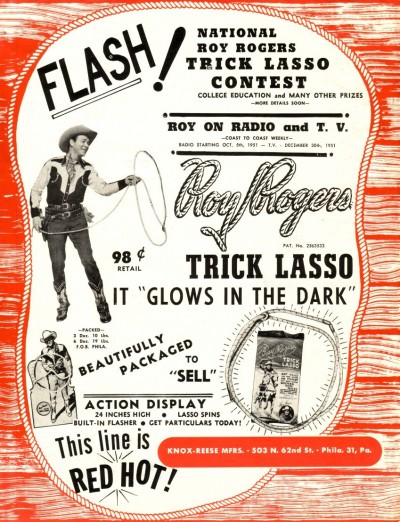 twirl a rope so that it would lie flat in the air in order to demonstrate "how the action of a gyrostabilizer helps keep a plane balanced in the air." Knox and Reese realized the potential appeal of this seemingly magical rope to children and went into production after the War. To generate excitement and publicity about the new Lasso, Rogers' marketing team devised a Lasso Contest, which began February 15, 1952. Though basic rules were set for the national contest, each individual theater was allowed flexibility in their own local rules.
The national rules stipulated that, "Contestants should be judged by their performance with the lasso, good deed submitted on application, Roy Rogers attire, etc., this should be done by theatre applause, theatre staff or local business man."
Children who wrote in to the national contest listed a variety of good deeds, mostly linked to helping out their immediate family members, such as the 10 year old from Shamokin, Pennsylvania who noted his good deeds included "helping my father on the milk truck. I help my mother and [sic] running errands." A 4 year old from Wiggins, Mississippi, who must have been mature for their age, helped by "taking care of my little sister, who is two years old. And keeping the yard clean and feeding wild birds." A handful of children helped outside of their family, as with the Roanoke, Virginia 5 year old who gave "some of my toys to other little boys that don't have any."
Images
(Click image for details)

: