Cooking Up the New West: A Brief History of Soul Food in Los Angeles
Posted on: September 28, 2020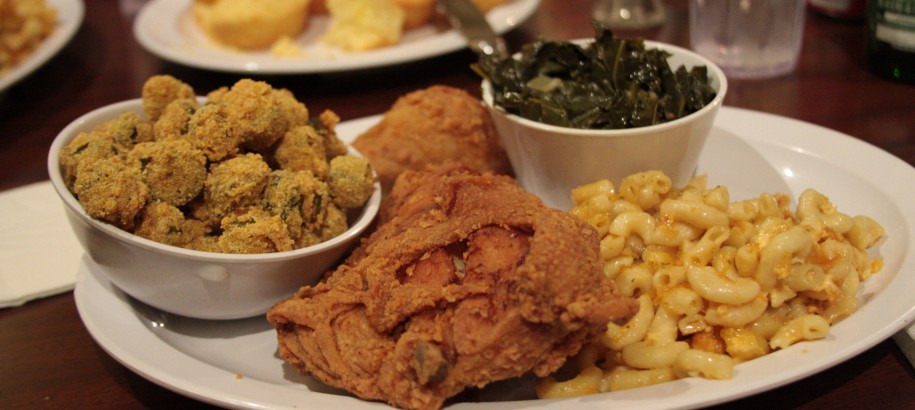 By Kyrie Blackman, Getty Marrow Intern
Love soul food? Even though the American South is a couple of thousand miles away, Los Angeles, California, is home to many African American soul food eateries steeped in a history of migration worth celebration. During the mid-1960s, the term "soul food" was adopted because of the popularity of the word "soul" to describe African American culture. Steeped in a history of enslavement in the American South and lack of access to quality ingredients, African American cooks had to make do with what they had available with ingredients post-emancipation, like off-cut meat, fish, wild game, and fresh vegetables.  
Per region, Southern African American cooks have different cooking methods for the same meal. Each of these methods can conjure different smells, different textures, different tastes, all enticing other emotions to bring back memories at the dinner table. All those memories are aroused by certain ingredients that preserve the rich stories of resiliency and optimism and migrations—especially for those Black Southerners who moved to the West post-Reconstruction from the mid to late 19th century and into the 20th century..
After Reconstruction was over in 1877, the American South, was in a state of turmoil as southern state legislatures were controlled by racist white southerners. During this period, Jim Crow laws began to surface re-imposing racial discrimination and segregation as well as denying the access to vote, earn jobs, and gain an education for African Americans by White Southerners. As tension and discrimination arose, Black Southerners became motivated to seek refuge in the North while others became interested in the West. Proportionately, from 1910 to 1970, a period known as the Great Migration, over 6 million Black Americans fled the American South in search of new opportunities away from fear, terror, and poverty.
Due to the Second Great Migration in the 1940s–1970s, large amounts of African Americans moved to cities like Los Angeles—hailing from cities like Shreveport, New Orleans, and Atlanta, Georgia. Los Angeles, California, afforded an abundance of job opportunities in the labor force during World War II.  As the Great Migration lead African Americans west, many Black families established businesses and shared Southern cuisine like Los Angeles' famous Harold & Belles—home to New Orleans cuisine.
Opening in 1969, the Los Angeles-based Harold & Belle's Restaurant served authentic New Orleans cuisine for fifty years. Founder Harold Legaux Sr. and his wife Mary Belle had a dream that they could create a space where their loved ones visiting from New Orleans could come together, shoot pool, and feel like they are back home. They accomplished this dream with a small kitchen and a menu that only consisted of Po-Boy Sandwiches, Red Beans& Rice, and File Gumbo.
After the passing of Harold Sr., his son, Harold Jr., and his wife modified the dining experience by enhancing the menu and adding dishes, including Shrimp Scampi, Shrimp Creole, Crawfish Etouffee, and Clam Chowder. Currently, the restaurant is now third generation owned and continues to find new ways to be innovative, share the tastes they grew up on, and brings New Orleans soul food to the Los Angeles community.
Like Harold & Belle's, countless other African American soul food eateries in the city receive their recognition. They are celebrated for the public enjoyment they bring every year at South Los Angeles Taste of Soul (TOS) celebration!
Founded in 2005 by African American activist and entrepreneur Danny Bakewell, every October TOS hosts over 350,000 guests seeking food and culture alongside the historic Crenshaw Boulevard. Featuring a wide array of local and international Black food vendors, the festival allows everyone—regardless of their background—to eat their favorite soul food from across the world and the African Diaspora. This includes Jamaican cuisine, Southern American BBQ, and all-you-can-eat funnel cakes. Similarly, music artists perform on several stages as thousands gather to ingest the best from African American local creatives, business owners, and chefs. Although there will be no TOS this year due to the pandemic, it will surely be a major attraction in future years to come once again.
This is why it's important to highlight these attractions: so many still don't know that because of migration Los Angeles possesses a rich history of African American soul food that exemplifies the diversity of the region steeped in African American history and culture in the West that is worthy of celebration.
Captions:
Jennifer Woodard Maderazo, Soul Food, Powell's Place, October 6, 2007.
Jacob Lawrence, A Great Migration, 1940-1941, Panel 1 of The Migration Series, from the Phillips Collection, Washington, D.C. Photo taken by Ron Cogswell, October 2016.
Harold & Belles Creole Restaurant
H&B's Famous Seafood Platter, Harold and Belles, 2020.
Bakewell Media, 13th Annual Taste of Soul, 2018.
Images
(Click image for details)

: