Conversations Between Colleagues: Developing a Collaborative Program
Posted on: May 6, 2020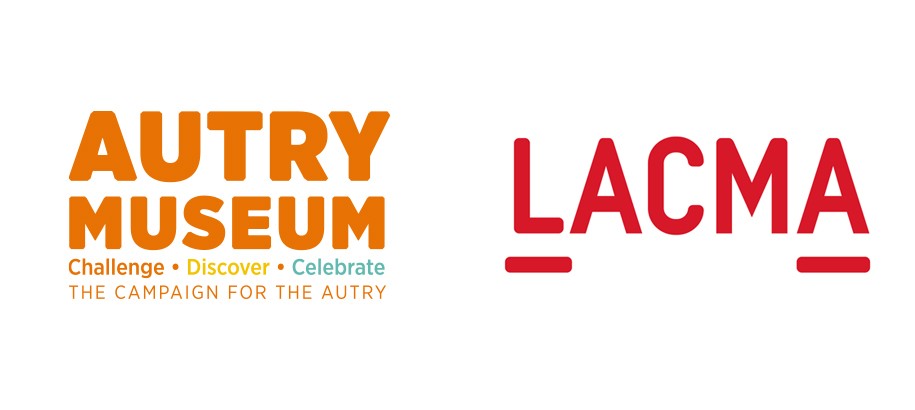 As part of an institutional partnership between the Autry and LACMA, our programs team collaborated in 2019 with LACMA's assistant curator of film on a variety of movie screenings, from new releases by contemporary Native filmmakers to a screening of Walker introduced by punk composer Zander Schloss.
Although both museums are currently closed to the public in response to COVID-19, programming has continued with a shift to online formats. For a behind-the-scenes peek at that process, we've included an email conversation between Adam Piron, LACMA's Assistant Curator of Film, and Ben Fitzsimmons, associate Director of Programs and Research at the Autry.
The resulting program will take place on May 15—a virtual screening of Eadweard Muybridge's foundational motion picture Human and Animal Locomotion, with a live score by Kite, an Oglála Lakȟóta performance artist, visual artist, and composer raised in Southern California. 
---
From: Ben Fitzsimmons  
To: Piron, Adam  
Subject: Autry/LACMA Film Collaborations 
Hi Adam, 
How are you coping with the "shelter at home" situation? We're both very lucky to have employers who have pivoted to working from home, but are you finding it a challenge, particularly with a child? Our worlds are so much about collaboration and brainstorming that I'm definitely missing the interaction of an office. On the positive side, I'm spending lots of quality time with my wife now I don't have all those pesky events to attend, and we've even managed to cook some of those recipes we've been diligently tearing out of magazines for years!   
As part of the partnership between the Autry and LACMA, you and I have worked on a number of collaborations over the past year, most notably a retrospective of shorts by filmmaker Sky Hopinka and a pair of screenings from Adam Khalil, featuring his latest feature Empty Metal and his award-winning film INAATE/SE/.  Adam's work was part of the 2019 Whitney Biennial and Sky's first full-length feature małni—towards the ocean, towards the shore was a hit at Sundance this year - what do you think is the appeal of these two filmmakers? I know you've worked with both of them in the past – how did you meet?  
Stay safe  
Ben 
Ben Fitzsimmons 
Associate Director, Programs and Research
Autry Museum of the American West 
---
From: Piron, Adam   
To: Ben Fitzsimmons  
Subject: Autry/LACMA Film Collaborations 
Hi Ben, 
We've been good. It took a while, but we figured out a schedule that works for both of us because we both work from home and take different shifts of taking care of our kid. Overall, outside of being around my co-workers, my schedule hasn't changed too much in that I spend most of my time screening or researching, but I just get to do it from home now. With this dramatic shift to working from home and thinking about engagement from an online/digital perspective with your audiences, has it been difficult or relatively easy? For me at least, it's actually been interesting to experiment with.
I got connected with Adam Khalil, his brother Zack, and Sky Hopinka, all around the same time. I'd say it was in and around 2015, which was when I was working with Sundance Institute's Indigenous Program. I first met Sky after seeing his short Jáaji Approx., which played at Sundance and then Adam K. shortly after, when he and Zack had finished INAATE/SE/. Around a year before that, I started getting into and discovering experimental cinema, and I never really knew that there were Indigenous filmmakers in that space until I met Caroline Monnet (Algonquin): a really amazing filmmaker from Canada. I think experimental/avant garde film gives a space for Indigenous artists to just be artists first and have their culture/identity just be one facet of their work, where I think the more conventional route of filmmaking tends to work in the opposite way, for better or worse. Part of that has to do with issues that the larger film industry is wrestling with when it comes to questions of representation and diversity versus balancing commerce and its own scalability, because at the end of the day it's a business (which is fine). The difference when approaching film as art and removing the commercial pressures for it to succeed, in as pure of a way that one can, and working from a space that's focused purely on expression and/or pushing the form, it becomes a much more liberated and dynamic medium. You're less reliant on having a huge crew or production systems and are forced to be more DIY and to figure out things on your own terms. The expectations around the level of artistic quality are significantly raised and it becomes less of a passive experience because of the level of engagement that is demanded from, as well as by, the audience. It's from this space that you get the poetic experiences of Sky's work or the radical vision of Khalil's and they're unlike anything that's out there when it comes to their forms, which I think it why they're on so many peoples' radar. So, yeah, long way to answer your question about their work, but I hope that makes sense! 
Similarly, it's been amazing to see the Autry showcase a lot of Indigenous artists that are also pushing the forms of their mediums in their own right. I was particularly impressed with the Rick Bartow show that happened recently too. It's a very unique and important place that I think the Autry has been creating and I'm curious how that shapes how your envision engagement, both in the physical museum space as well as digital now too.  
Stay healthy! 
Adam 
ADAM PIRON 
ASSISTANT CURATOR FOR FILM
FILM PROGRAMS 
LACMA 
---
From: Ben Fitzsimmons  
To: Piron, Adam  
Subject: Autry/LACMA Film Collaborations 
Hi Adam, 
That idea of experimental film giving Indigenous artists the freedom to be artists first is so very true. So often people are defined by one aspect of their identity or by being the 'first' whatever, and we are all so much more complex than that. At the Autry's annual American Indian Arts Marketplace we make a very conscious effort not to define what is 'Indian Art' – if the art is made by an artist who identifies as Native then it fits, regardless of medium or artistic choices. This is also reflected in our recent exhibitions such as the retrospective of Rick Bartow's work, where artists do indeed push the boundaries of their own art-form to reflect on their own experience and identity. This is why I've enjoyed collaborating with you on experimental film programming, as you help us tie different aspects of the Autry together, combining movie-making and contemporary Indigenous artists to explore the idea of what is the West today.    
Which segues into your questions about how we think of engagement, particularly in a time when many in our profession are having to re-imagine what makes a public event when we are all practicing physical distancing. Connecting with online audiences in any form can certainly be considered engagement in some fashion, but it isn't always as simple as migrating existing programs into a digital form, such as posting a YouTube video of an archived panel discussion from 2018. There is definitely room for such content to reach new audiences but there are so many additional options that are made possible in a digital environment. The immediacy of Zoom etc. means we can participate in some of the industry-wide conversations that are exploring those possibilities, rather than waiting for an annual conference. Are there any ideas or themes you've come across in those discussions that struck you as valuable in this moment?  
Reaching audiences through multiple entry points and providing opportunities for community voices is something we've been doing at the Autry for some time, which is to be expected at when our mission is to tell the stories of all the people of the American West – it's hard to tell authentic stories without including the people themselves. The digital world provides so many ways to reach folks where they are most comfortable, but I feel it is important to focus on your community rather than trying to engage everyone at once. The broader reach of online content means you'll hopefully connect with a wider audience anyway, but at the same time, cultural organizations should be true to ourselves and do whatever it is we do best.  
In the case of the Autry, current online projects include providing a voice for L.A. poets to explore the many facets of this city while we all 'shelter in place,' or asking our curators to redefine the Western genre to include films submitted by the audience, no matter how outlandish a suggestion (such as Frankenstein). These programs echo existing on-site programs, such as our regular film screenings, but reframe them for a digital world by creating a shared experience without a physical presence. I know that you had already been thinking along these lines during the renovations at LACMA as the closure of the Bing Theater removed a big chunk of your physical event space – are there any projects that have come to fruition now there is a larger push to online content in general?  
And speaking of our existing film series, you and I have had some great conversations on what makes a Western and possible films to screen that tie to both our missions – anything new cropped up on your radar now that we're supposedly all sitting around streaming movies?  
Speak soon, 
Ben 
Ben Fitzsimmons 
Associate Director, Programs and Research 
Autry Museum of the American West 
---
From: Piron, Adam   
To: Ben Fitzsimmons  
Subject: Autry/LACMA Film Collaborations 
Hi Ben, 
I think to tie both your questions on themes that have been floating around, as well as how to tie them to possibilities of films to partner up on, I feel like the bigger themes have been around innovation and adaptability as well as how to offer an experience of film that is unique. Given the flood of video and film content online, it's exciting to think of how we can do something that's different or at least memorable and relevant to the moment we're in. Tying in with our exhibition on Vera Lutter and her use of pinhole camera in her work and its themes of memory, I've been thinking a lot about the advent of cinema and how it has a strong tie to American Westward Expansion, as well as the twilight of what people classify as the Wild West. In many ways like now, it was a moment of transition from one era to another. Eadweard Muybridge is someone whose work I think could be a good starting point for us. What are your thoughts? 
Best, 
Adam 
ADAM PIRON 
ASSISTANT CURATOR FOR FILM 
FILM PROGRAMS 
LACMA 
---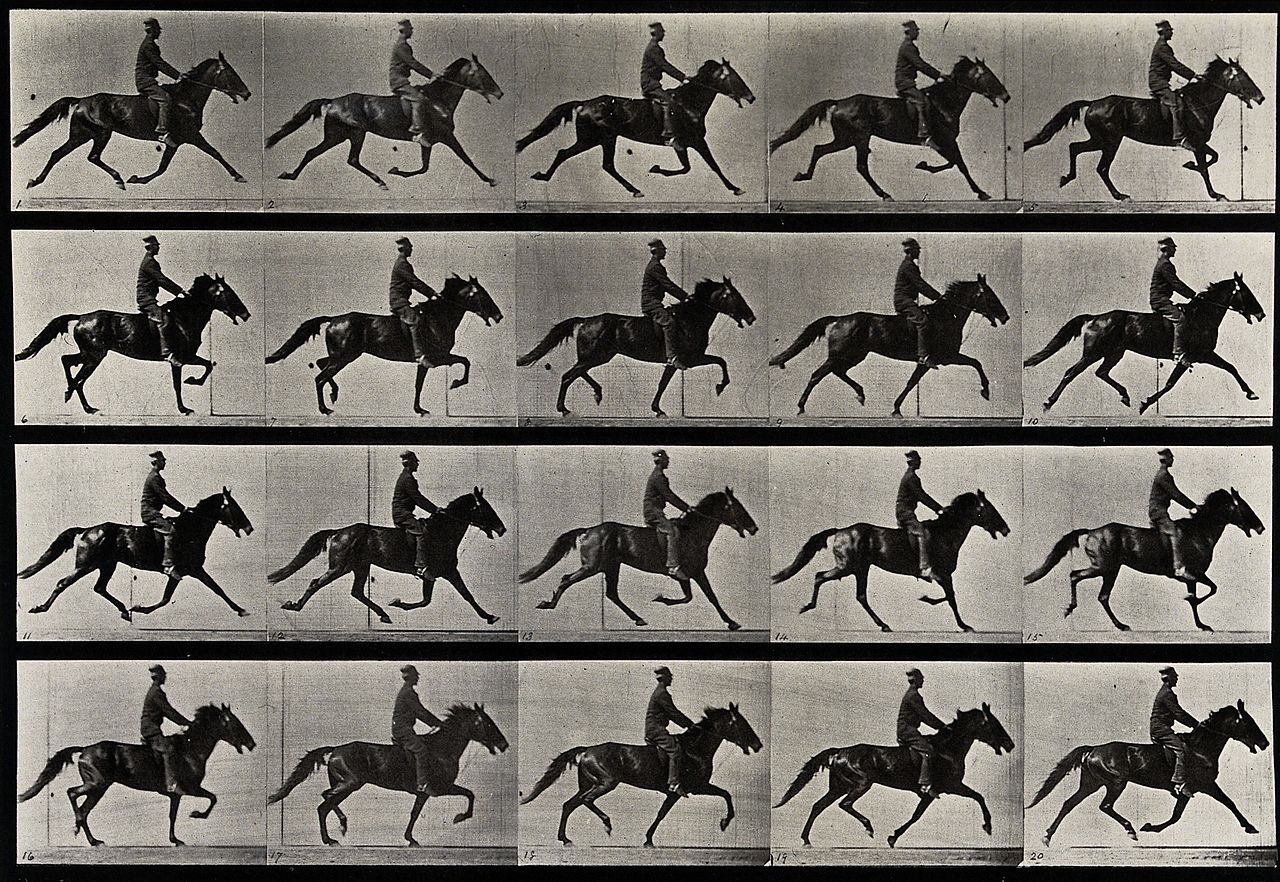 A Horse Trotting, Eadweard Muybridge, photogravure, 1878. Image courtesy of Wellcome Images, a website operated by Wellcome Trust, a global charitable foundation based in the United Kingdom