Posted on: July 20, 2020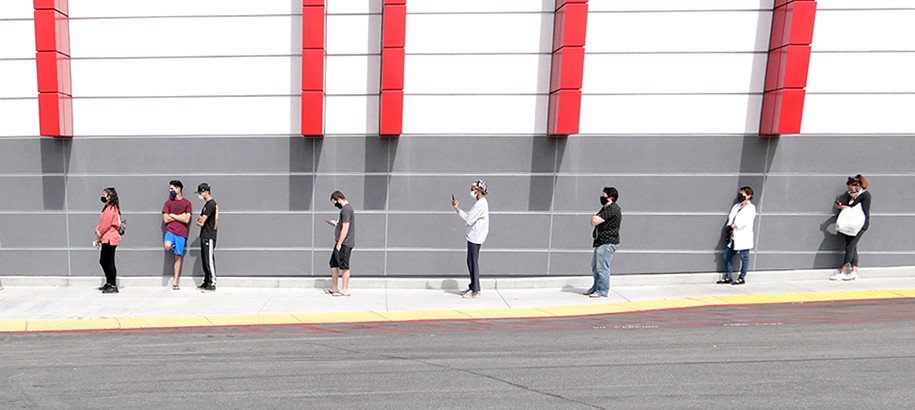 By Amy Scott, Executive Vice President of Research and Interpretation and Marilyn B. and Calvin B. Gross Curator of Visual Arts
Born and raised in Los Angeles, Harry Gamboa Jr. (born 1951) is an essayist, photographer, director, and performance artist internationally recognized for the combination of activism and social critique that informs his work. An organizer of the East LA Walkouts of 1968 and founder of the avant-garde art collective ASCO (active 1972–1987), Gamboa considers the city streets to be his studio. Unlike most Angelenos however, Gamboa prefers to walk or use public transit to get around, and he always has a camera in hand.
Gamboa's intimate familiarity with the streets of Los Angeles and its many distinct neighborhoods, including communities of color and vulnerable populations, made him an ideal artist to speak to the presence and impact of the COVID-19 pandemic across Los Angeles. In the early days of the crisis, the Autry reached out to Gamboa to create a photographic series that documented the "new normal" from masked construction and postal workers to the socially distanced lines of shoppers waiting outside grocery stores. The results speak to the combination of anxiety, isolation, and vulnerability experienced by many in the early days of the pandemic. At the same time, they also show people—including "essential" workers, families, the elderly, even the artist's own sister—going about their lives with resilience and strength.
All of the images seen here were produced by the artist in collaboration with the Autry and its Collecting Community History Initiative, an online effort to reach and record the experience of peoples across the West during this historic moment. To date, the CCHI has collected hundreds of images, experiences, and stories from a diverse array of individuals and communities as they fight the pandemic, connect with one another, and struggle against the broader social injustice and systemic inequality that COVID-19 has laid bare.
Images
(Click image for details)

: