The Autry Donates Personal Protection Equipment to Area Hospitals
Posted on: April 1, 2020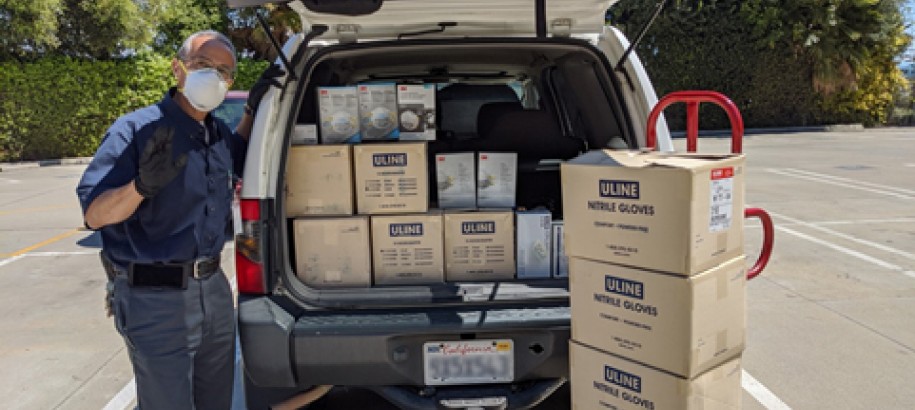 above: Director of Facilities, Mike Garcia loading up PPE delivery to local hospital
by Conor McCleary, Permanent Collections Registrar at the Autry.
In recent weeks, we have all been hearing about a shortage in many US hospitals of the personal protection equipment needed to protect healthcare workers as they care for sick patients. Museum staff, compelled by these stories, rallied to donate surplus supplies already on hand to hospitals in need. I'm pleased to share that, to date, the Autry has donated almost 200 N95 masks and 13,000 pairs of gloves to three area hospitals. While a modest gesture, we wanted to do anything we could for the community at large.
Why did we have such a large stock of these supplies on hand?
Before the stay-at-home orders went into effect for the state of California—and indeed, since the opening of the museum in 1988—scores of museum staff worked onsite and behind the scenes, caring for and working with the artifacts on a daily basis. The types of activities you commonly see staff engaged in (when the museum is up and running at full tilt, that is) include installing artifacts in the galleries, performing conservation treatments, conducting photo documentation for Collections Online, entering information into our MIMSY collections database, condition reporting, packing, and transporting. A common practice when working with artifacts is to handle them as little as possible. This includes not only limiting the amount of times we pick up and physically move an object, but also the implementation of a rigorous PPE program.
What is PPE?
Similar to hospitals, we have procedures created by our Conservation department for handling artifacts that includes a Personal Protection Equipment program (PPE). Our procedure consist of first washing hands thoroughly, and then gearing up with nitrile glove, lab coats, and, at times, even Tyvek coveralls and an N-95 dust mask if required.
Why would the museum have a PPE program?
Interestingly enough, PPE helps protect both the objects as well as the staff members themselves. Along with the usual accumulation of dust and mold you would expect from historic objects, we know that historically parts of our collection were treated with pesticides and heavy metals, as that was a common past practice to mitigate insect infestation. Although our Conservation team regularly tests for these chemicals, we have not yet been able to test all objects in the Autry's vast collection—in fact, we have over 500,000 objects. Therefore, as a best practice, we assume that every object has possible pesticide residue. In turn, the practice of always wearing gloves before handling artifacts protects the artifacts from the staff, since the oils residing on a person's fingers can be harmful to some artifacts if touched directly without gloves.
People Over Objects
We have, of course, kept the minimum required number of gloves and masks for our janitorial, custodial, security, and other essential onsite staff to remain healthy and safe. After accounting for these, though, it was clear that we could donate all other stocks of these lifesaving supplies. We all realized, too, that this work was not tangential to our museum's mission but actually what we should be doing to help fulfill it. As Rick West, our President and CEO, put it in a recent email to the staff:
This remarkable place we call a "museum" is more than a "house of objects" – though it justifiably is proudly that, too. Ours, in addition and as you have often heard me say – perhaps somewhat relentlessly – is a gathering place and civic space, a forum for learning that serves and engages proactively all the communities, physical and cultural, in which we sit and whom we serve. That relationship is vital, connected, integral, and bilateral – they are part of us, and we are part of them. Think of the Autry gloves and masks in that social and very human context. Right now, it means helping our local health workers in any small way that we can.
Each of us certainly looks forward to the time when gloves, masks, and other PPE are in ample supply. In the meantime, the Autry's donation of the gloves and masks was something we were very happy to do, and we hope it does all the good it possibly can for the communities we try our best to serve.
Images
(Click image for details)

: