Posted on: April 3, 2020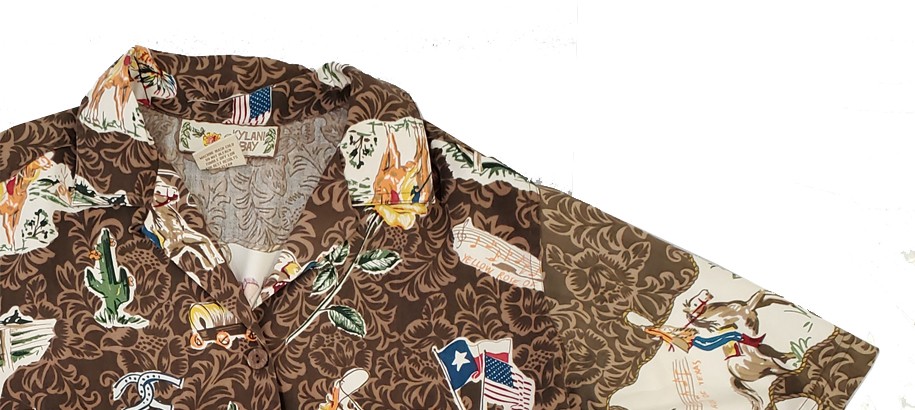 CURATORIAL STATEMENT
Over the past four years we have been working on Dress Codes, an exhibition that looks at clothing and street fashions that  emerged from Western work, communities, traditions, and social movements and which are now adapted around the world.
The Autry's mission is to tell the diverse stories of the American West.  We support a community where all feel welcome and safe. When we started this project, we did not foresee how Aloha shirts, whose long history we explore in this exhibition, would be co-opted by a small number of extremists. We included Aloha shirts in Dress Codes because of the garment's roots in ideas and designs from Indigenous and immigrant cultures in Hawaii and the way Aloha shirts often expressed "ohana," a Native Hawaiian concept that encompasses family, community, and love.  Individuals who wear them to express racism and hate is antithetical to what we stand for as a museum and is the opposite of the spirit of ohana.
Dress Codes team feels we have a responsibility to act on recent events and address how meanings tied to what we wear continue to change. We are assessing how best to address contemporary coding of Aloha shirts without silencing the voices we intended to highlight.
---
By Amanda K. Wixon, Curatorial Intern
Aloha shirts have always been part of my wardrobe. When I visited family in Hawai'i, I wore the colorful dresses and shirts that my grandmother made for me or the ones that were handed down to me from my older cousins. Later, I frequently wore aloha shirts to school, and it became a sort of signature look for me. I would scour thrift stores in Santa Barbara, looking for the most unique and odd shirts I could find. As a teenager growing up in California, the 1990s included a slew of punk rock shows – in garages, in backyards, on the streets, and at all-ages shows held in an old, red barn. For these outings, I liked to wear my thrifted aloha shirts, often with tuxedo pants, mixing casual resort wear with formal attire for the ultimate look of an unaffected, independent, and somewhat androgynous young person out on the town. I found the "western" aloha shirt at one of my favorite downtown shops. It was a perfect match for my aesthetic – comfortable and weird. I loved the cowboys and Indians theme, and the Hawaiian flower design that contrasted heavily with the American West imagery. In time, I grew out of the shirt, but I held on to it for the memories. When my son was old enough to be interested in loud punk rock shows, he raided my closet, found this gem and wore it out that very night. Such a proud moment!
Looking at the shirt now in the context of the upcoming Dress Codes exhibition at the Autry, I understand more about what attracted me to it. It is a fusion of cultures translated into fashion. As a Native person, I liked the Indians. As the daughter of a Texan, I also liked the cowboy theme. And, because it was an aloha style shirt, with its relaxed fitting and cool, light fabric, it reminded me of all the happy times I spent with my family on the islands. I thought this shirt would make a nice addition to the Dress Codes exhibition as it highlights some of different cultures that made the West, including myself, what we are today. It speaks to the multi-cultural aspect of the West, with its contrasting tones and strange juxtapositions. Sacred petroglyphs and freeway graffiti. Hollywood starlets and farm laborers. National parks and urban sprawl. The West is still wild, but with a remarkable sense of community and spirit that has been nurtured by indigenous people since time immemorial. Today, we find our strength in that sense of community, whether we are all together in person or online through a webcam.
Images
(Click image for details)

: