Posted on: May 15, 2020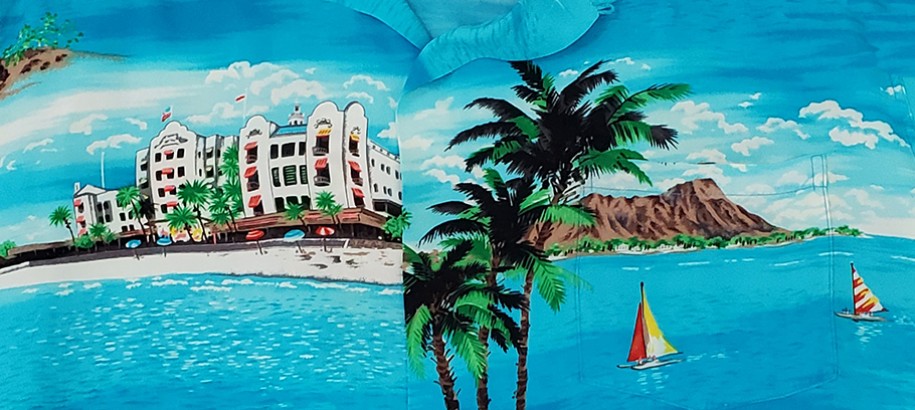 CURATORIAL STATEMENT
Over the past four years we have been working on Dress Codes, an exhibition that looks at clothing and street fashions that  emerged from Western work, communities, traditions, and social movements and which are now adapted around the world.
The Autry's mission is to tell the diverse stories of the American West.  We support a community where all feel welcome and safe. When we started this project, we did not foresee how Aloha shirts, whose long history we explore in this exhibition, would be co-opted by a small number of extremists. We included Aloha shirts in Dress Codes because of the garment's roots in ideas and designs from Indigenous and immigrant cultures in Hawaii and the way Aloha shirts often expressed "ohana," a Native Hawaiian concept that encompasses family, community, and love.  Individuals who wear them to express racism and hate is antithetical to what we stand for as a museum and is the opposite of the spirit of ohana.
Dress Codes team feels we have a responsibility to act on recent events and address how meanings tied to what we wear continue to change. We are assessing how best to address contemporary coding of Aloha shirts without silencing the voices we intended to highlight.
---
By Cathy Crowser, former Autry employee (2004–2014)
My father, Max Bingman, had a gazillion Hawaiian shirts. Actually, he had a closet full, but the one on loan for the Dress Codes exhibition was very special—not only was it his first, it was a gift from the love of his life, my mother, Eleanor Leiwapini Strauss.
Dad fell in love with the beauty and romance of Hawaii the moment he first laid eyes on her in 1946. He was born on a farm in Moscow, Idaho, served as a Sargent in the U.S. Army, and was stationed at the Presidio in San Francisco. My Mom is a native Hawaiian, born in Honolulu, in the Territory of Hawaii. She moved to San Francisco in her late teens and subsequently worked for a Colonel at the Presidio. They met at a company dance, fell in love, married, and drove to Moscow where they raised their family and spent 70 blissful years together.
Sometime in the late 1960s Mom returned to her beloved island home. She flew to Honolulu with her mother—my grandmother—to visit her siblings, their families, and all the aunties, uncles and cousins living in Hawaii. It was this trip and ultimate family reunion that paved the way for our 'ohana to reconnect with our Hawaiian roots. It had been more than 20 years since my mother boarded the S.S. Lurline and sailed to San Francisco. Although Dad did not accompany her on that trip, she wanted to share this momentous occasion and came home with a very special gift for him—a Hawaiian shirt, blue, the color of his eyes. She chose this 'Iolani scenic shirt depicting iconic Oahu landmarks—Diamond Head and the Royal Hawaiian Hotel—the beloved Hawaii she grew up in and wanted to share with him.
Images
(Click image for details)

: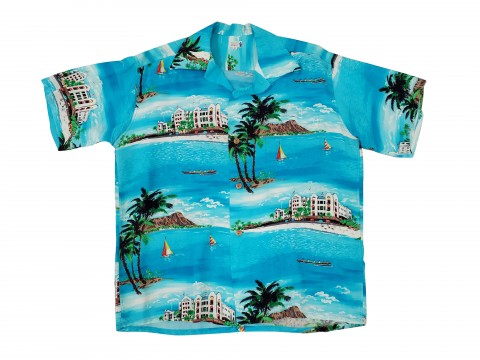 A few years later, Dad travelled to Hawaii for the first time and was forever hooked on the beauty and spirit of the islands. Mom and Dad flew to Hawaii to celebrate the wedding anniversary of my uncle. It was Dad's first trip to the islands and for the occasion he wore the shirt Mom gave him. It was the first time he had ever worn it. From that point on they frequently vacationed in Hawaii and ultimately begin making annual trips.
Dad loved everything about the islands—the food, the scenic beauty, the spirit of the people, the history, and most certainly the Hawaiian aloha shirts. Not only did he wear the shirt Mom bought him, he started buying shirts, sometimes more than one. We all bought him shirts. And thus, his Hawaiian shirt collection grew and grew. Dad loved wearing his shirts, spending time with our 'ohana, drinking Blue Hawaiis, and most of all, he loved holding hands with my mother. When I think of my Dad, I see him in one of his many aloha shirts.