Posted on: May 8, 2020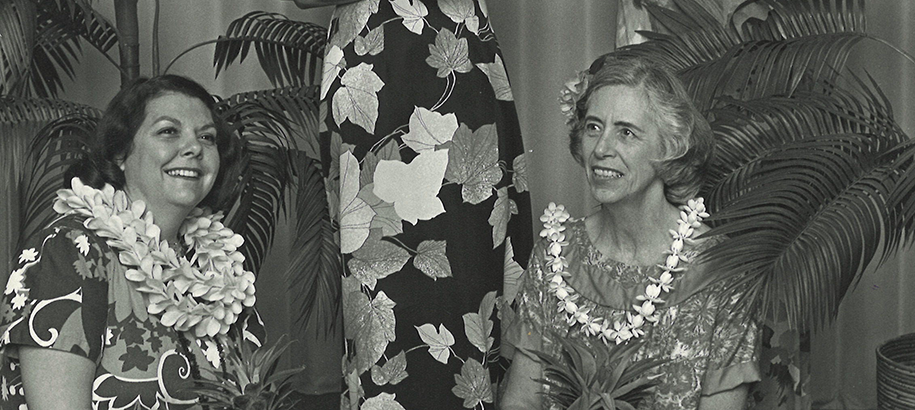 CURATORIAL STATEMENT
Over the past four years we have been working on Dress Codes, an exhibition that looks at clothing and street fashions that  emerged from Western work, communities, traditions, and social movements and which are now adapted around the world.
The Autry's mission is to tell the diverse stories of the American West.  We support a community where all feel welcome and safe. When we started this project, we did not foresee how Aloha shirts, whose long history we explore in this exhibition, would be co-opted by a small number of extremists. We included Aloha shirts in Dress Codes because of the garment's roots in ideas and designs from Indigenous and immigrant cultures in Hawaii and the way Aloha shirts often expressed "ohana," a Native Hawaiian concept that encompasses family, community, and love.  Individuals who wear them to express racism and hate is antithetical to what we stand for as a museum and is the opposite of the spirit of ohana.
Dress Codes team feels we have a responsibility to act on recent events and address how meanings tied to what we wear continue to change. We are assessing how best to address contemporary coding of Aloha shirts without silencing the voices we intended to highlight.
---
By: Carolyn Brucken, Chief Curator and Director of Research
Curators work on exhibitions for many years. Back in 2016 when Dress Codes was just getting started, I was first introduced to Aloha attire in an unexpected way, not through aloha shirts but by a donation of fashionable clothing offered to the Autry by the Assistance League of Los Angeles. The League generously invited me to visit their offices where they had gathered their entire collection. It was as I was working my way through racks of stylish garments that I found the trove included several Hawaiian print dresses, including this sarong style dress. I immediately wanted those aloha dresses for Dress Codes!
The Assistance League of Los Angeles was founded in 1919 by a group of civic minded society women initially came together to help victims of the San Francisco earthquake and expanded to a permanent organization to provide aid to those in need in Los Angeles. In 1943 they formed the Mannequins, an auxiliary group of volunteers who organized fashion fundraisers. The League's archives, donated to the Autry Library in 2015, include wonderful photographs, programs, and news stories from these events. Over the decades, the League also preserved a rich, historical trove of garments from their fundraisers, including vibrant examples of dresses made in Hawai'i.
Images
(Click image for details)

: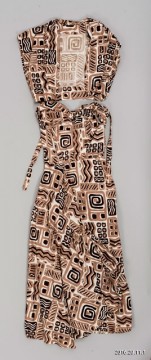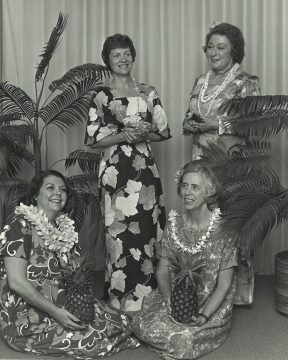 Aloha dress is distinctive due to bold floral patterns and styles, so it was no surprise that I was drawn to these dresses at first sight. As I learned more, I found that this 1950s sarong style dress was special for another reason: tucked in the back of the dress was a Surf N Sand label. This was the first label of Alfred Shaheen who helped lead the expansion of the Hawaiian textile business in the 1950s and 1960s. Shaheen is famous for developing new designs and engineering innovative forms of silk-screen printing. He was also the first to produce women's fashion lines as well as men's aloha shirts. By 1959, Shaheen employed 400 workers and grossed more than $4 million annually. He sent his designers across the Pacific to create original prints influenced by Polynesian, Asian, and Hawaiian designs.
Wrapped sarong dresses and sexy sundresses became a signature of the Surf N' Sand label, and Shaheen's designs appeared in the pages of Vogue and garments were sold in special boutiques within high-end department stores in California. Shaheen is often credited with being the father of the Hawaiian fashion industry, taking a staple of tourist wear and elevating it into an elegant fashion statement. It is no wonder the fashionable ladies of the Los Angeles Assistance League selected his clothes to feature in events and fundraisers.