Press Release: October 30, 2018
Unique Jewelry, Fashion, and Art Found Nowhere Else in Los Angeles: The Autry's Annual American Indian Arts Marketplace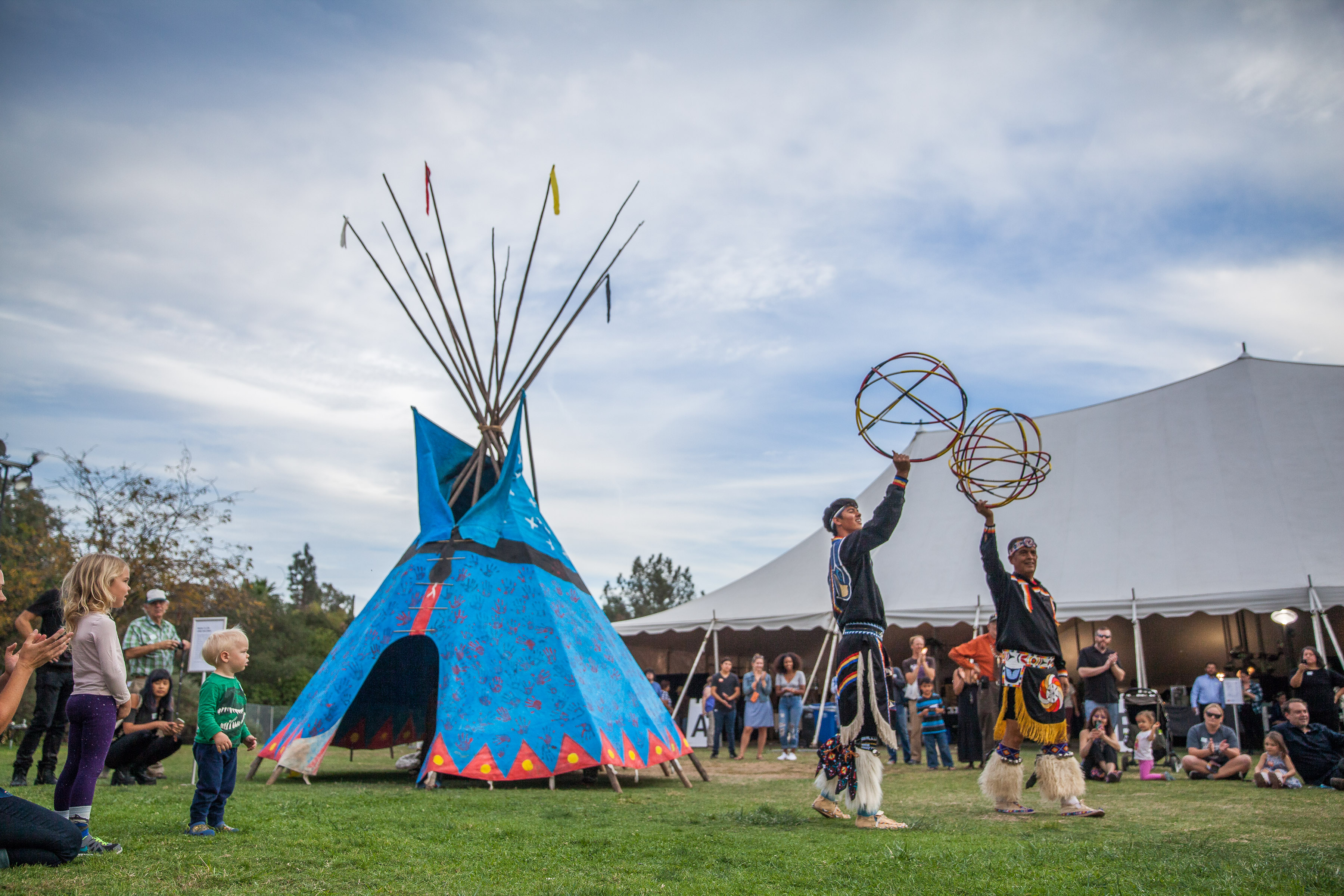 Featuring Top-Tier Contemporary Native Artists, Performances, Demonstrations, Theatre, Food, and Film
November 10–11, 2018, 10:00 a.m.–5:00 p.m.
Download American Indian Arts Marketplace 2018 (353.24 KB)
Los Angeles, CA (October 30, 2018)— Celebrate contemporary and traditional Native art forms at the Autry's 27th annual American Indian Arts Marketplace. Discover one-of-a-kind artwork for sale from 200 artists representing more than 40 tribes during the largest Native arts fair in Southern California. The weekend also includes food, performances, children's activities, artist demonstrations, and a short play festival by Native Voices, the Autry's award-winning resident theatre company. 
The Marketplace offers something for everyone, with top artists from across the country selling sculptures, pottery, beadwork, basketry, photography, paintings, jewelry, textiles, wooden carvings, and mixed-media works and more. The American Indian Arts Marketplace Juried Competition will award 22 prizes in 11 categories, as well as a Best of Show prize and the Jackie Autry Purchase Award.

Activities include performances by Native dancers, musicians, and storytellers, plus artist demonstrations and hands-on crafts. On Saturday, visitors can see two episodes of Tending Nature, a KCET documentary series produced in partnership with the Autry that explores how the state's Native peoples have actively shaped and tended the land for millennia. On Sunday, join the Native Voices Artists Ensemble for the Native Voices Eight Annual Short Play Festival: FOOD. Native Voices is the country's only Equity theatre company dedicated exclusively to producing new works by Native American, Alaska Native, and First Nations playwrights

Beyond the Marketplace tent, try light and fluffy fry bread from the acclaimed Auntie's Fry Bread. The Autry's cafe, Crossroads West, will also be open, offering a full menu that honors the unique culinary traditions and flavors of the American West.
 
Weekend Activities
Screenings and Theatre
Tending Nature Screenings
Saturday and Sunday, November 10, 11:00 a.m. and 1:00 p.m.
Included With Marketplace Admission / Free for Autry Members / No Reservations Necessary Included With Marketplace Admission / Free for Autry Members / No Reservations Necessary

Produced by KCET in partnership with the Autry, this documentary series explores and shares the environmental knowledge of Indigenous peoples across California.

11:00–11:45 a.m. Protecting the Coast with the Tolowa Dee-Ni'

Coastal ecosystems are under threat from human-caused toxification, but the Tolowa Dee-Ni' are reviving the traditional harvesting of shellfish and redefining the human role in managing marine-protected areas.

1:00–1:45 p.m. Decolonizing Cuisine with Mak-'amham
Two Ohlone chefs are revitalizing their language and food practices and adapting them for a modernist palate.

Native Voices Eighth Annual Short Play Festival: FOOD!
Sunday, November 11, 1:30 p.m.
Included With Marketplace Admission / Free for Autry Members / Space Is Limited / Early Arrival Is Suggested

Native Voices invites playwrights to answer the question: What's on the table in Indian Country? Like music or dance, food is a cultural expression. It can be as simple as what's served for dinner, as complicated as the legacy of frybread, or as devastating as water shortages and climate change on subsistence hunting.
Performances
Saturday and Sunday, November 10 -11
All Performances Are Included With Marketplace Admission / Free for Autry Members
No Reservations Necessary

1:00 p.m. | Hoop Dance Workshop
The art of hoop dance honors cultural traditions from multiple Indigenous communities that first employed hoop dance as a healing ceremony. Today, hoop dance is shared as an artistic expression to celebrate, share, and honor Indigenous traditions. Try your skills in a workshop with world champion hoop dancer Terry Goedel (Yakama/Tulalip).
2:00 p.m. | Journeys to the Past Featuring Jacque Tahuka-Nunez (Ajachemen and Tongva)
Join this active presentation with Jacque Nunez and her son as they pass along Acjachemen traditions through lively songs and storytelling and share the culture of the Acjachemen Nation, which flourished in Southern California hundreds of years before the Spanish influx.
3:00 p.m. | Wildhorse Singers and Dancers Workshop
Since 1989, Wildhorse Native American Association has been assisting urban Native American children and adolescents with cultural preservation. Gather around the drum with these talented youth as they demonstrate traditional powwow dance styles and traditional songs.
4:00 p.m. | Hoop Dancing With Terry Goedel (Yakama/Tulalip) and the Goedel Family
See an extraordinary display of artistry, athleticism, and tradition in a multigenerational performance by renowned hoop dancers from the Goedel Family. Each dancer presents their own variation of the intertribal hoop dance, weaving in aspects of tradition and culture.
Family Activity
Drop-in Fun
Saturday and Sunday, November 10–11, 1:00–4:00 p.m.
Make a yucca paint brush, paint a stave game, then learn how to play the game with Jackson Huhuka-Nunez and Jacque Tahuka-Nunez—descendants of the Acjachemen Nation, the Indigenous people of Orange County.

On Display
Traditional plank canoe or tomol brought by the Chumash Maritime Association
Lakota tipi, created by artist Rex "Wambli Sapa" Carolin (Lakota)

Marketplace Admission
Admission includes all public events and museum entry. The Marketplace is free for Autry members. General admission is $14 for adults, $10 for seniors (60+) and students (with valid ID), $6 for children ages 3–12, and free for children age 3 and younger.
For more information about the American Indian Arts Marketplace at the Autry, visit TheAutry.org/Marketplace.

Sponsors
Jackie Autry • The Corcillo Family • Snowdy Dodson • Leslie and Aaron Kern • Marshall McKay and Sharon Rogers-McKay • Nissan Foundation • Suzi and Len Pape • Jodie and Jim Rea • Brenda, Gary, and Hayley Ruttenberg • Lora A. and Robert U. Sandroni • Seven Post Private Investment • Sidney Stern Memorial Trust • Lynn and Stephen Valbuena • Mary Beth and W. Richard West, Jr. • David L. Williams
## Images Available Upon Request##

About the Autry Museum of the American West
The Autry is a museum dedicated to exploring and sharing the stories, experiences, and perceptions of the diverse peoples of the American West, connecting the past to the present to inspire our shared future. The museum presents a wide range of exhibitions and public programs—including lectures, film, theatre, festivals, family events, and music—and performs scholarship, research, and educational outreach. The Autry's collection of more than 500,000 pieces of art and artifacts includes the Southwest Museum of the American Indian Collection, one of the largest and most significant of Native American materials in the United States.

Hours
Museum and Autry Store:
Tuesday–Friday, 10:00 a.m.–4:00 p.m.
Saturday and Sunday, 10:00 a.m.–5:00 p.m.
Crossroads West Cafe:
Tuesday–Friday, 10:00 a.m.–4:00 p.m.
Saturday and Sunday, 9:00 a.m.–5:00 p.m.
The museum, store, and cafe are closed on Mondays. Visit TheAutry.org for more information.