Press Release: February 17, 2016
Native Voices at the Autry Presents the World Premiere of They Don't Talk Back by Frank Henry Kaash Katasse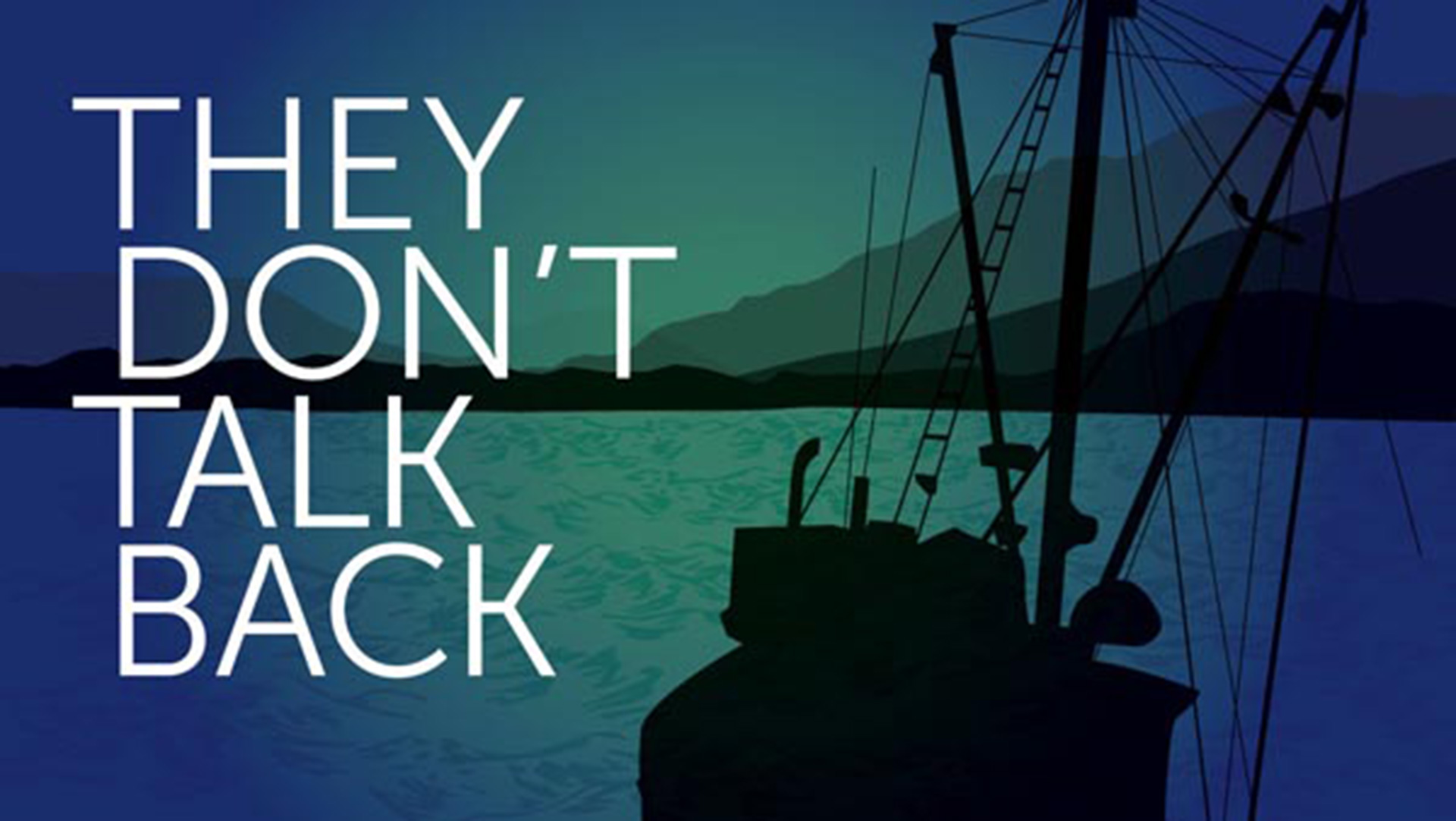 In Association With La Jolla Playhouse and Perseverance Theatre
March 4–20, 2016
Previews March 2–3, 2016
Wells Fargo Theater at the Autry Museum of the American West
Download Native Voices at the Autry Presents the World Premiere of They Don't Talk Back by Frank Henry Kaash Katasse (556.09 KB)
Los Angeles, CA (February 17, 2016)— The only Equity theatre company dedicated exclusively to developing and producing new work by Native American artists, Native Voices presents the world premiere of Frank Henry Kaash Katasse's They Don't Talk Back in association with La Jolla Playhouse and Perseverance Theatre. This production is presented as part of Native Voices' 2015-16 season, themed "We Are Family."
In They Don't Talk Back, a troubled teen from a broken home receives the culture shock of a lifetime when he is sent to live and work with his Tlingit grandparents in a remote fishing village in Alaska. This funny, heartfelt exploration of the meaning of family and life emerges in a contemporary coming-of-age story.
Katasse (Tlingit*) is an emerging playwright who finds inspiration in his family and his life in Juneau, Alaska. "They Don't Talk Back was actually the first play I ever wrote," Katasse said. "It started with me jotting down ideas, monologues, and stories over a span of many months and drawing on things I saw traveling and living around Southeast Alaska growing up. There were stories my parents told me about living in the villages, and monologues or poems I happened to be feeling at that moment. I realized that I had pages and pages of writing pieces, and I had to work on somehow tying it all together with a story."
Native Voices Producing Artistic Director Jean Bruce Scott recognized the universal aspects of Katasse's story: "Frank has captured a story that is playing out more often as more and more grandparents step in to raise grandchildren. GAP families, as they are known, have been cited as one of the fastest growing demographics in America," Scott said. According to the 2010 U.S. Census, 4.9 million children under age 18 live in grandparent-headed households—up from 4.5 million in 2000.
"And the number continues to grow. In Frank's play, one parent is incarcerated and addicted to drugs, and another struggles with PTSD (the father is a returning veteran), both of whom can no longer care for their son. It could be heartbreaking, but in Frank's hands it becomes a story of love and hope in a place where the land can be threatening and wild."
Randy Reinholz, Native Voices Producing Artistic Director, spent a week with Katasse and four of the cast members in Alaska last fall: "We flew into Juneau and camped on the Eagle River before taking the 4.5-hour ferry ride to Haines on our way to Klukwan, a small ancient Tlingit village on the banks of the Chilkat River. Everything there is flown or shipped in, making incremental stops along the way. Making our way to that remote setting and learning about Tlingit tradition, culture and lifestyle from elders and culture bearers taught us so much about this family and the importance of depending on each other."
Following its run at the Autry, They Don't Talk Back will be performed at La Jolla Playhouse in San Diego, Calif., from May 27 to June 19, 2016, and Perseverance Theatre in Juneau, Alaska, for four weekends in January 2017, and for two weeks in Anchorage, Alaska, in late February.
TICKETS
Tickets for They Don't Talk Back at the Autry are $10 for Autry members; $30 for nonmembers; and $20 for students, seniors (60+), and military. Preview tickets are free for Autry Members; $15 for nonmembers; and $10 for students, seniors (60+), and military. The Wells Fargo Theater is located at Autry Museum of the American West, 4700 Western Heritage Way, Los Angeles, CA 90027. For reservations and additional information, call 323.495.4354 or visit TheAutry.org/NativeVoices.
CAST AND CREATIVE TEAM
Randy Reinholz (Choctaw*) (Native Voices Producing Artistic Director), is co-founder of Native Voices at the Autry. An accomplished producer, director, playwright and actor, he has produced and directed over 75 plays directing productions nationally and internationally at Native Voices at the Autry in Los Angeles, La Jolla Playhouse, Public Theatre in New York, National Museum of the American Indian in New York and Washington D.C, Idyllwild Arts, CA, The Gilcrease Museum, OK, The Cherokee Casino, The Glenbow Museum, Calgary, Alberta, The 30th International Theatre Institute World Congress, for United Nations Educational Scientific and Cultural Organization Tampico, Tamaulipas, Mexico, 16th ASSITEJ World Congress and Performing Arts Festival in Adelaide, Australia, and Queensland State Library, Brisbane, Australia, and University productions for Cornell University, Duke University, University of Miami Ohio, University of Massachusetts Amherst, Illinois State University and San Diego State University where he served as Head of Acting, then Director for the School of Theater, Television and Film and as Director of Community Engagement and Innovative Programs for the College of Professional Studies and Fine Arts.
Co-founder of Native Voices at the Autry, Jean Bruce Scott (Native Voices Producing Artistic Director) has spent 20 years developing new plays, including over 200 by Native American playwrights. She has produced 30 premieres, 21 New Play Festivals, 12 Playwrights Retreats, more than 200 play readings, and 20 national and international tours. She is co-creator of the Native Radio Theater Project, a collaboration between Native Voices and Native American Public Telecommunications, and developed the Alaska Native Playwrights Project. Scott is on the Leadership Board of the Theatrical Producer's League of Los Angeles, Large Theatres and is an elected member to the National Theatre Conference, New York.
Frank Henry Kaash Katasse (Tlingit*) (Playwright) is an Alaska Native from the Tlingit clan Tsaagweidí. Katasse is an actor, director, producer, improviser, and playwright who received his Bachelor's Degree in Theatre Arts from the University of Hawaii, Mānoa in 2008. While in Hawai'i Katasse worked with Kennedy Theatre, Kumu Kahua Theatre, and the Cruel Theatre. In 2008 Katasse moved back to Juneau, Alaska and was first involved with Perseverance Theatre (PT) with the Mainstage production of TheGovernment Inspector. His body of work as an actor also includes world premieres of Alaska Native-themed plays Battles of Fire and Water, Reincarnation of Stories, Cedar House, and Our Voices Will Be Heard. Other mainstage shows include The Skin of our Teeth, Oklahoma!, and Chicago. Frank was also involved with PT's 2nd Stage as a director/producer of Vashon, and as a performer in Marisol for the University of Alaska, Southeast. In Juneau, Katasse has performed with Theatre in the Rough, Juneau Symphony, and Morally Improv-erished. Katasse is currently the Board President of Juneau-Douglas Little Theatre. Katasse is the proud recipient of the 2015 Von Marie Atchley Excellence in Playwriting Award from Native Voices at the Autry for his short play Reeling. In 2015 Katasse had his play Bear in Stream read at the Leviathan Lab in NYC.
Jennifer Bobiwash (Ojibway*) (Linda) has been involved with Native Voices since 2003 and is a Lead Artist in the Ensemble. Her one-person show, There Is No "I" in NDN, premiered at the 2015 Hollywood Fringe Festival. She guest starred on APTN's (Canada) Mohawk Girls, and created the YouTube channel Welcome to the Tipi, on which she and her co-host share their stories about being NDN in today's society. A technophile, she jumped at the chance to create content in the infancy of YouTube and has since produced more than 300 episodes of online content.
Duane Minard (Yurok, Piaute*) (Paul Sr.) performed as Alessandro in the nationally recognized production of Ramona for five consecutive seasons. His recent theatre credits include Off the Rails and Stories From the Indian Boarding School (Hollywood Fringe Festival). Other theatre credits include Zorro, One Flew Over the Cuckoo's Nest, and The Bad Seed. His recent TV credits include two episodes of Mysteries at the Museum, and he is appearing in several films in progress.
Kholan Studi (Cherokee*) (Edward) was born and raised in Santa Fe, New Mexico. The son of actor Wes Studie and the grandson of Jack Albertson, Studi was bitten by the acting bug early on in life and recently completed his training at the American Academy of Dramatic Arts.
Brían Pagaq Wescott (Athabascan, Yup'ik*) (Tim) recently toured three plays in Alaska, including an Arctic adaptation of A Midsummer Night's Dream, and played the lead role in The Winter Bear Project, a suicide-prevention play. His film credits include Four Quarters, It's Dark Here, and the upcoming movie, The Pipeline. He serves on the Native Committees at SAG-AFTRA and the WGA.
Román Zaragoza (Pima*) (Nick) can currently be seen as Miles on Austin & Ally, the hit Disney Channel show. Other TV credits include Nickelodeon's Everyday Kid, the Conan O'Brien Show, Sesame Street, and numerous national commercials. He has worked with such notable directors as Ron Howard and Fred Savage, and has theatrical credits in both New York City and Los Angeles.
*Refers to tribal affiliation.
About Native Voices at the Autry
Native Voices at the Autry is the only Equity theatre company devoted exclusively to developing and producing new works for the stage by Native American, Alaska Native, and First Nations playwrights. Founded in 1994 by Producing Artistic Director Randy Reinholz (Choctaw) and Producing Executive Director Jean Bruce Scott, Native Voices became the resident theatre company at the Autry Museum of the American West in 1999. The company provides a supportive, collaborative setting for Native theatre artists from across North America. In 2014 the company established the Native Voices Artists Ensemble to more fully take advantage of the extraordinary talents of its Native actors, writers, musicians, and directors. The Ensemble is devoted to developing new work in a collaborative process as well as supporting Native Voices' ongoing focus on the work of individual playwrights. Native Voices at the Autry is a member of Actors' Equity Association, LA Stage Alliance, and the Dramatists Guild, and is a Constituent Theatre of Theatre Communications Group (TCG), the national organization for the American theatre. Visit TheAutry.org/NativeVoices for more information.
About the Autry Museum of the American West
The Autry is a museum dedicated to exploring and sharing the stories, experiences, and perceptions of the diverse peoples of the American West, connecting the past to the present to inspire our shared future. The museum presents a wide range of exhibitions and public programs—including lectures, film, theatre, festivals, family events, and music—and performs scholarship, research, and educational outreach. The Autry's collection of more than 500,000 pieces of art and artifacts includes the Southwest Museum of the American Indian Collection, one of the largest and most significant of Native American materials in the United States.
###
EDITORS, PLEASE NOTE: CALENDAR LISTING
WHO: Native Voices at the Autry, America's leading Native American theatre company
WHAT: Frank Henry Kaash Katasse's They Don't Talk Back
WHEN:
PREVIEWS: Wednesday, March 2, 8:00 p.m. and Thursday, March 3, 8:00 p.m.
OPENS: Friday, March 4, 8:00 p.m.
RUNS:
Saturday, March 5, 2:00 p.m.
Saturday, March 5, 8:00 p.m.
Sunday, March 6, 2:00 p.m. Talkback with playwright Frank Henry Kaash Katasse
Thursday, March 10, 8:00 p.m. Pay what you can: GAP night (Grandparents as Parents)
Friday, March 11, 8:00 p.m. Pay what you can: Museum Professionals Night
Saturday, March 12, 2:00 p.m.
Saturday, March 12, 8:00 p.m.
Sunday, March 13, 2:00 p.m. Talkback with veterans (including actor, Duane Minard)
Thursday, March 17, 8:00 p.m. Pay what you can: Theatre Industry Night (SAG-AFTRA, AEA, USA, etc.)
Friday, March 18, 8:00 p.m.
Saturday, March 19, 2:00 p.m.
Saturday, March 19, 8:00 p.m.
Sunday, March 20, 2:00 p.m.
WHERE:
Wells Fargo Theater
Autry Museum of the American West
4700 Western Heritage Way
Los Angeles, CA 90027-1462
TICKET PRICES:
$30 General Admission
$20 Students/Seniors (60+)/Military
$10 Autry Members
Previews:
$15 General Admission
$10 Students/Seniors (60+)/Military Free for Autry Members
MUSEUM ADMISSION:
They Don't Talk Back tickets include museum admission to the Autry during the month of March. Present your Eventbrite ticket for complimentary admission. Offer valid March 1-31, 2016, for general museum admission only (no special events) during regular museum hours.
DINING: 
The Autry's Crossroads West Cafe will offer a limited menu before and after matinee performances, and from 6:00 to 8:00 p.m. prior to evening performances. Beer, wine, and light dinner fare will be available for purchase.
PUBLIC INFORMATION:
Phone: 323.495.4354 Online: TheAutry.org/NativeVoices
###
IMAGES ARE AVAILABLE ON REQUEST