Press Release: January 11, 2017
Native Voices at the Autry Presents the World Premiere of Fairly Traceable by Mary Kathryn Nagle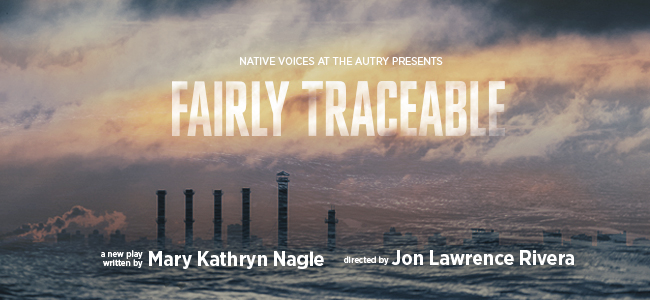 March 10–26, 2017
Previews: March 8–9, 2017
Wells Fargo Theater at the Autry Museum of the American West 
Download Native Voices at the Autry Presents the World Premiere of Fairly Traceable (520.61 KB)
Los Angeles, CA (January 11, 2017)— The only Equity theatre company dedicated exclusively to developing and producing new work by Native American artists, Native Voices presents the world premiere of Fairly Traceable by Mary Kathryn Nagle (Cherokee). This production is presented as part of Native Voices' 2016-17 season, themed "Take Back the Land." 
Set during the aftermath of Hurricane Katrina, Fairly Traceable follows the journeys of a young Ponca man and Chitimacha woman as they balance personal and career ambitions with advocacy for the environment and the people they love. In this romantic dramedy, Nagle reveals the culpability of big oil, corporate polluters, and climate change deniers in environmental disasters.

The title of the production refers to Justice Antonin Scalia's written opinion for the majority in the Supreme Court case Lujan v. Defenders of Wildlife (1992). "Scalia's 'fairly traceable' doctrine has been used repeatedly by federal courts to prevent climate change victims from holding those who profit from environmental destruction accountable," explains Nagle. "We, as Americans, must recognize that preserving our land, water, and air for future generations is critical to the preservation of human civilization. We must also consider the Supreme Court's decision to ask whether it truly represents the values enshrined in our Constitution."

Jean Bruce Scott, Native Voices Producing Artistic Director, said that "Fairly Traceable is one of the most exciting and timely plays Native Voices has ever produced. Nagle tackles the issues of climate change and illuminates the laws and protections a conservative court has historically accorded corporations over individual rights to clean air and water."

While Fairly Traceable deals largely with climate change and politics, it is also an inspirational play. "Nagle takes you on an emotional journey with two young people as they discover each other and gain a voice to take control of their future," said Randy Reinholz, Native Voices Producing Artistic Director. "So many older people seem hell-bent on deciding the future; it is great to see young people take control of their destiny. Fairly Traceable is a powerful story of hope, loss, love, and resilience." 

TICKETS
Tickets for Fairly Traceable at the Autry are $10 for Autry members; $25 for nonmembers; and $15 for students, seniors (60+), and military. Preview tickets are free for Autry Members; $15 for nonmembers; and $10 for students, seniors (60+), and military. The Wells Fargo Theater is located at the Autry Museum of the American West, 4700 Western Heritage Way, Los Angeles, CA 90027. For reservations and additional information, call 323.495.4354 or visit TheAutry.org/NativeVoices.

LEAD CAST AND CREATIVE TEAM
Randy Reinholz, (Choctaw*) (Founder and Producing Artistic Director of Native Voices at the Autry) is an accomplished producer, director, actor, and playwright. Off The Rails, his bawdy and irreverent adaptation of Shakespeare's Measure for Measure, is scheduled for its world premiere at Oregon Shakespeare Festival with Bill Rauch directing in 2017. He has produced more than 30 scripts and directed over 60 plays in the United States, Australia, England, and Canada. Reinholz is a Professor at San Diego State University, where he served as Head of Acting from 1997-2007, Director of the School of Theatre, Television, and Film from 2007-2012, and Director of Community Engagement and Innovation for the College of Professional Studies and Fine Arts at SDSU from 2012-2015.

Jean Bruce Scott (Founder and Producing Executive Director of Native Voices at the Autry) has spent over 20 years developing new plays, including more than 200 by Native American playwrights. For Native Voices, she has produced 32 plays (including 19 world premieres), 22 New Play Festivals, 6 Short Play Festivals, 13 Playwrights Retreats, 20 national and international tours, and over 235 play readings. She is co-creator of the Native Radio Theater Project, a collaboration between Native Voices and Native American Public Telecommunications which produced 15 radio plays and the Alaska Native Playwrights Project mentoring more than 20 playwrights. Her illustrious background includes extensive theatre credits and serving as president of Sine Bahn Productions, an independent production company noted for developing screenplays, teleplays, and stage plays. She is familiar for numerous lead and recurring acting roles on Days of Our Lives, Magnum, P.I., Port Charles, Newhart, Matlock, Airwolf, and St. Elsewhere, and for having guest starred on a multitude of other series and television movies. Scott is on the Leadership Board of the Theatrical Producers League of Los Angeles, Large Theatres, and is a member of the National Theatre Conference, New York.

Mary Kathryn Nagle (Cherokee*) (Playwright) is a partner at Pipestem Law Firm P.C., as well as a nationally acclaimed playwright. She currently serves as the Executive Director for the Yale Indigenous Performing Arts Program. Nagle was born in Oklahoma City, Oklahoma, and is a citizen of the Cherokee Nation. She studied theater at Georgetown University and went on to study law at Tulane Law School, where she graduated summa cum laude and was the recipient of the Judge John Minor Wisdom Award. Her law review articles have been published in five different journals, including the Tulane Law Review and Tulsa Law Review. Her plays include Manahatta, Sliver of a Full Moon, Katrina Stories, Welcome to Chalmette, Diamonds ... are a Boy's Best Friend, Fairly Traceable, My Father's Bones (co-author with Suzan Shown Harjo), To the 7th Degree, Miss Lead, In My Father's Eyes, and Waaxe's Law. Nagle has received commissions from Arena Stage, Rose Theater, Portland Center Stage, and Denver Center for the Performing Arts.
Jon Lawrence Rivera (Director) has received the Inaugural Career Achievement Award from Stage Raw, a NY Fringe Festival Award, an LA Weekly Award, and is a five-time Ovation Award nominee. His work with Native Voices includes Fairly Traceable and Stand-Off at HWY #37 (Autry Museum and University of South Dakota). His recent Playwrights' Arena productions includes: Bloodletting, The End Times, @thespeedofJake, Circus Ugly, Painting in Red, Cinnamon Girl (LA and Beijing), and Dallas Non-Stop. Rivera is the Founding Artistic Director of Playwrights' Arena.
Jason Grasl (Blackfeet*) (Randy) has performed, written, and directed with Native Voices for nearly a decade. Theatre credits include Cherokee at Woolly Mammoth, The Blame of Love, Trophies, Sliver of a Full Moon (touring), Urban Rez (Assistant Director), and Tony n' Tina's Wedding. Film: Cassidy Red, The Seminarian, and Fantasy Football: The Movie. TV: White Collar and Hot In Cleveland. Web: A Jew in Choctaw Country, Real Housewives of the Magic Kingdom, Crazy NDN, and Nightpantz.
Kyla Garcia (Taino*) (Erin) has performed on stages all over New York and Los Angeles including world premiere productions with The Theatre @ Boston Court, A Noise Within, La Jolla Playhouse, New York Film Festival, Antaeus, United Solo, Hollywood Fringe Festival, and Lewis Family Playhouse. She is the writer/creator of the critically acclaimed solo show The Mermaid Who Learned How to Fly. Additional career highlights include winning Twinkie Byrd's Monologue Slam and narrating over fifty audiobooks.

*Refers to tribal affiliation
Native Voices Is Sponsored by
San Manuel Band of Mission Indians, Department of Cultural Affairs (City of Los Angeles), Edison International, HBH Fund, Los Angeles County Arts Commission, National Endowment for the Arts, The Nissan Foundation, SoCal Gas, Sony Pictures Entertainment, The Walt Disney Company, and Wells Fargo.

About Native Voices at the Autry
Native Voices at the Autry is the only Equity theatre company devoted exclusively to developing and
producing new works for the stage by Native American, Alaska Native, and First Nations playwrights.
The theatre company is committed to putting Native narratives at the center of the American story in order to facilitate a more inclusive dialog on what it means to be American. Founded in 1994 by Producing Artistic Director Randy Reinholz (Choctaw) and Producing Executive Director Jean Bruce Scott, Native Voices became the resident theatre company at the Autry Museum of the American West in 1999. The company provides a supportive, collaborative setting for Native theatre artists from across North America. In 2014 the company established the Native Voices Artists Ensemble to more fully support the extraordinary talents of its Native actors, writers, musicians, and directors. The Ensemble is devoted to developing new work in a collaborative process as well as supporting Native Voices' ongoing focus on the work of individual playwrights. Native Voices at the Autry is a member of Actors' Equity Association, LA Stage Alliance, and the Dramatists Guild, an associate member of the National New Play Network and is a Constituent Theatre of Theatre Communications Group (TCG), the national organization for the American theatre. Visit TheAutry.org/NativeVoices for more information.
About the Autry Museum of the American West
The Autry is a museum dedicated to exploring and sharing the stories, experiences, and perceptions of the diverse peoples of the American West, connecting the past to the present to inspire our shared future. The museum presents a wide range of exhibitions and public programs—including lectures, film, theatre, festivals, family events, and music—and performs scholarship, research, and educational outreach. The Autry's collection of more than 500,000 pieces of art and artifacts includes the Southwest Museum of the American Indian Collection, one of the largest and most significant collections of Native American materials in the United States. 
EDITORS, PLEASE NOTE:  CALENDAR LISTING
WHO:  Native Voices at the Autry, America's leading Native American theatre company

WHAT: Fairly Traceable by Mary Kathryn Nagle
Contains mild profanity. Recommended for ages 13 and over.

WHEN:
PREVIEWS: Wednesday, March 8, 8:00 p.m. and Thursday March 9, 8:00 p.m. 
OPENS: Friday, March 10, 8:00 p.m.
RUNS:
Saturday, March 11, 2:00 p.m. Conversations: Following the performance, W. Richard West, Jr. (Southern Cheyenne), the Autry's President and CEO, and playwright Mary Kathryn Nagle (Cherokee) will discuss issues raised in Fairly Traceable from their perspectives as Native American legal experts and thought leaders in the arts.
Saturday, March 11, 8:00 p.m.
Sunday, March 12, 2:00 p.m. Conversations: Following the performance, playwright Mary Kathryn Nagle (Cherokee) will discuss the impetus behind Fairly Traceable and her process for writing new plays.
Thursday, March 16, 8:00 p.m.  Pay what you can: Students (with I.D.)
Friday, March 17, 8:00 p.m.
Saturday, March 18, 2:00 p.m. Conversations: Following the performance, artist Cannupa Hanska Luger (Mandan/Hidatsa/Arikara/Lakota), art history professor Nancy Marie Mithlo (Chiricahua Apache), playwright Randy Reinholz (Choctaw), and journalist Mark Trahant (Shoshone-Bannock), ask, "Who tells the stories?" This conversation considers the role of Native artists, journalists, and filmmakers in telling stories of importance for Native communities to audiences worldwide. 
Saturday, March 18, 8:00 p.m.
Sunday, March 19, 2:00 p.m.
Thursday, March 23, 8:00 p.m. Pay what you can: Theatre Industry Night (SAG-AFTRA, AEA, USA, etc.)
Friday, March 24, 8:00 p.m.
Saturday, March 25, 2:00 p.m.
Saturday, March 25, 8:00 p.m.
Sunday, March 26, 2:00 p.m.

WHERE:
Wells Fargo Theater
Autry Museum of the American West
4700 Western Heritage Way
Los Angeles, CA 90027-1462
 
TICKET PRICES:
$25 General Admission
$15 Students/Seniors (60+)/Military
$10 Autry Members
 
Previews:
$15 General Admission
$10 Students/Seniors (60+)/Military
Free for Autry Members

MUSEUM ADMISSION:
Fairly Traceable tickets include museum admission to the Autry during the month of March. Present your Eventbrite ticket for complimentary admission. Offer valid March 1-31, 2017, for general museum admission only (no special events) during regular museum hours.

DINING
The Autry's Crossroads West Cafe will offer a limited menu before and after matinee performances, and from 6:00 to 8:00 p.m. prior to evening performances. Beer, wine, and light dinner fare will be available for purchase. 

PUBLIC INFORMATION:
Phone: 323.495.4354
Online: TheAutry.org/NativeVoices