Press Release: March 26, 2021
Native Voices at the Autry Presents The New Adventures of Super Indian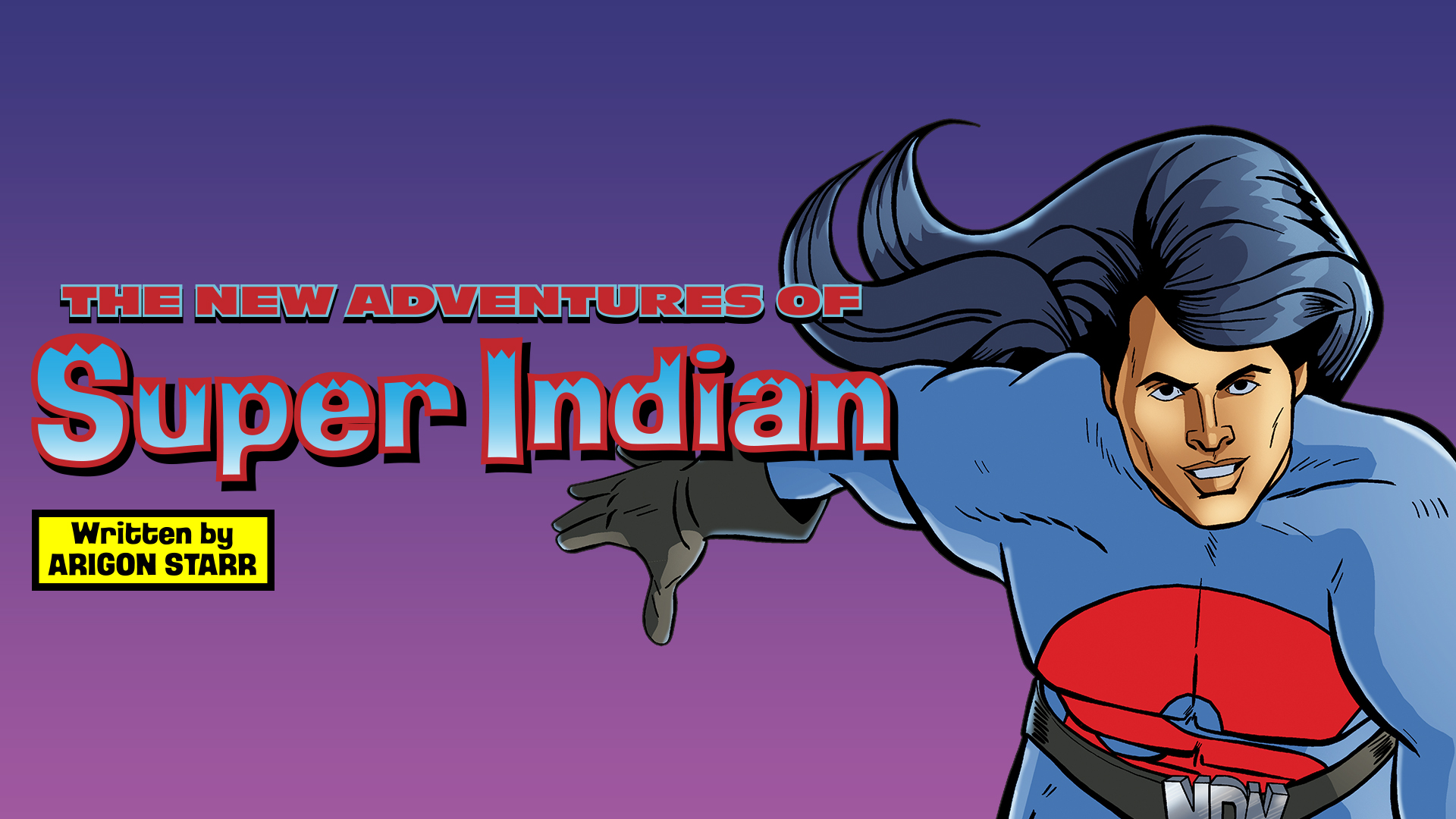 By Arigon Starr (Kickapoo Tribe of Oklahoma)
 
Premieres Wednesday, April 14, 2021, 4:00 p.m. PDT 
New Episodes Wednesdays, April 21 & 28, 2021, 4:00 p.m. PDT 
Los Angeles, CA (March 26, 2021)—The only Equity theatre company dedicated exclusively to developing and producing new work by Native American artists, Native Voices presents The New Adventures of Super Indian by Arigon Starr (Kickapoo Tribe of Oklahoma). The production marks the first time ever that Native Voices has premiered a play via audio episodes. 
The New Adventures of Super Indian, based on Starr's popular graphic novels, Super Indian, unfolds over three audio episodes that tell the comic exploits of Super Indian and the residents of the fictional Leaning Oak Tribe Reservation. Hubert Logan, an ordinary reservation boy turned superhero faces off against three of his biggest foes—Wampum Baggs, the ringleader of the Circle of Evil; Blud Kwan'Tum, a cursed vampire determined to become a full-blooded Indian by any means necessary; and Karlie Keane, a scheming social media diva. 
"When most people hear the words 'Native American,' humor is not usually the first trait that springs to mind. However, we are humorous people! There is a direct correlation between humor and resilience, and if ever we needed both, now is the time," said DeLanna Studi (Cherokee), Artistic Director of Native Voices. "Superheroes exemplify our better natures and challenge us to be our best selves. As a little girl in Cherokee Nation, I longed for a Native superhero, someone who looked like me. I could never find any. Now, Arigon Starr has given us one. As someone who grew up in a similar community as that of our hero, I am overwhelmed with emotion when I think of all the Native youth who will grow up with Super Indian."  
Like many theatre companies, Native Voices at the Autry had to pivot during COVID closures. Since The New Adventures of Super Indian is an audio production, it was not necessary for the actors to be in the same space at the same time. Vocal talent was based across the nation from New York to Oklahoma to Los Angeles, with a sound designer in England. This cast, crew, and production could only be possible through this virtual space. 
 
Episodes of The New Adventures of Super Indian are available exclusively online for free. The first episode premieres Wednesday, April 14, 4:00 p.m. PDT. New episodes will be released Wednesdays, April 21 & 28, 2021, 4:00 p.m. PDT. Visit TheAutry.org/NativeVoices to register and for more information. 
---
LEAD CAST AND CREATIVE TEAM
DeLanna Studi (Cherokee)/ARTISTIC DIRECTOR has more than 25 years of experience as a performer, storyteller, educator, facilitator, advocate, and activist. Her theatre credits include the first national Broadway tour of the Tony Award– and Pulitzer Prize–winning play August: Osage County; Off-Broadway's Gloria: A Life, Daryl Roth Theatre; Informed Consent, the Duke on 42nd Street Theater; and regional theatres (Oregon Shakespeare Festival, Portland Center Stage, Cornerstone, and Indiana Repertory Theatre). Studi originated roles in more than eighteen world premieres, including fourteen Native productions. A pivotal moment in her career was writing and performing And So We Walked: An Artist's Journey Along the Trail of Tears, based on retracing her family's footsteps along the Trail of Tears with her father. And So We Walked has been produced throughout the country and was the first American play chosen for the Journées Théâtrales de Carthage in Tunisia, Africa. In film and television, Studi can be seen in the Peabody Award–winning Edge of America; Hallmark's Dreamkeeper; Goliath; Shameless; and General Hospital. She is a recipient of the Butcher Scholar Award, a MAP Fund Grant, and a Cherokee Preservation Grant. Since 2007 she has served as chair of the SAG-AFTRA National Native Americans Committee.
 
Arigon Starr (Kickapoo Tribe of Oklahoma)/PLAYWRIGHT AND CO-DIRECTOR is an award-winning musician, actor, and playwright, and a renowned comic book writer and artist. Her work with Native Voices at the Autry includes her comedy musical The Red Road and the radio comedy Super Indian. A former Tulsa Artist Fellow, she created the romantic comedy Round Dance for the Oklahoma Indigenous Theatre Company in 2018 during her fellowship. A member of SAG-AFTRA and Actors' Equity, she is based in Los Angeles, California. 

Olivia Espinosa (Azteca)/CO-DIRECTOR is a bilingual actor, playwright, and director. A member of the Native Voices Artists Ensemble, she has contributed all these skills to the organization since 2015. In 2017 Espinosa received Oregon Shakespeare Festival's most prestigious award, the Phil Killian Directing Fellowship, when she was assistant director to Artist Director Bill Rauch on Randy Reinholz's Off the Rails. Most recently, she assistant directed alongside Tony Taccone on John Leguizamo's Kiss My Aztec at La Jolla Playhouse. 

Kholan Studi (Cherokee Nation of Oklahoma)/ HUBERT LOGAN/SUPER INDIAN was born and raised in Santa Fe, New Mexico. Ever since he was a child, he has loved entertaining folks and making them laugh and feel. In 2012, Studi moved to Los Angeles to attend the American Academy of Dramatic Arts, where he completed his studies in 2015. Since then, he has worked in many productions with Native Voices at the Autry including They Don't Talk Back by Frank Henry Kaash Katasse and Bingo Hall by Dillon Chitto. Studi was also honored to play Elias Boudinot in a production of Sovereignty by Mary Katherine Nagle at Marin Theatre Company in 2019. During the pandemic, he took part in Perseverance Theatre's production of Spirit of the Valley by Frank Henry Kaash Katasse. He is honored to be a part of Arigon Starr's Super Indian and would like to send his love and support to all those suffering from the COVID-19 pandemic. The only way out of this is together. 

Ernest Briggs (White Earth Nation)/GENERAL BEAR/MEGA HAIR is a proud Native American actor who has worked in Minneapolis, Chicago, Los Angeles, and Florida for more than 10 years. Briggs received his MFA from the University of Florida. He has performed at such venues as the Guthrie Theater, Park Square Theatre, Mixed Blood Theatre, South Coast Repertory, and Tilted Windmills Theatricals. Briggs has had supporting roles in independent feature films and series such as Atarax, A Method, Area of Conflict, and Sold Out. He is the artistic director of Turtle Theater Collective.

Jason Grasl (Blackfeet)/DIOGI is an actor, playwright, director, and ensemble member at Native Voices at the Autry. Theatre credits include Fairly Traceable, Native Voices; Laughter on the 23rd Floor, Garry Marshall Theatre; Cherokee, Woolly Mammoth Theatre Company; The Blame of Love, Sliver of a Full Moon (touring); Urban Rez, (assistant director); and Tony n' Tina's Wedding. Film/TV credits include Brooklyn Nine-Nine, 9-1-1, White Collar, Hot in Cleveland, Cassidy Red, and The Seminarian. Playwright credits include Lying With Badgers, Emergency Management, and The Blame of Love. Currently, he is writing a commissioned play called The Normal Force for San Diego Rep. 

Candice Byrd (Cherokee Nation/Quapaw Nation/Osage Nation) (MFA)/ PHOEBE FRANCIS/"KA'WAIKA WOMAN"/LAGUNA WOMAN makes her Native Voices debut as Phoebe Francis/Ka'waika Woman and others. Theatre highlights include Lily in A Tlingit Christmas Carol, Perseverance Theatre; Sarah Ridge Polson in Sovereignty, Heller Theatre Company; Terri Henry in Sliver of a Full Moon throughout Indian Country; Bright Eyes/Prairie Rose/Betsy in Return to Niobrara, Kennedy Center's New Visions New Voices; 2017 TYA/ASSITEJ's Next Generation Artist-in-Residence. Wado/Gungay/Da-tlee to Creator and grateful to work with the multitalented Arigon Starr on this great script, cast, and production staff. 

Sheri Foster (Cherokee Nation)/LENA MARIE, originally from Texas, has long been active in Los Angeles's entertainment community. She provided narration for the Emmy-nominated PBS special Great Performances/Dance in America, featuring the American Indian Dance Theater. As an actress, she appeared in the world premiere of Bill Yellow Robe's The Independence of Eddie Rose and numerous Los Angeles theatrical productions, including Death of a Miner. Blake toured with the Native American Theater Group's presentation of Mystic Voices. Films include Oliver Stone's U Turn, Naturally Native, Second-Hand Hearts, and Shouting Secrets. First Americans in the Arts honored Blake with a Best Supporting Actress Award for her role in U Turn. Television appearances include House, TNT's Crazy Horse, and PBS's Coyote Waits. Blake served on the board directors of the American Indian Registry, founded by Will Sampson, and was a founding trustee of First Americans in the Arts. Most recently, she appeared in Duplass Brothers Productions' Allies, directed by Barret O'Brien, and Wild Indian directed by Lyle Mitchell Corbine Jr. She is honored to be working with Native Voices at the Autry. 

Also starring 
Tom Allard (Cherokee) 
Jake Hart (Cherokee/Chicano)  
Gregg McVicar (Tlingit) 
Enrico Nassi (Enrolled Member of the Otoe-Missouria Tribe, Cherokee) 
Jen Olivares (Acjachemen/Juaneño Band Of Mission Indians) 
Katie Anvil Rich (Cherokee and Chickasaw descent)  
Madeline Sayet (Mohegan) 
Robert Vestal (Cherokee descent)  
Jehnean Washington (Yuchi, Seminole, Shoshone)  
Michael Wise (Cherokee)
Native Voices Is Sponsored by 
ACTORS' EQUITY FOUNDATION • LAURA AND DEAN BERESFORD • JUDITH CHIRLIN • DEPARTMENT OF CULTURAL AFFAIRS, CITY OF LOS ANGELES • EDISON INTERNATIONAL • JOYCE AND DAVID EVANS • CAROLE GOLDBERG AND DUANE CHAMPAGNE • DAVID HITZ • LEE HORWIN • HELENE JACOBS • JUDY JACOBS • LYNN JEFFRIES • LOS ANGELES COUNTY DEPARTMENT OF ARTS AND CULTURE • EMILY MANN • NATIONAL ENDOWMENT FOR THE ARTS • THE NISSAN FOUNDATION • PETER GLENVILLE FOUNDATION • JOHN QUICK AND MARTHA WIEDMAN • SEELEY W. MUDD FOUNDATION • JEAN BRUCE SCOTT AND RANDY REINHOLZ • DARYL ROTH • SAN MANUEL BAND OF MISSION INDIANS • SHUBERT FOUNDATION, INC. • SOUTHERN CALIFORNIA GAS COMPANY • U.S. BANK • WALT DISNEY IMAGINEERING • KATE AND JIM WOLF-PIZOR 

About Native Voices at the Autry
Native Voices at the Autry places Native narratives at the center of the American story in order to facilitate a more inclusive dialogue on what it means to be American. Founded in 1994 by Randy Reinholz (Choctaw) and Jean Bruce Scott, Native Voices is dedicated to the development and production of new works for the stage written by American Indian, Alaska Native, Native Hawaiian, and First Nations playwrights. The organization remains committed to both emerging and established Native playwrights and theatre artists, to telling Native stories by and about Native people, and to providing the public access to these plays and playwrights – all with the goals of fostering greater understanding and respect of showcasing artistic voices that might otherwise not be heard. 

About the Autry Museum of the American West
The Autry is a museum dedicated to exploring and sharing the stories, experiences, and perceptions of the diverse peoples of the American West, connecting the past to the present to inspire our shared future. The museum presents a wide range of exhibitions and public programs—including lectures, film, theatre, festivals, family events, and music—and performs scholarship, research, and educational outreach. The Autry's collection of more than 500,000 pieces of art and artifacts includes the Southwest Museum of the American Indian Collection, one of the largest and most significant collections of Native American materials in the United States.