Press Release: November 1, 2017
Native Voices at the Autry Presents the 7th Annual Short Play Festival: Seven Generations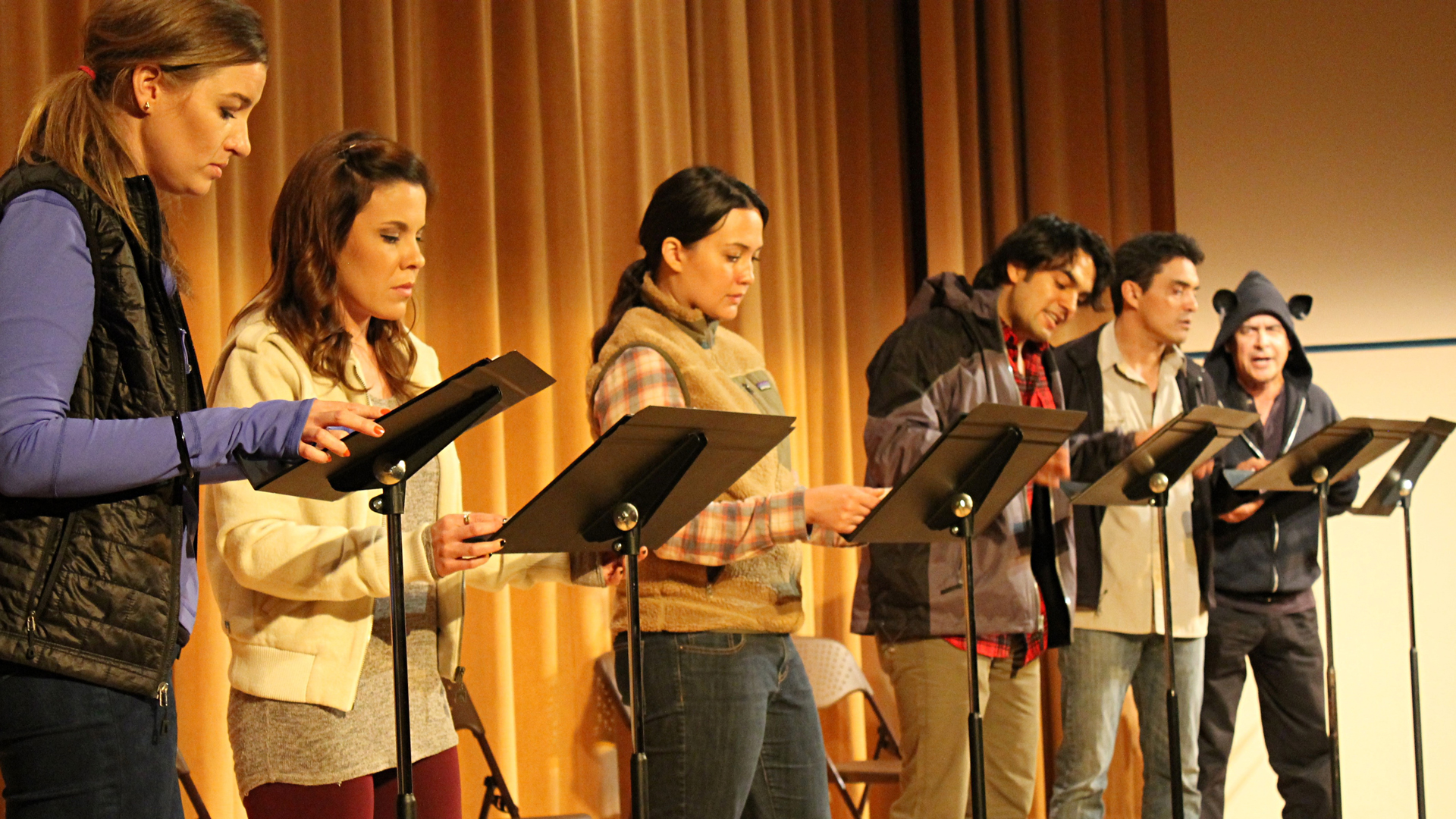 Featuring Six Short Plays by Native American Playwrights
November 12, 2017, 1:30 p.m.
Autry Museum of the American West, Los Angeles
Los Angeles, CA (November 1, 2017)—Continuing its role as the only Equity theatre company dedicated exclusively to developing new work by Native American artists, Native Voices at the Autry presents its seventh annual Short Play Festival: Seven Generations. Held during the Autry Museum of the American West's American Indian Arts Marketplace on Sunday, November 12, 2017, the event features new short plays by Native American playwrights that urge the audience to think about how their actions today will impact the lives of future generations.
"Each year we search for just the right theme for the festival. This year's theme, Seven Generations, provides an opportunity for all of us at Native Voices to challenge ourselves to think about how to live more consciously today to provide for a better future for successive generations," says Jean Bruce Scott, Producing Executive Director of Native Voices. "It seems like such an easy and simple premise, but it takes thought and action to create a better tomorrow, sometimes at the personal, emotional, and physical expense of today."
A core value of the Haudenosaunee people, the Seventh Generation principle compels us to consider the effects of our present-day actions on the next seven generations. The plays, which were selected by a national panel, will be workshopped and read by the Native Voices Artists Ensemble. The plays are then considered for the Von Marie Atchley Excellence in Playwriting Award, a $1,000 cash prize based on the creative use of the competition theme, originality, theatricality, execution, and audience response.
The Short Play Festival is included with admission to the Marketplace (free for Autry members; $14 adults; $10 students and seniors; $6 children ages 3–12). Seating for the Short Play Festival is limited, and early arrival is suggested. Following the performance at the Autry, Seven Generations will be performed at La Jolla Playhouse in San Diego on Monday, November 13, 2017.
---
About the Featured Readings and Authors
Flight by DeLanna Studi (Cherokee)
A daughter turns to her father's wisdom to ease her fears and bring her back to her true warrior nature.
DeLanna Studi wrote and starred in her play And So We Walked, which detailed the journey of Studi and her father as they followed their family's footsteps along the Trail of Tears. And So We Walked premiered at Triad Stage this past spring. Next year, it will be produced in Portland. Studi is also an award-winning actor. Her theatre credits include the First National Broadway Tour of August: Osage County; Portland Center Stage's Astoria: Part One and Part Two; and Indiana Repertory Theatre's Finding Home. Her performance in Duke Theatre's Informed Consent was described by the New York Times as "moving gravity."
Rites of Passage by Ajuawak Kapashesit (White Earth Ojibwe Descendant and Washkaganish Cree)
Three Native actors regale each other with stories about the ridiculous roles they've played in Hollywood. 
Ajuawak Kapashesit is an actor, writer, and director for both stage and film. He was born in Moose Factory, Ontario, Canada, in the Cree community of his father and went to school in the White Earth Ojibwe community of his mother in rural Minnesota. He is an alumnus of Macalester College in St. Paul, Minnesota, where he studied linguistics to better aid in language revitalization efforts in Indigenous communities across Turtle Island. Since beginning his career as an actor in 2016, Kapashesit has been performing in the U.S. and Canada and has performed in Indigenous communities throughout the Upper Midwest with New Native Theatre, a Minneapolis-based, Native-run, nonprofit theatre. He currently resides in Minneapolis, Minnesota.
Trail Trees by Ed Bourgeois (Mohawk)
Huddled in the forest, trees look for a way to put the next generation of walkers back on the right path.
Ed Bourgeois is the managing director of PAʻI Foundation, a Honolulu-based hālau hula. He served as executive/general director of Anchorage Opera (2001–2007) and director of programs at the Alaska Native Heritage Center (2007–2013), where he directed Growing Up Native in Alaska, Raven's Radio Hour, and Echoes at the Smithsonian's National Museum of the American Indian. Bourgeois is co-creator of the Raven's Radio Hour comedy show. He established the Alaska Native Playwrights Project, which trained 32 emerging Alaska Native playwrights (2010–2013). In 2016 he won the Von Marie Atchley Award for his short play, Backstage, Blue Moon.
Seeds by Laura Shamas (Chickasaw) 
In a dystopian future, two siblings find themselves in a quandary over what to do with their father's legacy. 
Laura Shamas is the author of many plays, which have been produced in the U.S., U.K., Canada, Europe, and Australia. In 2016, she was commissioned by the Phillips Museum in Washington, D.C., to write a short play about Jacob Lawrence's Migration Series. Her play Circular was selected for the 2017 Playwrights' Revolution Festival at Capital Stage, Sacramento, and the 2016 Artemisia Theatre Fall Festival of New Plays in Chicago. Shamas was a 2014 Autry Museum Research Fellowship recipient for the Undisciplined Research Project, which focused on Native boarding school oral histories.
The Unborn of the Future Nation by Claude Jackson Jr. (Gila River Indian Community)
A look at the future and the negotiations between the traditional keepers of the land and the new "first generation." 

Claude Jackson Jr. enjoys writing and film producing. Two of his plays have been featured in past Native Voices' Short Play Festivals (They Shoot Basketballs, Don't They? and Waiting for H20). He and his brother, Roberto, wrote, produced, and directed the film In Circles, which was showcased in various 2015 film festivals, including LA Skins, and can be seen on Amazon Prime. A licensed attorney, Jackson is currently the director of his tribe's public defender's office.
Two Brothers by Montana Cypress (Miccosukee Tribe of Indians of Florida)
A pair of brothers contemplate what lies ahead as they watch one last sunset over the Everglades. 
Montana Cypress has lived most of his life on the Miccosukee Indian Reservation located in the heart of the Everglades. He made the move from South Florida to Los Angeles in the summer of 2015 to study acting at the New York Film Academy in Burbank. It was here that the spark for writing was ignited. Since finishing school, he has continued to write and shoot short films as well as write short and full-length plays and short stories.
---
Native Voices Is Sponsored by
The Actors' Equity Foundation, Department of Cultural Affairs (City of Los Angeles), Edison International, HBH Fund, Los Angeles County Arts Commission, National Endowment for the Arts, The Nissan Foundation, San Manuel Band of Mission Indians, Shubert Foundation, SoCal Gas, Sony Pictures Entertainment, The Walt Disney Company, and Wells Fargo.
About Native Voices at the Autry
Native Voices at the Autry is the only Equity theatre company devoted exclusively to developing and producing new works for the stage by Native American, Alaska Native, and First Nations playwrights. Founded in 1994 by Producing Artistic Director Randy Reinholz (Choctaw) and Producing Executive Director Jean Bruce Scott, Native Voices became the resident theatre company at the Autry in 1999. The company provides a supportive, collaborative setting for Native theatre artists from across North America. In 2014 the company established the Native Voices Artists Ensemble to more fully support the extraordinary talents of its Native actors, writers, musicians, and directors. The Ensemble is devoted to developing new work in a collaborative process as well as supporting Native Voices' ongoing focus on the work of individual playwrights. Native Voices is a member of Actors' Equity Association, LA Stage Alliance, and the Dramatists Guild, and is a Constituent Theatre of Theatre Communications Group (TCG), the national organization for the American theatre. Visit TheAutry.org/NativeVoices for more information.
About the Autry Museum of the American West
The Autry is a museum dedicated to exploring and sharing the stories, experiences, and perceptions of the diverse peoples of the American West, connecting the past to the present to inspire our shared future. The museum presents a wide range of exhibitions and public programs—including lectures, film, theatre, festivals, family events, and music—and performs scholarship, research, and educational outreach. The Autry's collection of more than 500,000 pieces of art and artifacts includes the Southwest Museum of the American Indian Collection, one of the largest and most significant collections of Native American materials in the United States. 
Image: Photo by Joan Marie Hurwit.