Press Release: March 18, 2021
Autry Museum of the American West Reopens on March 30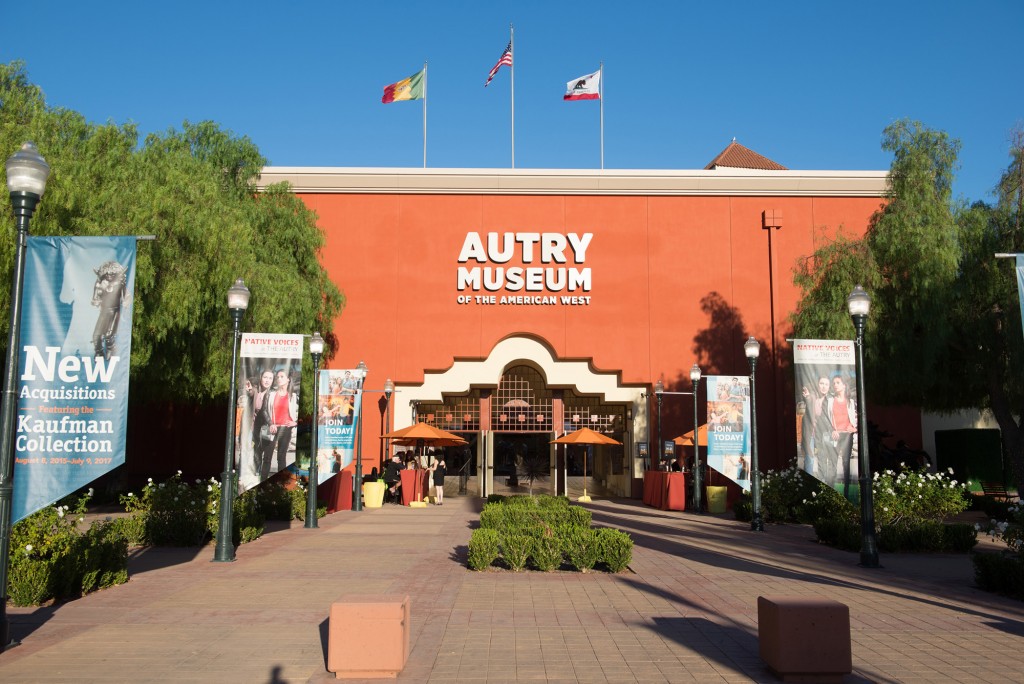 New exhibitions to greet visitors. Free admission through April 18.
Los Angeles, CA (March 18, 2021)—The Autry Museum of the American West will reopen its doors to Autry Members on Tuesday, March 30. The general public will be able to visit starting on Tuesday, April 6, following a closure since March 14, 2020 due to the COVID-19 pandemic. (Advance reservations required; tickets and visitor information at TheAutry.org/Visit.)
"After a challenging year for so many, we are ecstatic to reopen the museum and welcome the community back into our building. We are thrilled to share our three new onsite exhibitions with the public and, complementing our growing online offerings, continue telling the diverse stories of the American West in person," said W. Richard West, Jr. (Cheyenne), President and CEO. "I am grateful to our dedicated staff, who had to adapt quickly to bring the museum online in 2020 and who are now working diligently to reopen the physical space in 2021."
For the initial reopening, the Autry will debut two major temporary exhibitions (Masters of the American West and When I Remember I See Red). Later in April, a third temporary exhibition (What's Her Story) will open alongside a major permanent core gallery (Art of the West).
EXHIBITION SCHEDULE
Please find the full schedule of the Autry's initial exhibitions reopening below. More details about Autry exhibitions may also be found at TheAutry.org/Exhibitions.
Exhibitions Opening March 30
Masters of the American West® Art Exhibition and Sale
Through April 11, 2021
An Autry visitor favorite, this annual exhibition features paintings and sculptures by over 60 nationally recognized premier Western artists. The works included in the exhibition span magnificent vistas and startling moments of up-close beauty that signify the vibrant and dynamic world of Western American art. Masters embraces a widening array of artists that together celebrate both the history and contemporary sweep of the West.
This prestigious exhibition and sale showcases paintings and sculptures by nationally recognized artists such as Tony Abeyta, George Carlson, G. Russell Case, Tammy Garcia, Logan Maxwell Hagege, Mark Maggiori, Billy Schenck, and Terri Kelly Moyers. This year also welcomes new Masters artists Brett Allen Johnson, Joshua LaRock, and Ed Mell. Select works are still available for purchase online. Proceeds from Masters supports the Autry's diverse exhibitions, public programs, and educational offerings to teachers and schoolchildren.
When I Remember I See Red: American Indian Art and Activism in California
Through November 15, 2021
Beginning with the occupation of Alcatraz in 1969, California has long been a place of creative freedom, individual expression, and social activism for Native peoples across the country. As Native artists started to engage with cultural diversity, historical traditions, and contemporary art to critique the colonial past, the state became a site of artistic achievement within the broader story of Native art. When I Remember I See Red: American Indian Art and Activism in California, features 40 Native artists—either from California or with strong ties to the state—who have used their work as a means of cultural resistance and renewal. Many have helped—and continue to help—restore aspects of ceremony, dance, language, and material culture once in danger of disappearing.
"When I Remember I See Red, which explores the intersection of Native art and activism, of the contemporary and historical, of social injustice and healing, has a particular resonance at this very moment in American history," said Joe D. Horse Capture (A'aniiih), Vice President of Native Collections and the Ahmanson Curator of Native American History and Culture. "The exhibition brings to the fore the decades long work and commitment of these important Native artists and underscores their impact on California and the country, evidenced in real time. We are thrilled that visitors will have the opportunity to see these moving and absorbing works in person."
The exhibition spans five decades and includes 70 works from emerging and mid-career artists whose practices include painting, sculpture, prints, photography, and video. Borrowed from the title of a poem by bell hooks, "when I remember I see red," the exhibition title alludes to memory, race, bloodshed, and anger. The phrase also evokes Indigenous identity and experience in the United States over the past millennium.
The Autry's iteration of the exhibition is organized into seven sections. The first, First Light, explores women's central role in both historical and contemporary Native culture; You Are On Native Land reflects on the area known as California, which has been inhabited by Native people for well over a millennia; Interconnectedness explores the importance of the environment in Native America, and the interconnectedness of the world and humans; Native Knowledge offers insight into the passing of important teachings from one generation to the next; California Genocide pulls the curtain back on the actions by the United States federal, state, and local governments that targeted Native populations in the mid-19th century; Cultural Inspirations includes works that reinterpret imagery and design from cultural traditions; and finally, The World Is A Gift: Remembering Frank LaPena reflects on the impact of the artist and exhibition organizer who defined a generation of Native artists.
Exhibitions Opening by April 13
What's Her Story: Women in the Archives
Through August 28, 2021
What's Her Story: Women in the Archives explores the work of women as told through photographs, letters, and diaries. This exhibition reveals compelling events in the lives of 20th- and 21st-century women and highlights how they document their activities in their own voices—preserving a legacy and the archivists' work that makes these stories discoverable.
"You can't tell a story without an archive. Every piece of storytelling is influenced by some sort of memory, evidence, or activity that happened in the past," said Liza Posas, Head of Research Services and Archives at the Autry. "This is the seed thought behind the creation of What's Her Story: Women in the Archives. This exhibition presents fascinating women's narratives found within the Autry's archive collection, as well as showcases the behind-the-scenes labor of a predominately female workforce of librarians and archivists who strive to make these stories 'discoverable' throughout time."
Some of these women documented their activities in their own voices, while other stories are pieced together with primary sources found across multiple archive collections. In personal diaries, photographs, letters, music, objects, and ephemera, you will meet women philanthropists, solo sojourners, political activists, artists, and a pioneering anthropologist.
Art of the West
Ongoing
Part of the Autry's core galleries, Art of the West showcases the dynamic and evolving world of art that springs from the cultural practices of some of the many peoples who have shaped the American West. This exhibition is the first of its kind to explore how shared values and interests have inspired artists from different cultures and times to create distinctive, powerful works that speak to their experience of the West as both a destination and a home.
Exhibitions Opening by April 20
We anticipate the rest of the museum (downstairs galleries and the Ethnobotanical Garden) will open by April 20.
VISITOR INFORMATION AND DETAILS
To ensure the health and safety of guests and employees, the Autry will implement all recommended precautionary measures, including requiring advance reservations and limiting the number of daily visitors, requiring masks for visitors and staff, and increasing the sanitation of public areas. Full visitor details, protocols, and information may be found at TheAutry.org/Visit. Starting noon PDT on Friday, March 19, reservations will also be able to be made via the same page. The Autry looks forward to reopening the Historic Southwest Museum Campus, which will occur at a later date, TBD, reservations required as well. The museum will also continue to share the stories of the American West digitally through videos, programs, and blog posts on the Autry Online.