Sundance Institute and UCLA American Indian Studies Center Present: Out of State (2017)
Saturday, November 11, 2017, 5:30 p.m.
The Autry in Griffith Park
Admission:

Free Admission

RSVP/Reservations:

Advance tickets are no longer available for this program. Stand-by tickets may be available at the door.
About the Event
Marking the directorial debut of filmmaker Ciara Lacy (Native Hawaiian), this documentary tells the story of an incredible journey. Shipped thousands of miles away from the tropical islands of Hawai'i to a private prison in the Arizona desert, two Native Hawaiians discover their Indigenous traditions from a fellow inmate serving a life sentence. Afterward, as they struggle with the hurdles of life as formerly incarcerated men, they ask whether you can really go home again. Q&A with Lacy and light reception to follow.
CO-PRESENTED BY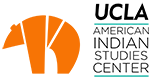 Organized by the Sundance Institute Native American and Indigenous Program.