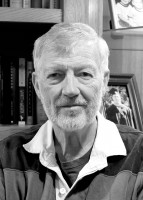 Born in Illinois in 1946, Cliff Scott grew up watching all the classic Westerns on his parents' black-and-white television. As a young child he dreamed of someday moving out west and becoming a rancher, but he also discovered that he loved to draw and paint.
After graduating from high school, he studied art at the American Academy of Art in Chicago. In the late 1960s his studies were interrupted by three years in the army, where he was fortunate enough to travel to many foreign countries. After serving in the military, he finished school and worked as a graphic designer for an ad agency in downtown Chicago. However, his desire to move west never left him, so in 1976 he moved with his family to Boulder, Colorado, becoming the art director for Blue Mountain Arts, where he had a very successful and rewarding thirty-eight-year career. Eventually his passion to paint full-time was so strong that he left the corporate world in 2013 to paint full time. When he is not traveling around the Western states to find unique and exciting images to sketch and photograph, you will find him in his studio putting down on canvas scenes from today's American West.
In 2016 and 2015 Scott won the People's Choice Award at the Cheyenne Frontier Days Museum's Western Spirit Art Show and Sale in Cheyenne, Wyoming.
Cliff Scott is represented by Ottoman Arts, Loveland, Colorado.
---
Back to Artists and Artwork